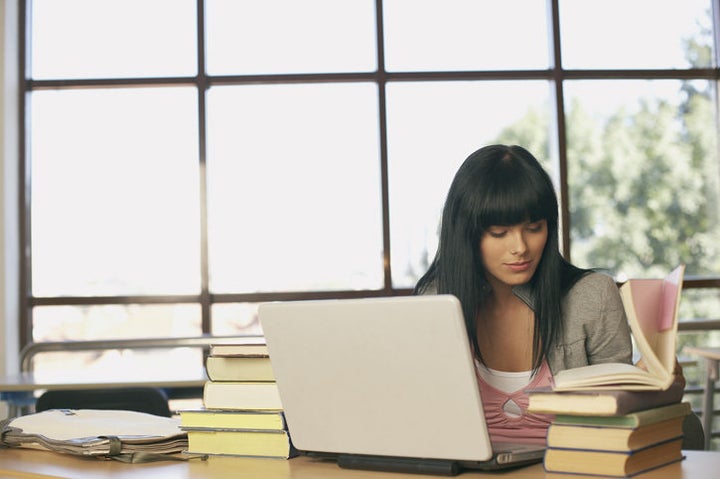 Maybe we're all a little tired of asking Facebook to tell us who we are. Aren't we? Shouldn't we be? Do we really gain personal insight from knowing which flavor of ice cream we are, or which Barbie Doll we would be . . . if we were a Barbie Doll? (Some of us would be Too Much Time on Her Hands Barbie, who comes with her very own Facebook page!)
Well, let's just decide to be tired of them, and try something new. I've been thinking about Francois Mauriac's famous statement about reading lately, and the more I think about it, the more convinced I am that it is true:
"'Dis-moi ce que tu lis, je te dirai ce qui tu es,' il est vrai. Mais je te connaitrai mieux si tu me dis ce que tu relis."

Say it out loud. It's French. It rhymes. Already sexier than Facebook!
"'Tell me what you read, and I'll tell you who you are,' it's true. But I'll know you better if you tell me what you re-read."
My god, how true! What we read once is telling, sure. Our reading choices might tell us what we are curious about, what inspires us; it might even tell us who we would like to be. There can be an element of aspiration in our reading choices. If there weren't, I would never have read Faulkner.
But the question, What do you re-read? is almost too personal. It reveals our true hearts as readers; the books we love as we love our dearest friends and most precious memories, or the books that we can't get over, that we must re-read in order to comprehend more deeply. What we re-read describes what comforts and obsesses us.
It's easier to see it in the people we know and love. By day, my husband reads historical tomes and enough non-fiction to make me go cross-eyed, but if he wakes up in the middle of the night and can't get back to sleep, he re-reads epics and detective novels -- Phillip Pullman, Tolkien, the Nero Wolfe mystery series. Comfort food for the reader.
But what do I re-read? I took some time this morning to jot down a few titles. To make my life easier, I've chosen one piece of writing from each of the forms I read the most -- novels, memoirs, poetry and plays. But you can set your own parameters.
Once you have your list, write down the theme or storyline that you love most in it, and then look at the list in whole: you will have a little portrait of your heart.
The first book on my list was Eudora Welty's novel, The Optimist's Daughter. I read Welty's novel for the first and second times this past summer while traveling through Mississippi. I read it in two days -- and then turned back to page one and read it again. The story is simple: Laurel, returns home to Mississippi to care for her father. He dies, and Laurel's selfish young stepmother inherits the family home. After the funeral, Laurel spends a few final days alone in her childhood home before she must turn it over to her stepmother. What at first seems to be a comedy of Southern manners turns into a gripping examination of the difficult work of looking into the past, and letting it go. I love a book that shakes me up like this one did.
The hullabaloo surrounding the new edition of Hemingway's A Moveable Feast inspired me to re-read the 1964 edition, which I love so dearly it makes me want to bite through my own teeth to think that Hemingway's grandson changed it. The story is of Hemingway's years in Paris with his first wife and child, when he was a relatively unknown writer of short stories -- unknown, and young, and faithful to his little family. By the end of the book, he gets his first taste of fame, which he describes as a fall from grace. It is this final chapter of the original edition -- a chapter that has now been demoted to an appendix -- that I found so devastating, because it made me think of the reckoning we must do at the end of our lives, when we can look back at our own narrative arc.
This past Spring, after my grandmother died, I found myself re-reading Ana Akhmatova's "Lot's Wife," a poem that ends with these lines: "Who will grieve this woman? Does she not seem/ too insignificant for our concern?/ Yet in my heart I never will deny her/ who suffered death because she chose to turn." It took my grandmother a week to die after a stroke, and as I sat with her and my mother I kept returning to those words; she seemed so bewildered to be dying, and unwilling to give up her life after surviving so much for so long. I wondered if my grandmother needed to turn back and look a while before letting go. I know we did; we sat there, my immediate and extended family, and told her stories from her life as if to remind her of who she was, and to tell her that it had all meant something.
I came home after the funeral and re-read Akhmatova's poem as if it were a sacred text, as if it could give me spiritual strength. And it did.
All it takes is one glance at the final book on my list for me to laugh out loud. It's a play. Our Town, by Thornton Wilder, which famously ends with Emily, the young wife and mother who has died in childbirth, returning to her hometown for one last look.
Which Barbie Doll would I be?
One Last Look Barbie, who comes with her very own existential crisis!
Shut down your Facebook page. Do it now, and give this a try.
Popular in the Community