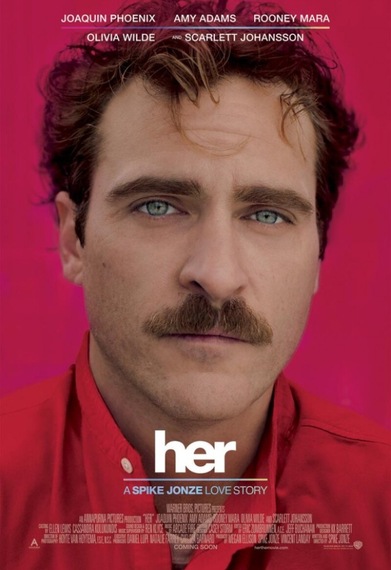 The movie Her was up for Best Picture at the 2014 Oscar's. "A man falls in love with the operating system on his computer" -- an Academy Award winning premise, if I've ever heard one. Uh, right.
In fact, I was thinking I would write Part II, but decided Hollywood can keep its futuristic, gimicky sequel starring whatever latest/greatest high-tech device comes out next.
Prequels ARE where it's at, Baby! That's right -- I am writing the Prequel to
Because why should you need to be faithful to just ONE inanimate object?
Any good screenplay starts off with great characters and some riveting plot points . . . so here we go!
An ignored, unappreciated wife and mother, (Doris) finds the gratification she needs in her male household appliances.
The Dishwasher -- An automatic, erotic, steamy sort of fellow with a very dry sense of humor. Our housewife is immediately smitten by the strength of his (stainless steel!) hard exterior and his commitment to energy saving efficiency. His hidden Touchpad Controls only add to his mystery, not to mention he's completely silent when he gets turned on. An added bonus -- he once told Doris that dishpan hands can be very sexy. "You're soaking in it~Palmolive" . . . Mmmm, she could really come clean with someone like this!
The Toaster Oven -- This space-saving appliance is far more convectional than that conventional, crusty old oven. Surely a relationship with him would heat up consistently and evenly, plus he'd always remember her personal setting preferences. This could be the best thing since sliced bread. Besides ... Doris knows which side her toast gets buttered on!
The Crock Pot -- So deliciously slow and steady -- love could really simmer into a frenzied, bubbling boil with somebody, err some thing like this. And he accomplishes so much while she sleeps or goes to the office. My god, who could ever find another man like this?! Plus his 2 qts are just as effective as other 8 qts, proving to Doris once and for all that size truly doesn't matter. The only thing that's kinda worrisome is how he once stewed in his own juices when she ignored him for a few nights. Can he get over that and move on? She'll utilize his temperature probe to ask these probing questions later. And if he can't? Well, Doris thinks that would just be a crock of... Sh#t!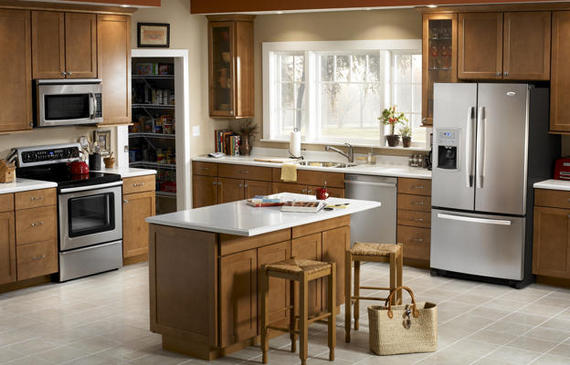 See Doris' Purse? But where's Doris? Could she be in (with) the bathtub?!!
The Microwave -- A lover to turn Doris Inside-Out! Such an explosive and fiery personality, but she must try to remember his pet-peeve about aluminum foil. Talk about sparks flying! And the things they share in common; oh my, it's endless -- popcorn, pizza, baked potatoes; never eating frozen dinners alone again! Yes, he knows every single one of her hot buttons and never hesitates to push them.
The Blender -- Ah, what a smooth-talking, masterful, machine man. But get him agitated, and he'll cut you like a knife. There's just no mincing words about the complexity of this guy's features. He makes quick work of their relationship, getting to the heart of the matter, (especially with artichokes) but he never truly peels the layers of her psyche slowly (like an onion) in that gentle way she craves. Besides he so often mixes her up, crushing her hopes, and reducing her to an emotional puree -- she already knows she must let go of her whipping fantasies with him.
The Vacuum Cleaner -- What can you say about a neat freak like this? Theirs is a push/pull type of relationship. As a lover, he totally sucks. And she can't stand what he does to her bare, hardwood floors. Yet Doris is completely drawn in by his proud, upright posture and some of his maneuvers in the bedroom just can't be beat. Oh dear, hearing the word "Beat" makes her yearn for that Blender again. But just look at the shape of this guy's Can-ister!
The Freezer -- He's completely off limits. He once had the nerve to call her, "Frigid."
The Ceiling Fan -- A spinning, dizzying type of love. At her age, Doris thinks he's the best thing for occasional hot flashes. But like the freezer, he sometimes chills her to the bone. A cooling off period is probably best for both.
The Clock Radio -- Once upon a time, they made time stand still together. Such a good time, tuning his stations, cranking up the volume of their love. Time was of the essence and time flew when they were having fun. But suddenly time stopped. And then time passed her by. Because there's just no time like the present. He no longer plays their song either; just jolts her awake in the mornings with his loud vibrational snores. What a buzz kill. Doris actually wants to kill time. But time would tell. And then she would have too much time on her hands. Could they save time by having a baby together? Would they name it "in the Nick of time?" Could he be Father Time? Maybe. Because everyone knows Time heals all wounds.
Just like Doris's cankles! Suddenly a very lovely, black baby grand piano comes into the home, showcasing her musical talents. No piano legs on this broad. She seems to hold the key (all 88 of them!) to harmony for the entire house. Doris is insanely jealous because whenever Baby Grand plays "Just Whistle while you work," all the other appliances seem to hum along just fine without her.
"You've Come a Long Way, Baby...Grand!"
That's when Doris makes a very efficient decision. She quickly writes all the males in the house a note with The Mechanical Pencil she's grown quite fond of. The men find their "Dear John" letters sitting on the toilet. The Fireplace instantly goes up in smoke over his old flame's absence, while The Smoke Detector is alarmed at the speed of her departure. The Coffee Maker thinks it could be grounds for divorce. But it had to happen. Even The Front Door knows this is an open and shut case, though he still feels a bit unhinged as she slams past him.
Doris drives off with her husband's favorite Car. He was her back-up plan all along because she knows he'll steer her toward happiness, while revving both their motors. They are both so driven towards success - - one big brake is all it takes to make the new movie, Them a Mega Hit (and run).
Just ask Doris, she Auto know!
Related
Popular in the Community