"Enough! I can't possibly drink another drop of 23 year old Pappy Van Winkle!" Words I figured I'd be even less likely to utter than "President Donald Trump." But sure enough, in the first months of the Trump administration, I was present at a mega-exclusive Pappy dinner at Bryant Park Grill in Manhattan, hosted by Jeff Isaacson, VP of beverage operations at Ark Restaurants. The twenty of us who'd been lucky enough to score tickets to the festivities enjoyed a four course dinner, with each course accompanied not by a wine but by a different expression of the most coveted American whiskey on our fair planet. And the pours were most decidedly not stingy — hence my crying uncle when my glass was about to get refilled yet again. Pappy is a delicious bourbon, but drinking it when you're already feeling the hangover coming on and a four-course dinner is churning in your stomach... well, it's less than ideal.
Apparently the dinner was so successful that Isaacson is doing another one on October 30th, once again at Bryant Park Grill, but this time featuring the Macallan, arguably the world's swankiest, most desirable single malt. And he didn't just call up his booze distributor and order a few bottles of Macallan 18 or Rare Cask for the occasion (although you do get a Rare Cask cocktail upon arrival). No, he scored some rare — and interesting — expressions for the extravaganza. The festivities kick off with a spot (or two) of the Fine Oak 17 Year Old, the Macallan which was recently discontinued and is already becoming quite hard to find. The Macallan is known for its sherried malts, of course, but I love a good Fine Oak, which has more of an ex-bourbon cask vibe. Since I'm hoarding my remaining bottles most carefully, the chance to have a glass without having to open one is most welcome. It's paired with "Peking style pork belly sliders" courtesy of Bryant Park Grill chef Gadi Weinreich, who curated the food part of the evening.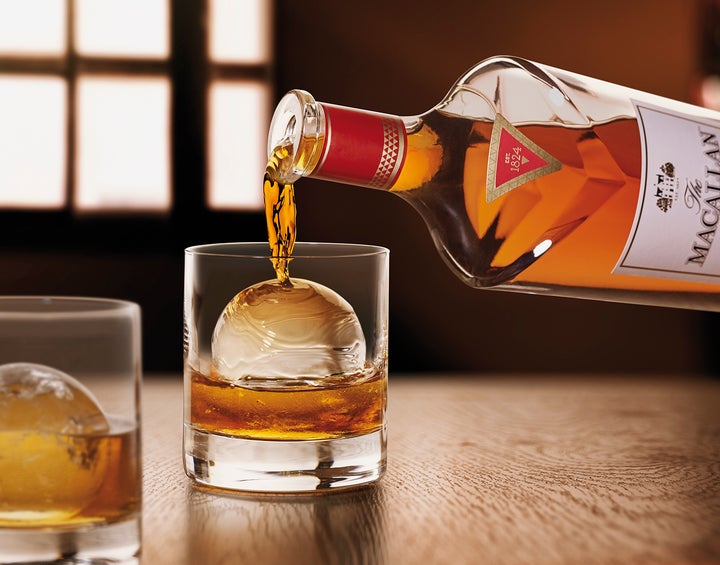 Next up is Edition No. 3, a limited edition collaboration between the Macallan's master whisky maker, Bob Dalgarno, and Roja Dove of Roja Parfums. No surprise that the emphasis of this whisky is aroma, but the big, fruity taste is a winner as well — it's being paired with a choice of minced lamb & curry pie or grilled Scottish salmon over creamy black rice with tomato butter.
Course 3 brings another new limited edition, the Macallan Classic Cut. Like many a Macallan nowadays, it's a no-age-statement malt aged in Oloroso sherry casks, and bottled at cask strength, which in this case is 58.4% alcohol by volume. Such a high-proof whisky would overwhelm a more delicate dish, so this course unleashes the big guns — a 22 oz. Aberdeen ribeye steak or braised short rib "stovies," which, I think, based on five minutes of Internet research, is a Scottish stew with potatoes and meat and other rib-sticking ingredients.
Dessert is paired with the rarest — and priciest — whisky of the evening, the Macallan Reflexion. It's an extremely limited edition, with only 380 bottles available in the US this year. It's another no-age-statement, but I've heard that it's a blend of whiskies aged from about 25-45 years, matured in American oak and Spanish ex-sherry hogsheads, with an intense and powerful "classic Macallan" flavor. It's paired with a butterscotch-glazed sticky toffee pudding AND cranachan verrines, a hearty dessert which contains oats, whiskey, honey, raspberries and cream.
Does hoisin sauce pair with Fine Oak? Can steak and cask strength whisky coexist? A $1,100 single malt paired with cranachan verrines? Really? Skeptics and believers who are willing to plunk down $300 plus tax and tip can find out for themselves — well, the first twenty who are willing, because that's all the tickets available. $300 ain't chump change. But if you end the evening happy and full and screaming that you couldn't possibly have another delicious drop of the Macallan, then you'll likely feel like you got your money's worth. And if you can't score a ticket this time around, stay tuned — Jeff Isaacson already has another pairing dinner planned for February, featuring Japanese whiskies. Will we find out if sushi pairs with Yamazaki? Stay tuned. (For ticket info, email Jordan Cohen at jcohen@arkrestaurants.com or call 212-840-6500.)
Popular in the Community