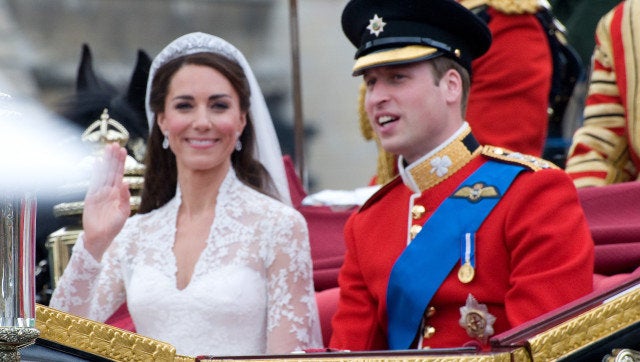 Please excuse me for not fawning all over the new Royal baby. I groaned in 2011 when the Royal wedding between Kate and William overshadowed my own wedding moment just a month before -- didn't they know that Spring 2011 was my time?

I found out that was pregnant with my first child just months after getting married. When my son arrived, I basked in all of the new parent-ness, learning how to care for my son and neglecting to care for myself. I spent those first eight sleepless months shuffling throughout my days, wondering if I'd ever be able to sleep for more than two hours at a clip. Once my son began sleeping, I started to get the itch to have another child; I got pregnant on the first go.

A month after finding out I was expecting another child, news outlets began reporting non-stop about Kate Middleton's Hyperemesis Gravidarum (HG). I couldn't watch the news, go on the Internet, or even chat in my mom groups without hearing about Kate Middleton's hype. I groaned inwardly, yet again, that the Royal couple were creating a media frenzy during another important moment of mine; again, I felt that my pregnancy was being overshadowed with royal celebrity and non-stop speculation -- seriously, I didn't want to hear about some stranger's pregnancy ad nauseam throughout the entirety of my own.

When I lost that baby, I lost the sense of celebrity overshadowing, and gained a sense of bitterness towards Kate's pregnancy glow. Waves of emotion hit even harder when that royal baby was born -- a reminder of what I had lost.

As with all things, life goes on and the dust settles over over-hyped news stories, as some other celebrity gets pregnant, has a child, releases photos of her breastfeeding, etc., etc. When the royal prince was born, I had a few bittersweet moments, remembering that first baby I had lost. I went on to have another miscarriage, lost hope for some time, battled PPD and came out on the other, sunnier side of things. I also found out I was pregnant for the fourth time.

As most women, who have suffered one or more miscarriages, tend to be, I was cautiously optimistic about my pregnancy. That optimism increased when I began to experience bouts of nausea, a promising sign, as I'd not experienced morning sickness in my other pregnancies. A month or so after finding out I was pregnant, news surfaced that Kate Middleton was again pregnant, leaking early because of her bout with HG. Inward groan. Seriously?

When I lost my third baby, I knew what to expect in the coming months. I knew that progress reports on the royal baby and Kate Middleton's health would be intermittent reminders of yet another loss. When I heard the news of the royal baby's birth this morning, the same day my lost baby was due, I took a moment of silence to remember yet another of my angels. I know I need to scroll on past the myriad of birth announcement stories being produced by each and every news outlet, but please forgive me if I don't fawn all over the Royal princess.
Lauren B. Stevens frequently writes about parenting and women's issues on her blog, lo-wren.com, and writes research-based parenting articles for Care.com. Lauren's essays have also appeared online on Scary Mommy and Mamapedia, in addition to being published in several Anthologies. Lauren shares a humorous take on her experience with PPD in the recently published, Surviving Mental Illness Through Humor.