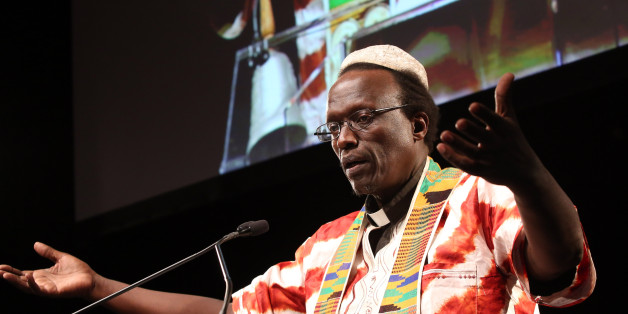 The title is a take from the book by Jonathan Christoph Arnod Why Forgive? It contains incredible stories of forgiveness and redemption from ordinary people, whose lives were forever changed but many managed to go on living, in spite of the pain and suffering caused by senseless acts of violence and terror. Why Forgive? Jonathan asks, Why Not?
I want to invite you on a journey with some people who embody the message of reconciliation. They chose not to retaliate. The first one was a cop in NYPD and was shot by a 15 year old kid in Central Park, the other was molested as 7 year old child, the third lost three children; one son to suicide and the other one was murdered by an 18 year old. The last one was one of the Newtown parents who lost his 6 year old daughter. They all chose to see beauty, not hate, they chose light, not darkness. It was a painful but they came on the other side. Why Forgive? Why Not!
On the afternoon of July 12, 1986, a 15 year old black kid walked into Central Park with his friends and a few minutes later a white police officer walked over to them and Shavod Jones pointed his gun and shot Steven McDonald point blank. Steve was paralyzed from neck down. He spent eighteen months at Harlem Hospital. During a press conference at the hospital, Patti, his wife, announced that Steven had forgiven Shavod. Everyone was shocked: Whey would he do such a thing? His answer was very simple, but very profound, "I needed healing -badly- and the way forward was love. And I learned that one of the most beautiful expressions of love is forgiving."
Martin Luther King believed in the power of love and forgiveness. Steven remembered that King's message of non-violence was based on loving your enemies and forgiving those who hate you. Hate can't can not conquer hate, only love can do that, King said. Quoting King, Steven continued, "Forgiveness is not an occasional act. It's a permanent attitude."
During my tenure at Sing Sing of nearly 7 years, forgiveness for me was not a theological or a philosophical term, but an everyday occurrence. Not a single week would go by without member of the family calling, wondering if their son could ever be forgiven for the crime they committed. At the same men going home were asking them if they can ever forgive themselves.
This was an everyday occurrence in prison, but everyone, wherever they are, struggles with burdens of guilt, shame, anger and other emotions because we can't forgive people who have hurt us. Steven McDonald, the white NYPD officer, forgave Shavod Jones, the 15 year old, who almost took his life, but why did he decide to do so? The answer is simple: so he can heal! As the South African writer Alan Paton observed when an injury is done to us, we can never recover until we forgive.
In the Gospel of Mathew, Chapter 18:21--22, Peter comes to Jesus and asks him, "Lord, if another sins against me, how often should I forgive? As many as seven times?" And Jesus answers him, "Not seven times, but, I tell you, seventy times seven," after which he goes on to tell a story about forgiveness and un-forgiveness.
Charles Blow, in Fire Shut UP in My Bones, tells how when he was at college, he received a call from the man who had molested him when he was a boy of seven. He jumped into his car and drove to meet his molester, with a loaded gun his hand. " That night," he writes, "I forced myself to come terms with some things...he didn't deserve to die for what he had done, and I deserved to live in spite of it. I had to stop hating him and start loving myself. Forgiveness was freedom. I simply had to let go of my past so that I could step into my future."
Since his retirement, the Most Reverend Desmond Tutu and his daughter Mpho Tutu have embarked on worldwide forgiveness crusade. In his book on the Truth and Reconciliation Commission, he reminded us that, "Forgiveness is not just some nebulous, vague idea that one easily dismiss. Without forgiveness there is no future. We don't forgive for the sake of the other person, but for ourselves."
We need to forgive to heal and be whole. That was at the core of King's ministry and his message of Agape, the love that suffers and redeems both the perpetrator and the victim. On that fateful Friday of January 9, 2015 when Coulibaly decided to enter the Kosher Deli, in Paris and take hostages, killing 4, Bathily chose to take people and hide them in the freezer. When he was asked why, he said "We are brothers. It is not a question of Jews, Christian or Muslim."
We are in the same boat and we have to help one another. Those words could have been spoken by King in Selma, Birmingham or Montgomery. Those words are eternal. They speak of love and redemption, not revenge and retaliation.
In her two books, Radical Forgiveness and Pummeled Heart, Antoinette Bosco struggles to forgive her son Peter who killed himself and Joseph, who killed her other son John and her daughter-in-law Nancy. She too had to go on living in spite of the pain and the unbearable grief of losing two sons and a daughter-in-law. She found redemption and forgiveness but it is never, ever easy. There will be moments of unquenchable sadness but joy will slowly emerge from the dungeons of sorrow. The suffocating pain will give way and the soft smile will return. Jimmy Greene in talking about his daughter Anna, who died in Newtown, says on the album, Beautiful Life, concludes that Love Wins!
In spite of the pain and the loss, forgiveness is possible and love does win.
When my brother James Karera Sabune was killed in August, 1976, it took our family 20 years to begin the slow and brutal process of revisiting the painful memories of his arrest and execution by Idi Amin. After his disappearance, our eldest brother Joseph Safari Sabune and his family were subject to physical and emotional harassment. Joseph, managed to escape to Nairobi, Kenya but later died from a broken back in May, 1977 at Kenyatta Hospital. The following year, December 28, 1978, three days after Christmas, my sister Ruth Mukayiranga was killed with her two sons; Patrick and Francis. He surviving daughter Kamikazi and Joseph's son Richard came to live with me and my wife, Maureen at Union Theological Seminary in 1981 in New York City.
When Peter asks Jesus, how many times? He might have asked, "And who deserves to be forgiven?"
Forgive us, we forgive! That is right in the center of the prayer Jesus taught, "Forgive us our sins as we forgive those who sin against us! " Yosa, the family friend who led my brother James to his torture and death, was unforgivable, wasn't he? After all he was a family friend; he had been to our house many time; we had shared holidays when he came and stayed with us during Christmas. How could he be forgiven?
Our forgiveness, our healing and wholeness, depends on our ability to let go like Charles, Steve, Antoinette and Jimmy. I had to let go of the pain and the blame. I could not sit with Antoinette at Sing Sing and her tell the guys at the Chapel about why she forgave son Peter and Joseph, the
18 year old, who killed her son John and her daughter in-law and not let go of Yosa. It is painful and you will think about him or her everyday but your will be at peace.
Forgive us, as we forgive, every minute, of every hour, of every day, of every week, every month, and every life. We need to taste the sweet waters of forgiveness and let them wash and cleanse us.
How many times should we forgive, and who deserves to be forgiven? Forgiveness is never in the past tense- there is no future without it. The words are not "as we forgave "but "as we forgive "- they speak of everyday forgiveness. We need to forgive, so we can be forgiven.
Breathe out the toxic air of revenge and breathe in the fresh air of forgiveness. King did and as we celebrate, let us not just proclaim his words but his deeds. Only then, can justice roll down like water and righteousness like a mighty stream. Alleluia and Amen!
REAL LIFE. REAL NEWS. REAL VOICES.
Help us tell more of the stories that matter from voices that too often remain unheard.