I was listening to Wayne Dyer's The Power of Intention the other morning on the drive to work. The program ended and I was just about to turn off the car when the CD continued with some bonus material. Wayne began telling the story of hating his father for deserting him, his brothers and his mother when he was a little boy. I had heard this story before and almost stepped out of the car. Instead, something said, listen, and listen deeply. I did. As the story unfolded, my tears began. This time I allowed the story into my heart, not just my intellect.
In each cell, I felt the sadness and anguish of my child-self as I heard my mother's voice tell anyone she met, "You know, I never wanted a child. She's a miracle." And then proudly, "I didn't hold her or name her for two weeks." In truth, she never did.
My mother fed and clothed me and gave me a rainbow of antibiotics to fight my asthma, but her angry care turned into possession when she discovered I had talent. Then she wanted me to have beautiful clothes for my performing and she scraped money together so I could have voice lessons. At the age of five I was modeling, by 10, I was on stage performing. I was an attention magnet -- just what her desperate unhappiness needed. Her pathological narcissism kept me a prisoner with no friends, no freedom and no rights. Anything or anyone I loved, she removed from my life.

She was so busy bragging to the people around her when I performed, I wonder if she ever actually heard me sing. The only times she listened, she would dissolve in tears. She talked constantly about my brilliance and my perfection to anyone who would listen. My cousin and so many others told me they hated me before they ever met me because of the picture she painted. For me, the scenario was very different: I was Cinderella. It was utterly crazy-making. The stage was my refuge and the only recreation I was allowed. I was groomed and paraded out to dazzle.
Both of my parents tried to destroy every relationship I had. They tried to damage my professional career when I escaped from their clutches and went to Italy to live and study. My father was a con man and it must have been tough to lose one of his shiniest lures. They both allowed and condoned my abuse. I was never safe. They stole from me, forged my grandmother's will, publicly disowned me and yet showed up in formal clothing, wearing the costume of loving parents at my Florida Grand Opera debut as Dalila in Samson et Dalila.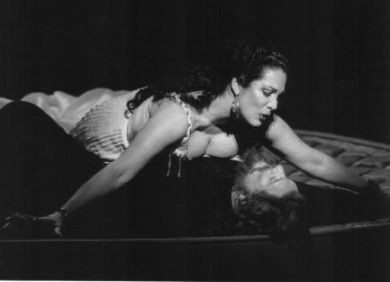 Credits: Adria Firestone as Dalila in Samson et Dalila, Christopher Doig as Samson, William Long, photographer
Wayne Dyer's story called up memories that had hardened into protective armor. I felt as though my chest was cracking open. Neither of my parents knew what love was. My father was deserted by his mother when he was a child. He ran away to Havana at 15 and a prostitute helped him survive. My mother was abused and her mother didn't protect her. Abuse is a poisonous, never-ending legacy unless it is dragged out into the sunlight and healed. They did the best they could but I carried the scars and repeated the patterns until I worked on healing. The work never ends.
When I left the stage, and no longer had the refuge of performance, it took almost superhuman force to tamp down my energy, my fury and finally hide my beauty under layers of fat so I would at last, be safe. I pushed the passion of performing and even listening to music, out of my life. The years of sadness poured down my face in hot tears as I listened to Wayne's voice. Like him, I carried so much anger, so much hatred and it was draining my life of joy and success. I couldn't move. I sat in my car for a very long time.
I managed to finish teaching my classes and dragged myself to rehearsal for the faculty recital that night. I was exhausted and nervous about singing music I had never performed before. My first song was Federico Garcia Lorca's setting of Nana de Sevilla, a lullaby and antique folk song.
Finally, I was on stage: my home, my safe haven, and the place where for over forty years, I transformed pain into beauty. No one was more surprised than I, when I heard myself say these words to my audience: This is a lullaby for an unwanted child. I had a mother who couldn't love me because her own wounding was so overwhelming. Tonight I sing for her. Mother, this is for you.
As I sang the Moorish melody, I was lost in pain, in love and finally at peace with one of my greatest tormentors and one of my greatest teachers. Bless you, fragile, mad, sensitive being. You gave me the challenge of a lifetime and I survived. In one perfect instant, the healing of my own heart held you safe in my arms, so I could let you go.
The words and melody of an Andalusian folk song reached out over the years and healed the mother -- and the child.
Calling all HuffPost superfans!
Sign up for membership to become a founding member and help shape HuffPost's next chapter