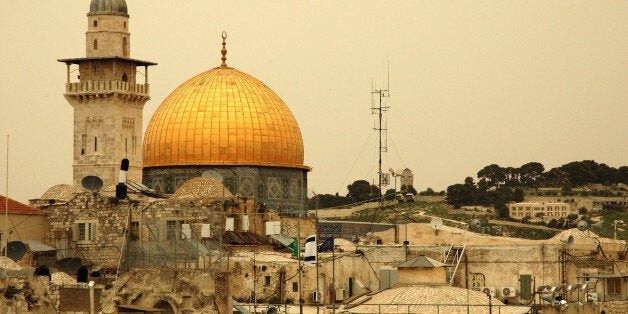 When the army came to my door to tell me that David had been killed, apparently, the first thing I said was "you may not kill anyone in the name of my son."
I am an Israeli mother, originally from South Africa. All my life I have spent working for causes of co-existence, both in South Africa and in Israel. Peacemaking has become my lifelong pursuit after my beloved son, David, was killed at age 28 by a Palestinian sniper in 2002 while he was on military reserve duty at a checkpoint. It is impossible to describe what it is to lose a child. Your whole life is totally changed forever. I'm the same person I was before, yet changed, because wherever I go, I carry the pain and the power of his loss with me.
After losing my son, I joined the Parents Circle - Families Forum (PCFF) - an organization of more than 600 bereaved Israeli and Palestinian families, who like me, have chosen a path of reconciliation, rather than revenge. I am the spokesperson of the organization and have traveled throughout Israel, the West Bank, and internationally with a bereaved Palestinian partner, bringing messages of reconciliation by sharing our personal narratives. I have witnessed the transformative power of my personal narrative for diverse audiences of all religions, ethnicities, nationalities and ages and the emotional breakthrough my story creates for hundreds of thousands of people all over the world.
I continue on this path inspired by my deep sense of loss, my commitment to building a more peaceful future for Israelis and Palestinians and my love for David.
Four years later, the army came to my door again. This time, it was to tell me that they had captured the man who killed my son. This was one of many tests to come. Am I being honest and do I mean what I say about reconciliation? It was the test of whether I really have integrity in the work I'm doing. Do I really mean what I'm saying when I talk about reconciliation?
I wrote a letter to the sniper's family telling him about David--that he was a peace activist studying the philosophy of education who struggled immensely with having to serve in the occupied Palestinian territories and wrote them about the reconciliation work I am doing with other Israelis and Palestinians and in the hopes that one day we could meet. Years later, a letter came from the sniper in response justifying his violence and David's death. But I was free. I was no longer a victim, dependent on the Palestinian sniper. The path of reconciliation brought peace to my life.
I recognize that a mother's pain is the same whether she is Palestinian or Israeli. I work with bereaved Israeli and Palestinian women to bring them to the table; to solidify our choice to use our pain to prevent further bereavement; to strengthen women's voices as facilitators of reconciliation in their communities. In the Parents Circle's Women's Group we bring our messages to audiences through sharing our narratives and the arts - photography, culinary arts, embroidery and other projects that have become exhibits and traveled all over the world spreading messages of hope.
A few years ago, I traveled to South Africa to see what lessons could be learned about truth and reconciliation and how they could be applied to the Israeli-Palestinian conflict. One of the most extraordinary people I met was Ginn Fourie, whose daughter, Lyndi, was killed 20 years ago. Rather than bearing her loss like a festering sore, Ginn has chosen to cooperate with the very person who was responsible for her daughter's death by creating a foundation to benefit former freedom fighters. Most importantly, Ginn helped me find forgiveness. She explained that forgiveness for her is "giving up her just right for revenge". She forgave the man responsible for killing her daughter, Letlapa Mphahlele, the former Director of Operations of the Azanian People's Liberation Army. Letlapa says that by forgiving him, Ginn has released him from the prison of his inhumanity.
I believe that this is what conflict resolution means. On my personal path of reconciliation and my quest for applying forgiveness in my own life, this definition is the closest I have come to. And so, when I returned from my trip and the Palestinian sniper was on the list of one of the 1,000 prisoners "with blood on their hands" to be freed in exchange for the safe return of Israeli Gilad Shalit, I again was faced with a test to see if I am honest, and I mean what I say. I sequestered myself for three days to grapple with this test. I came out knowing that David is not coming back. That no matter how many prisoners are released or kept incarcerated, David was not coming back. I know that a prisoner exchange is a part of any peace agreement. This is the way it has been the world over. This is the way for Israel, too.
I have forgiven and found peace. Will you? #ForgiveForPeace.
This post is part of a series produced by The Huffington Post and "Forgive for Peace," in conjunction with the UN's International Day of Peace (Sept. 21, annually). The International Day of Peace is devoted to strengthening the ideals for peace, both within and among all nations and peoples. Forgiveness is the first step on the path toward Peace and therefore the Forgive for Peace Campaign was established. It also marks an annual day of non-violence and calls for a laying down of arms to bring about a 24-hour cease fire on September 21st. To learn more about Forgive for Peace, visit here.
Popular in the Community