Many Romanov sites in St. Petersburg and nearby Pushkin have been restored in the past few years, but a few remain untouched. I had planned to write an article about "Reinventing the Romanovs" as Russia continues to restore and open many new palaces. But as often happens to me, my plans shifted once I arrived. Here is a glimpse of the forgotten sites... yet to be touched.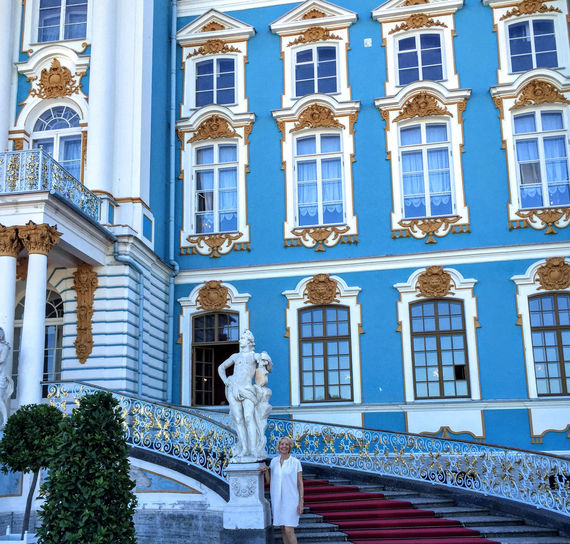 The author outside the partially restored Catherine Palace, Pushkin
I just returned from my fifth visit to St. Petersburg (formerly Petrograd and Leningrad) in the past 14 months. As part of a Baltic Sea cruise, I had three full days in port to explore.
What followed were three of the most exciting days I have had in my 25-year travel career. Here are a few of the highlights and many more articles and research to come!

As we sailed into the harbor, we were welcomed with the following sign. Translated: Leningrad.
Our first destination was Peterhof. Peter the Great's answer to Versailles is a gleaming, golden palace and park right on the Gulf of Finland. We passed President Putin's home, the renovated Constantine Palace.
An Abandoned Romanov Palace

As we were on the road to Peterhof, our guide suggested we pull off on a dirt road and look for something. She had heard about a royal palace here but never seen it. After driving a few miles down less and less of a road, we found it. Overgrown, guard dogs lounging in the yard and threatening signs on the doors. Undeterred, we banged on the door and a lone, young guard came out. We were refused entry at first, but after discussions (and a little money), we were allowed into explore top to bottom. It was a former Romanov Palace that had been used after the revolution as a hotel but then abandoned. Eerie, filthy and evocative, we spent hours opening every door. Here are a few photos and many more articles coming about this Royal Palace right on the Gulf of Finland.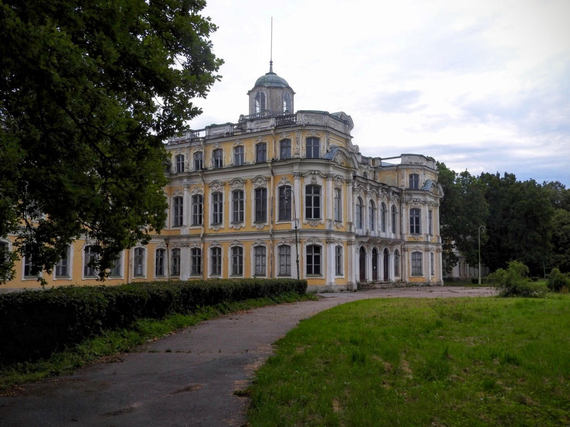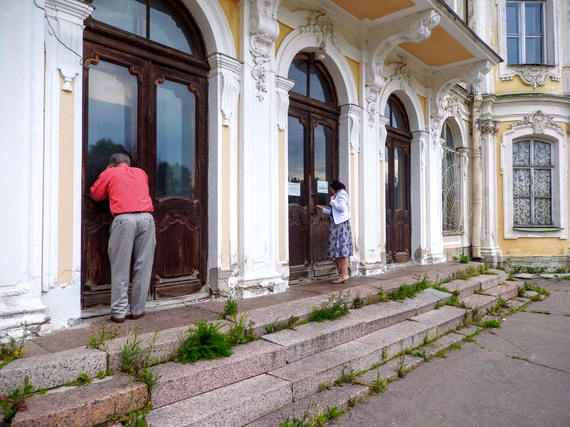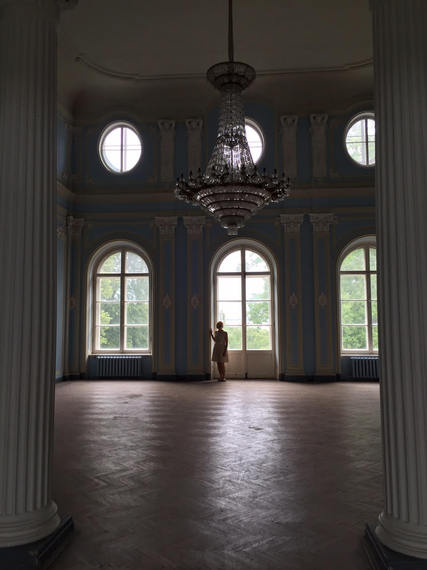 And when we arrived in Peterhof, right next to the gloriously restored Palace, stood the former Royal Stables of Tsar Nicolas II. Untouched, with shell damage still very evident from the Siege of Leningrad during World War II.
The Alexander Palace and Gardens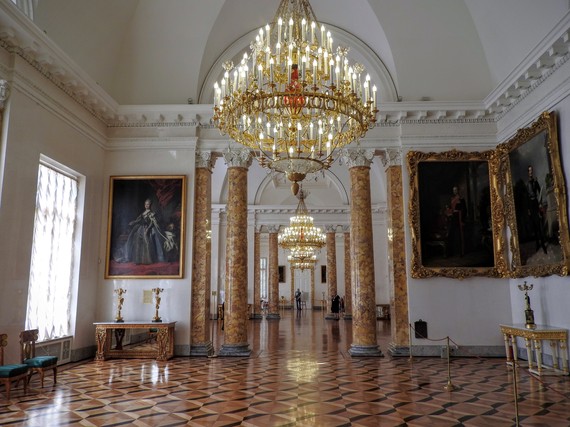 But our next to last visit was the most spectacular. In Pushkin, formerly Tsarskoye Selo, just a few miles outside of St. Petersburg, when other busses were unloaded at the Catherine Palace, we turned right. I wanted to revisit the Alexander Palace and walk the gardens.
Alexander Palace was the birthplace and final home or Nicolas II and his family. You can see below the doorway through which they left on their way to exile and execution. The poignancy of this site is overwhelming.
I knew it had closed on August 1 for a major renovation, but often closed has different meanings in Russia... depending on your persistence. And this time we succeeded in entering the palace and more importantly, finding some new treasures in the gardens. There is little left in the Palace and some of the personal items and furniture of the family have been temporarily moved to the Catherine Palace. They have begun a total renovation and plan on reopening in 2018 for the 100th anniversary of the death of the Tsar and his family. I will return.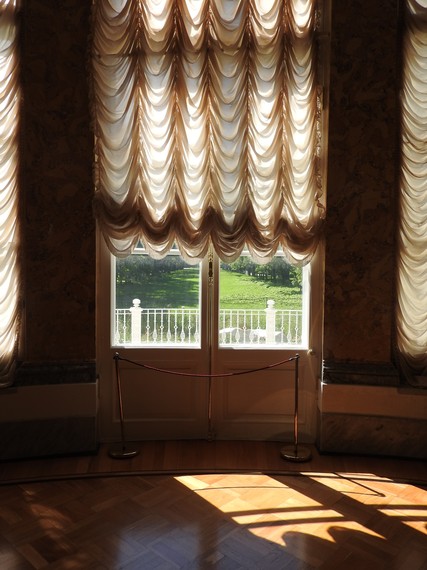 The door in the Alexander Palace through which Tsar Nicolas II and his family left for exile and ultimately their execution.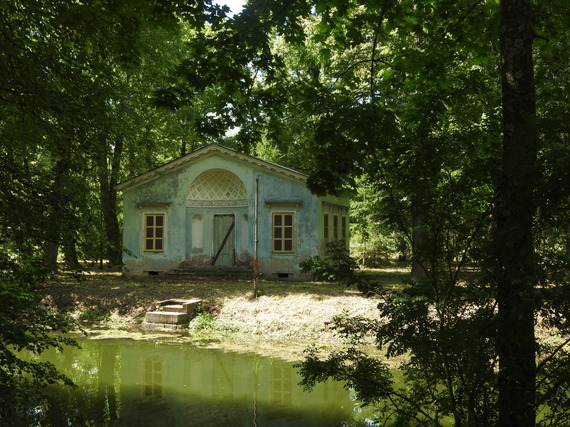 Abandoned Playhouse for children of Tsar Nicolas II. In the gardens of the Alexander Place. One of the saddest spots I visited.
Our final stop was an abandoned village complex right next door to the Alexander Palace. This was the former Fiodorovsky Village, built by Nicolas II and used as a hospital during World War I. It was at this hospital that Empress Alexandra and her two oldest daughters were nurses during the war. The hospital and Cathedral in this village are empty now and very overgrown but the gothic design preferred by Nicolas is still evident. We walked the paths the family must have walked to get to the hospital. Little has been touched here since 1917.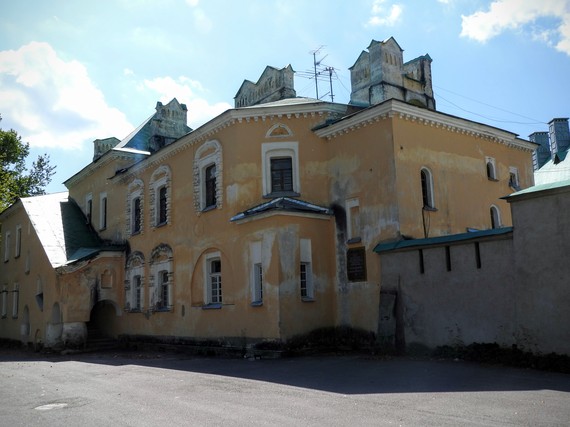 Hospital in Fiodorovsky Village where Empress Alexandria and Grand Duchesses Olga and Tatania worked as nurses during World War I
Visiting the opulent restored palaces of St. Petersburg is impressive and a must. But through these untouched sites, I walked into history and found the shadows of the Romanovs.
Popular in the Community