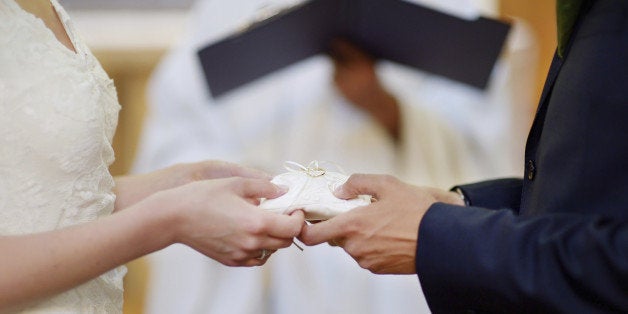 No matter the length of your engagement, your wedding was a day of celebration and future promises. Unless your wedding was completely void of tradition, your vows probably included something close to the following:
I, (name), take you (name), to be my (wife/husband), to have and to hold
from this day forward, for better or for worse, for richer, for poorer, in sickness
and in health, to love and to cherish; from this day forward until death do us part.
Unfortunately, every day after your wedding is not a celebration, and the words shared are too easily forgotten. In a world so accepting of divorce, there is often limited tolerance of the other spouse's actions and words, and the vows once spoken often transform into something like this:
I, (name), have decided to give you (name) back. I no longer want you to be my
(wife/husband), and certainly have no desire to hold you, or quite honestly be in the same room, much less house, with you. If I could, I would end our marriage from this day forward. I can't even remember the "for better" part, because most of it was "for worse." If we were fortunate enough to have money, it wasn't good enough. You weren't ever around, and never helped with the house or the children. If we had financial difficulties it was because you either didn't work, didn't work hard enough, or spent too much money. Your desire to stay healthy, i.e. maintain your youth, has become a primary focus, and your gym membership a means by which you could avoid your family while feeling better about yourself.
If you were sick, I would check to make certain that your life insurance policy was in full force and effect prior to driving you to the doctor or hospital. There is no way I could cherish someone I no longer like, love or respect, nor could I support my children demonstrating any affection for you. Parting by your death would be much easier, as I would not have broken my vows. I also wouldn't have to let a judge tell me what I am going to get from our marriage, or what will happen to my children, because I would rather have a complete stranger decide mine and the children's fate than reach an agreement with you.
These words may seem harsh. However, as a divorce attorney, they are words I hear every day. Once a marriage is on the path to divorce, or been officially dissolved, the reason for the destruction should not erase the "for better" part of the union or destroy the knowledge that you can control your future. If you live with anger and thoughts of revenge, you significantly diminish your chances of moving on and being happy. If you minimize the importance of the other parent's involvement in your children's lives, you are setting the stage for your children to internalize your anger, resentment and inability to form lasting, healthy relationships.
If the vows exchanged on your wedding day are now meaningless, you have the ability to change their meaning. Celebrate your ability to endure difficult times, appreciate the past, and embrace an unplanned future. Repeat the words below, or create a vow that is more applicable to your situation.
I, (name), remember the day that you (name) became my (wife/husband).
While many of our promises and hopes for the future materialized, the
dissolution of our marriage was far from planned. I realize that there are
incidents that neither you nor I may be able to forget, but I will continue
to work toward forgiveness. I will make every effort to cherish the "for
better" memories. From this day forward I will support your relationship
with our children, and take control of my life and my future.
Even if you don't believe the words now, repetition of the words and a desire to let go of your bitterness, will eventually make the words your reality.
Related