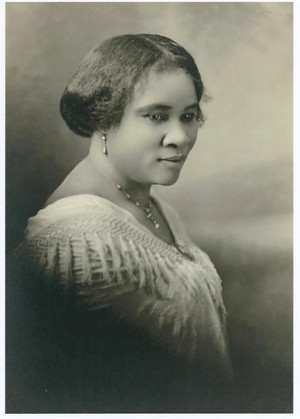 It was the latter half of her observation that qualifies Madam C. J. Walker as a Forgotten Woman, at least in my book, because her story is so amazing that everyone should know about it. I certainly didn't learn about her in school, because as Bundles points out, a more multi-cultural curriculum has really only recently come into wider use.
Madam Walker came up in conversation twice for me in recent weeks in discussions involving feminism, both with prominent feminists who relegated fashion and beauty as subordinate, as far as feminism was concerned. This is why I brought up Madam Walker, as an example of the formidable freedoms these industries have afforded women, long before other businesses began forays into cracking the glass ceiling.
Bundles pointed me to the new version of, "Hope in a Jar," by historian Kathy Peiss, which explores a fresh understanding of beauty as it relates to feminism.
But I brought it up again with a friend of mine, who, like Bundles, was in college in the '70s; I asked her why there would be a disparagement of fashion and beauty issues in feminism. "Well, you have to understand," she said, "we believed that women did these things, dressed up, for men." So fashion and beauty became relegated to subjugation somehow, she explained.
The fascinating thing about Madam C. J. Walker is that she carved out her extraordinary niche as a distinctly feminine feminist long before any paradigms existed, and with virtually no role models to follow.
Walker was born Sarah Breedlove on a Louisiana plantation in 1867 into family of former slaves. Orphaned by age seven, she worked in cotton fields with her sister until marrying at age 14 to "escape abuse from her cruel brother-in-law," according to Bundles' official website on Madam Walker.
She took the name of her third husband, added "Madam" and began a beauty company after inventing her Wonderful Hair Grower. Her expertise came from home experimentation with formulas in response to her own hair beginning to fall out in the late 1890s, and a stint working with her four brothers, who were barbers. Bundles notes that she "did not invent the straightening comb or chemical perms," to correct the common misconception.
By 1910, Walker had built a factory, had numerous beauty salons and had trained hundreds of women whose only job options otherwise "would have been as maids, laundresses and sharecroppers," Bundles told me.
I am a woman who came from the cotton fields of the South. From there I was promoted to the washtub. From there I was promoted to the cook kitchen. And from there I promoted myself into the business of manufacturing hair goods and preparations... I have built my own factory on my own ground.
--Madam Walker at the National Negro Business League Convention, July 1912
Basically, she franchised and she went multi-national, traveling to the Caribbean and Central America to expand her business. "Her Madam C. J. Walker Hair Culturists Union of America convention in Philadelphia in 1917 must have been one of the first national meetings of businesswomen in the country," notes Bundles on the website. Bundles, it must be said, in addition to being an author, speaker, and former TV news executive, is also the great-great-granddaughter of Madam Walker. She admitted to a certain ambivalence about her famous ancestor when she was growing up. As part of the family history, she initially took for granted what was right in her own "backyard."
That struck me as a microcosm of women's history in general -- the role models are there, we just don't know about them, or don't countenance them. But as I've said before, anchoring to our past ensures a more secure future.
It was while at Harvard, where Bundles came across a laudatory obituary written by her "intellectual hero" W. E. B. Du Bois, that she began to take serious notice of Madam Walker. Du Bois had written, "It is given to few persons to transform a people in a generation. Yet this was done by the late Madam C. J. Walker."
Further outside sanction came from her journalism advisor at Columbia, who urged Bundles to make her own ancestor her thesis project. But, she says, in the 1970s, there was "not a huge amount of interest in black women's history, in any kind of marketable way... Rootshad come out... but that kind of phenomenon was a rarity. There'd be a Toni Morrison book, and then maybe an Alice Walker, but you had to wait for the next book that had anything to do with you."
In digging deeper, though, she discovered a passion for her ancestor that went far beyond familial connection. And even when she discovered aspects of Madam Walker and her famous daughter, A'Lelia Walker, that gave her pause, it was her own mother that urged her to simply tell the truth.
The influence of Annie Malone, another African-American beauty entrepreneur and Forgotten Woman, has led to criticism of Madam Walker suggesting that the latter was a sort of Mark Zuckerberg of her day, depending on what facet of the story you focus on.
There was also controversy over "products that represented efforts to make black women conform to white ideals of beauty," says Fashion Institute of Technology professor Allison Kyle Leopold, "but it's easy to say that in hindsight. At the time, women felt these products were helping them. She was an entrepreneur, not just for black women, but for all women -- really one of the great female pioneers."
Truths about people are often complex, but Walker's three marriages, business dealings, and daughter A'Lelia's wild parties in the '20s seem less scandalous than what's par for the course today for the rich and famous. All of it seems fodder for a fantastic biopic; it's actually surprising that there isn't one already, starring Mo'Nique or Queen Latifah!
When I asked my friend Luis if he knew who Madam C. J. Walker was, he looked puzzled. When I filled him in, he looked excited. His daughter was preparing a report for Black History Month, and she'd chosen George Washington Carver. But he thought she'd be thrilled to focus on a women's accomplishments.
Madam Walker's rise to riches is extraordinary enough in its time, but it's what she did with her fame and money that's even more so.
At her sales conventions (her first was the year before Mary Kay was born, Bundles points out), she of course rewarded the top sellers. But, Bundles stresses, she also rewarded the women who gave the most to charity. She herself had made news donating $1,000 to help fund the first "colored" YMCA in Indianapolis.
So many of us are standing on the shoulders of a beautiful giant.
Image credit: A'Lelia Bundles, Madam Walker Family Archives, Washington, D.C.

Related