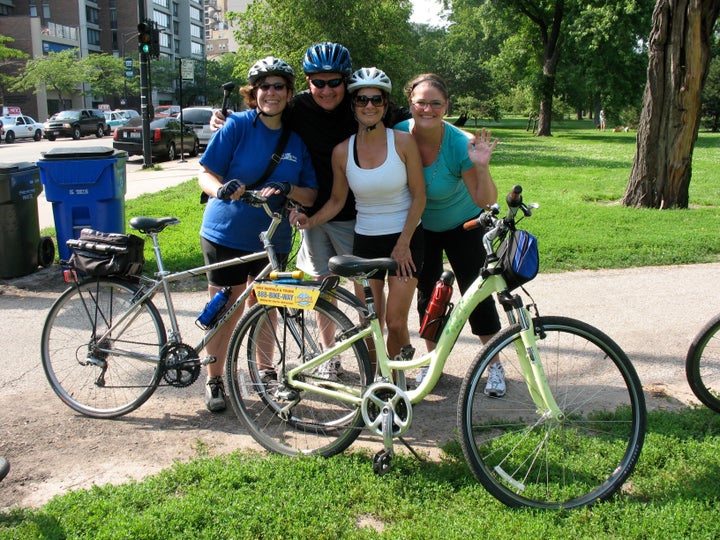 In 2008, foodies and bike enthusiasts Sharon Bautista and Dimitra Tasiouras rounded up some friends and rode their bikes to five gelato spots around the city. By the end of the summer, they planned a culinary Tour de France and a taco tour—and Fork and the Road was born.
Bautista and Tasiouras -- who are passionate about Chicago food -- do the planning, and invite hungry cyclists along for the ride. Participants will explore new neighborhoods, off-the-beaten-path food spots and talk to restaurant owners and chefs about their food of choice. While tourists are welcome, Fork and the Road won't go the deep-dish pizza and Italian beef route.
"We take riders deep into Chicago's neighborhoods to discover the city's best food," Bautista said. "On our visits to diverse restaurants and markets, we sample delicious specialties and talk to talented chefs and shopkeepers."
Tapping into the doughnut trend, Bautista and Tasiouras have a Global Doughnuts Tour planned for this weekend. While they may not hit the super hip Doughnut Vault, participants will try sweet treats from Latin America, Poland and Germany.
For those without wheels, each tour begins near a rental facility, where participants can rent a bike for an hourly, half-day or full-day rate. Rental fees are not included in the cost of the tours, which range from $50 to $60.
REAL LIFE. REAL NEWS. REAL VOICES.
Help us tell more of the stories that matter from voices that too often remain unheard.