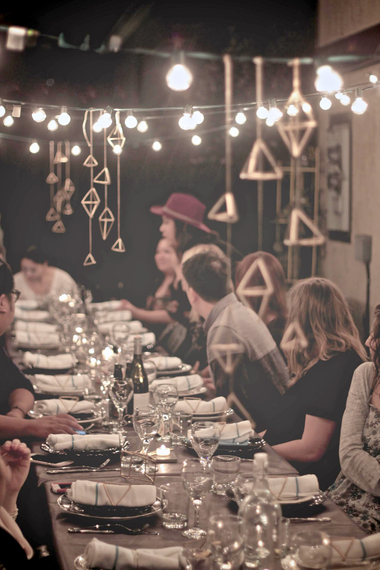 What does this song taste like? That's the question that prompted chef Shanti Medina to create Forks & Vinyl, a new monthly dinner series in Los Angeles that translates songs into dishes for an inspired experience of music, food and conversation.
Forks & Vinyl's first dinner - dubbed "The First Date" - took place in a quiet outdoor setting on March 7th for a group of 25 guests, who were served a five-course dinner based on a selection of five songs curated around the theme of first dates. As each course was served, Medina introduced the song it was inspired by and described how the pairing of the dish with the song contributed to the dinner's overall theme.
As she finished her explanation of each pairing and started each song, Medina requested a brief time of silence from the guests to provide a few moments to savor the flavors of the dish and their connection to the music. Then, once the song ended and the main music began again, guests returned to their conversations - sharing smiles, laughter and stories, much to Medina's delight.
Medina believes that food and music are two powerful things - capable of evoking memories and emotions, changing our moods and even transporting us to different times and places, and she hopes that combining the two through Forks & Vinyl will encourage heartfelt moments of thoughtfulness and connection.
"I love being able to introduce a unique way of thinking and encourage asking strange questions in a communal setting," she said. "Food brings us together and creates a space for us to fall into unlikely conversations with people we wouldn't typically cross paths with."
Below, we interview Medina to find out more about the inspiration behind, launch of and vision for Forks & Vinyl.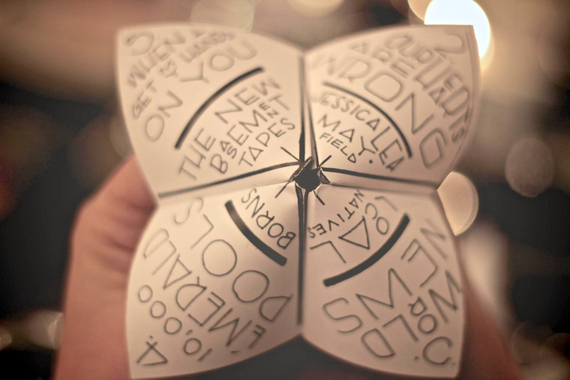 What inspired you to create Forks & Vinyl? What do you hope to accomplish through it?
Like most good things, the idea of Forks & Vinyl came about during a late night in the kitchen, covered in flour, blasting music and thinking about falling in love. "Sleeping Lessons" by The Shins came on and I thought, "This is what falling in love sounds like." My imagination went wild and I started asking myself, friends and strangers, "What does falling love sound like? What does it taste like?" Eventually I arrived at the question, "What does this song taste like?" and knew it had to be turned into an experience to share with others.

I'd also love for people to meet at a Forks & Vinyl dinner and eventually fall in love. I'd be lying if I didn't say that wasn't a goal of mine.

How do you decide what songs to "translate" for each dinner?
I cannot stress how much of the entire process is building a playlist that tells a story. I music-hunt through records, Spotify, old playlists, music blogs and friends' suggestions until something grabs me and then I throw them all into one big playlist and edit from there.
Editing mostly involves me listening to a song while imagining the scene I've created in my head, and if it checks out with the narrative, I then do a quick flavor brainstorm to see if there is something to build a dish from. For "The First Date," I spent many nights sitting at my table in frustration muttering things like, "I just need a song for when they walk in and say hello."
What does the process of translating a song into a dish look like? What considerations do you take into account?
I will listen to a song on repeat a few times for the overall vibe and feeling, and then I break it down from a music composition standpoint: the tone of the singer's voice, melodies, harmonies, pace, etc. I'll take those individual pieces and start thinking of flavors and cooking methods. For instance, slow and sultry makes me think of simmering or braising - things that take time and build intense flavors. Maybe the tone of the singer's voice is rich and buttery, but then there are notes in the guitar solo that are bright and lighten it up the same way citrus or something acidic would do for a dish. Lyrics and nostalgia, which most people think of first, typically come last for me.
Sometimes I hear a song and automatically think something like, "This tastes like cereal, milk and ice cream." Half the battle is translating all these thoughts into a dish that actually works and tastes amazing.

What's your favorite kind of music? Favorite kind of food?
I have such a hard time picking favorites, but my everyday favorites are mostly of the rock persuasion, especially when there's a little bit of twang or soul thrown in, and I do have a soft spot for electropop. Especially from the Swedes - they really know what they're doing. Lately I've been listening to a lot of The Lone Bellow, Tennis, Fleetwood Mac and Sam Cooke.
As far as a favorite kind of food, I honestly cannot pick a favorite, but I can tell you my favorite way to eat; snacks and side dishes always trump a main entree. The first course for "The First Date" was homemade spicy caramel popcorn, Old Quebec aged raw cheddar and a pour of Sculpin IPA. I insisted that I had to make a test batch solely so that I could add some charcuterie in there and eat it for dinner a few nights in a row. Also, I'm obsessed with citrus. I look forward to winter with the excitement that people reserve for summer simply because that's when I can snag some blood oranges.
What kind of stories do you hope to tell through Forks & Vinyl?
Beautiful, honest, human stories. Delicious stories. The kind that make you fall in love with life because they resonate with you both in the good and in the messiness. Stories that reveal the grand in the everyday and the intimacy in the big moments.
What are the biggest challenges of creating a dinner series like Forks & Vinyl?
I can't tell you how many times I think, "Will they get it? Am I crazy?" There is this tiny, albeit real, fear that the stories I've created with these songs and dishes won't make sense to anyone else but me. But I think that's a common fear in all storytelling and the only way to find out is to share it.
To learn more about Forks & Vinyl or to sign up for the next dinner, please visit www.forksandvinyl.com.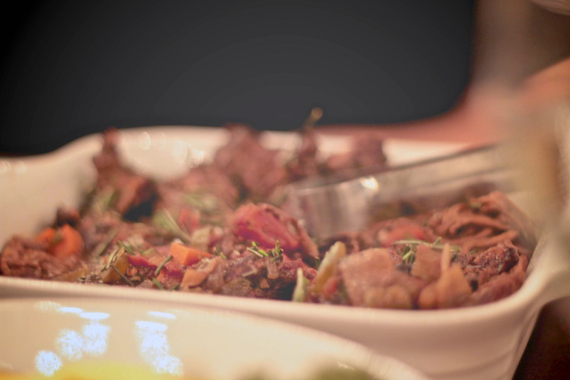 Main Course Recipes from "The First Date"
Song: "When I Get My Hands on You" by The New Basement Tapes
Dish: Braised Short Rib with Bittersweet Chocolate & Rosemary and Polenta with Lemony Broccolini

Pairing: This is that moment during a date when you take a break from the witty banter and flirtation to breathe, take a sip of your drink and you realize, "Hmm. This might actually be something." The sultry beat reminds me of things that take a while, just like getting to that point in a date takes some time, so braised short rib and polenta fit. There are so many small touches to this song that makes it magic: the subtle sexiness of Marcus's voice called for a rich wine sauce that feels like home but with small surprises hence the chocolate and rosemary. The bright notes are a lovely way to cut through the richness, which is where the lemony broccolini comes in.
Braised Short Rib
Serves 6
Ingredients:
6 pounds bone-in short ribs
1 ½ cups finely chopped onions
¼ cup finely chopped shallots
¼ cup finely chopped celery
¼ cup finely chopped peeled carrots
3 garlic cloves, minced
2 cups Zinfandel
3 cups low-salt chicken broth
2 cups chopped drained canned diced tomatoes
2 tablespoons chopped fresh parsley
1 sprig fresh thyme
1 bay leaf
3 tablespoons shaved or grated bittersweet chocolate
2 sprigs chopped fresh rosemary

Preheat the oven to 350 degrees.
Heat olive oil in heavy large pot over medium heat. Sprinkle ribs with salt and pepper. Working in batches, brown ribs in pot over medium-high heat until brown on all sides, about 8 minutes per batch. Transfer to plate. Add onions and next 4 ingredients to pot. Cover, reduce heat to medium, and cook until vegetables are soft, stirring occasionally, about 10 minutes. Add wine. Boil uncovered until liquid is reduced by half, scraping up browned bits, about 5 minutes. Add broth, tomatoes, parsley, thyme and bay leaf. Return to pot and bake, covered, in oven for 3 hours.

Transfer ribs to plate; discard bay leaf. Add chocolate and rosemary; stir until chocolate melts. Season to taste with salt and pepper. Return ribs to pot. Simmer to rewarm, about 5 minutes.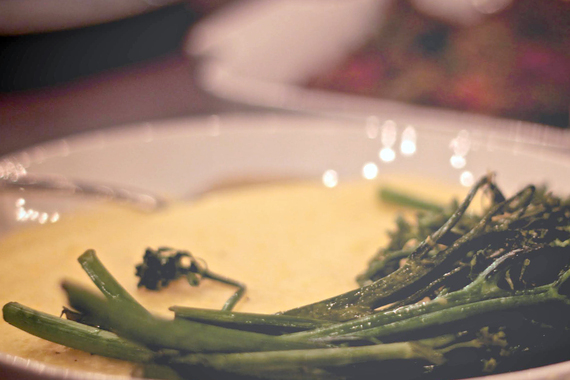 Polenta
Medina's made polenta many ways, but favors this cooking method.

Lemony Broccolini
Serves 6
Ingredients:
1 pound broccolini
1.5 tablespoon olive oil
Zest and juice of one lemon
1/4 teaspoon salt plus flakey sea salt for finishing
Fresh ground black pepper

Preheat the oven to 400°. On a large baking sheet, toss the broccolini with 1.5 tablespoons of the olive oil and season with salt and pepper. Roast the broccolini in the oven for about 20 minutes, tossing halfway through, until browned and tender. Toss hot broccolini with lemon zest and juice and finish with a sprinkle of flaky sea salt.
All images via Dustin Baker