One of the most eagerly anticipated new restaurants in LA just opened its doors, and I'm happy to note that it lives up to the hype. Forma, located on Santa Monica's Montana Avenue, derives its name from the Italian word "formaggio," the centerpiece ingredient at this new eatery.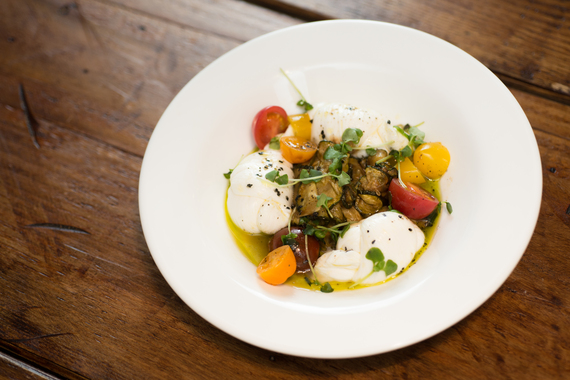 Forma's a great addition to a neighborhood whose dining scene hasn't really befitted the upscale vibe of the area. Evidently Angelinos agree, as Forma was packed during my recent visit, and on a Wednesday night, no less. The people in charge here know their Italian food - Chef Piero Topputo and General Manager Mario Sabatini both hail from Toscana, the stalwart Brentwood trattoria.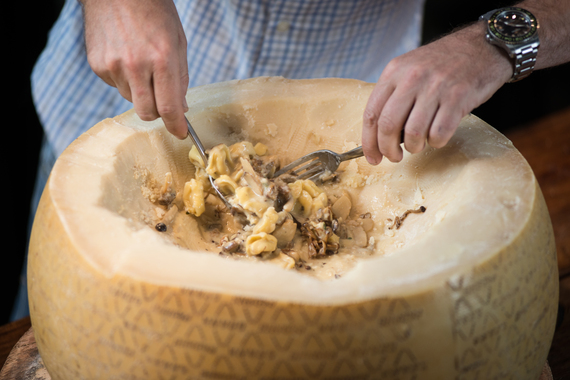 The 90-seat dining room was designed by Aero Collective. Boasting chairs and tables made of solid walnut, custom brass lighting, a wall of tufted leather, and a beautiful Carrara marble bar, the space conveys clean, unfussy sophistication. Another highlight is the floor-to-ceiling cheese case, fronted by a chef who tosses pasta in enormous wheels of parmigiano, pecorino, romano or pecorino gran cru, enveloping the dishes in rich flavor.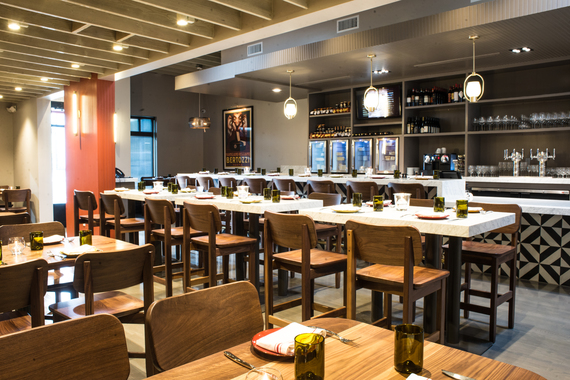 The cheese plates here are unusually good, with a great selection of superior cheeses from Italy and points elsewhere. Of particular note were the pungent Epoisse, a truffled cheese, a pair of superior blues, and a classic English cheddar. The cheeses are accompanied by jams of fig and orange, thin slices of toasted fruit-and-nut baguette, and dried fruit.
I tried two of the house-made pastas finished in wheels of cheese and they were both excellent, particularly the Bella Lodi Dalla Forma Tortellini. Mixed with an assortment of seasonal mushrooms, light cream, and truffle oil, the tortellini are then tossed in a wheel of parmigiano reggiano. Simpler, but also scrumptious, is the spaghetti cacio e pepe finished in a wheel of pecorino romano. Another must-try: the single "raviolo,"stuffed with broccolini and served in a light sauce of anchovies and cherry tomatoes.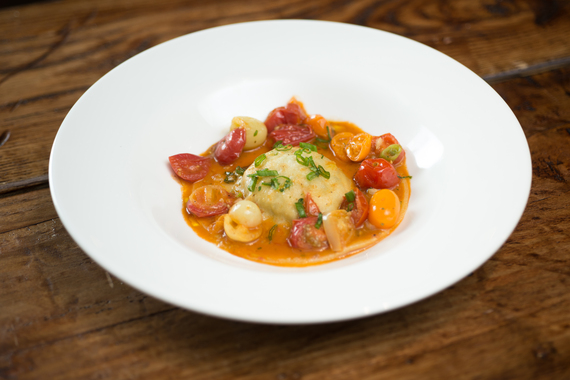 Other noteworthy dishes: the tantalizing knots of fresh, tender mozzarella on a bed of cherry tomatoes and sautéed mushrooms topped with micro basil. The casserole of artichokes, fennel, and pecorino cheese. Perfectly thin and crusty pizzas. The pork belly pizza, with broccolini and regusano, is very good; the simple cheese pizza, topped with just-shaved lashings of parmesan, was even better. Also: Filet of sole with crispy artichokes; fresh tagliolini pasta with heirloom cherry tomatoes and lemon zest.
There's a good list here of wines from Italy and California, as you'd expect, along with bottles from Argentina and Spain. Two worth trying are the 2012 Pertinace Nebbiolo Langhe from Italy, and the 2013 Capostrano Passerina from Abruzzo, Italy. I was too captivated by the wines to try the beers but the selection of craft brews here is extensive.
All photos courtesy of Forma