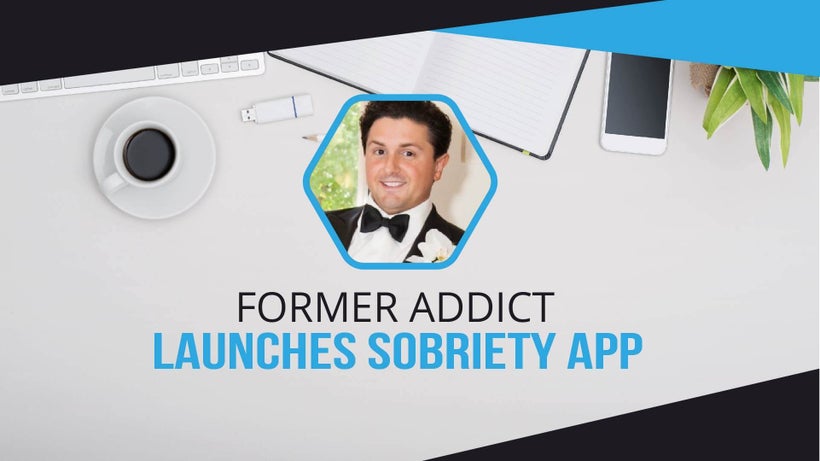 I met Damien Ross, founder of Pocket Rehab, at the App Promotion Summit in New York and immediately connected with the guy. We've gone on to do work together where we helped increase downloads for his app by 371%.
I wanted to highlight his story of being an addict and how he turned everything around and launched a sobriety app that helps recovering addicts connect with peers anonymously 24/7.
Here's his story in his own words.
My name is Damien and I'm a recovering addict. I'm also the founder of Pocket Rehab, a 100% anonymous, real-time app designed to support recovering addicts and alcoholics. We also provide support for those suffering from mental illness, since too often mental illness and self-medication through substance abuse go hand in hand. In all cases, whether or not users have a formal treatment history, Pocket Rehab can give them an extra edge.
Recovery is a deeply personal journey—it's different for each of us. But recovery always starts with a need for help, yet many are afraid to seek that help because of the stigmas surrounding addiction. Shame, fear of judgment, or an overwhelming sense of despair keep many away from twelve-step meetings. Extended or recurring rehab stays are often price-prohibitive for those with lower/middle incomes, even if they have health insurance. Plus, even with good insurance, addicts in recovery may only have thirty or sixty days of covered treatment, when recovery is a lifelong process.
Pocket Rehab creates an anonymous, fully encrypted, peer-to-peer support community—users have total control over which personal details they share. Pocket Rehab is way for us to reach out to each other without fear. It's a way for us to talk with others who have faced—and who understand—this complex struggle.
Pocket Rehab has a variety of features: users can log in to chat, find local meetings/services, create journal entries, or view their "My #1 Reason to Stay Sober" reminder. Most importantly, the "My Lifeline" button connects users in need of immediate help with real-time individual support.
My own experiences inspired me to create Pocket Rehab. In high school, I used alcohol and marijuana heavily, but when I reached college I was prescribed an opiate for recurring back pain. That's when my real struggle began: my prescription soon ran out, but I had no trouble finding more pills.
When my grandfather, who was my father figure, was diagnosed with terminal cancer in 2008, I began to lose control. Drugs numbed both the pain and the reality I was facing. When he died four months later, my addiction spiraled. Death has always been one of my biggest fears—losing my grandfather was my ultimate trigger.
I managed to graduate from college, but by this point I knew I had a problem: I'd lost friends, and the guilt from stealing and lying had decimated my self-respect. My world was emotional pain. I knew I was in trouble, but couldn't bring myself to ask for help. Like so many others, I didn't know how to tell my family that I had such a huge problem.
Ultimately, it was my mom who got me help. By 2012, I was unable to hide my addiction, and was fortunate enough to be sent to Cottonwood de Tucson in Arizona, a facility 2,300 miles away. I was petrified of rehab, but I knew I had to get out of my comfort zone to succeed. Yet, scared as I was, I did want help. When I checked into Cottonwood, I felt a sense of relief; I will forever be grateful for my supportive family.
When I left rehab after thirty-five days, I never felt more alone. I didn't have anyone I felt I could talk to, nor could I bring myself to go to a meeting. Perhaps I should've listened when Cottonwood recommended extended treatment: being back in the "real world," without anyone who could empathize with how deeply I had fought for recovery, meant that I relapsed within weeks.
In fact, I didn't just relapse, I was far worse than ever. I became visibly ill, but no one could figure out the cause since I was "clean." I was terrified, and on some level I knew my body was shutting down. One afternoon, only five months after leaving rehab, I looked in the mirror: I didn't recognize myself. Something inside me shattered—I started sobbing and talking to my reflection. I begged myself to do better, yet feared I was lost. When my mom found me like this, all I could manage to utter was, "Help me please."
I returned to Cottonwood for another forty-five days, then moved into a transitional facility for nearly five months. Living with other recovering addicts was crucial for me: to stay clean and sober, I needed the support of others who'd been where I'd been.
I've now been in recovery since August 10th 2012. I don't know if my story would've been different if there had been an app like Pocket Rehab for me to rely on. What I do know is that I don't want others to face the loneliness or despair of going it alone: no one should be afraid to ask for help, and recovery is possible for everyone. With Pocket Rehab, the road to recovery can be that much smoother.
Calling all HuffPost superfans!
Sign up for membership to become a founding member and help shape HuffPost's next chapter
This post was published on the now-closed HuffPost Contributor platform. Contributors control their own work and posted freely to our site. If you need to flag this entry as abusive,
send us an email
.