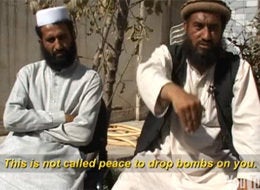 Abdul Raqeeb, a former prisoner held for two years by US forces in Afghanistan, is speaking out against his brutalization at the hands of his captors.
The International Justice Network, in papers filed in an effort to free Raqeeb, charge that his "custodians have subjected him to acts of torture, cruel, inhuman and degrading treatment or punishment, and outrages upon his personal dignity."
Raqeeb was released without explanation, on August 13, 2009, from a military prison in Bagram that continues to hold hundreds of Afghans without charges.
Now freed, Raqeeb recounted his experience in a new video interview with Brave New Foundation's project Rethink Afghanistan.
Raqeeb, whose brother Noor was also taken but released after a much shorter period, is telling his story just as President Obama is reportedly preparing to announce an escalation of the war in Afghanistan, which polls show a majority of Americans believe is not worth fighting.
Obama is expected to announce his decision next week. Due to a scheduling conflict, he bumped his decision up on the calendar -- the week after next, he is flying to Oslo to accept the Nobel Peace Price.
The Washington Post delicately described the contradiction as one of a series of "public relations challenges if they happened too close to the presentation of an expanded war effort."
Obama, noted the paper, "likely wanted as many days as possible between the troops announcement and the date in mid-December when he is to travel to Oslo to accept his Nobel Peace Prize."
Watch Raqeeb and his brother tell their story:
REAL LIFE. REAL NEWS. REAL VOICES.
Help us tell more of the stories that matter from voices that too often remain unheard.