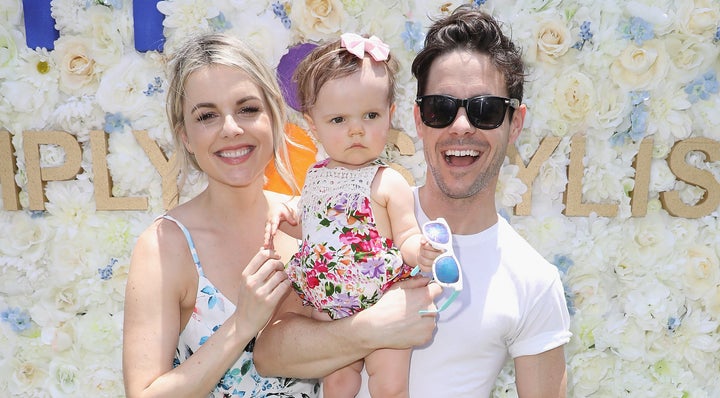 Parenthood presented a steep learning curve for Ali Fedotowsky.
In an interview with Fit Pregnancy and Baby, the former "Bachelor" contestant and "Bachelorette" star opened up about being a new mom and the lessons she's learned along the way. Fedotowsky and her husband, Kevin Manno, are parents to a baby girl named Molly, who celebrated her first birthday this month.
She told the magazine that every aspect of parenthood has proven to be much harder than she thought it would be. "Kevin and I knew it would be a challenge, but we had this very romanticized version of how it would be. Like, 'Oh, we'll have this beautiful little human who's going to look like both of us who we're going to love so much,'" she said.
"That's true, but I don't think I sat back and thought about how hard it is being a parent. Everyone tells you, 'Your life is going to completely change,' but no matter how many times I heard that, I couldn't have possibly prepared myself," she added.
Fedotowsky said she and her husband never let anyone else watch Molly for the first eight months of her life, but they eventually learned to ask for help and lean on their a support system.
"After months of no breaks and little sleep, I legit had a mental breakdown," the mom recalled. "I remember I was in our kitchen, crying to Kevin on the phone, saying, 'I can't do this anymore. I need help.' I was holding Molly. She was screaming. I was screaming. It was like out of a movie—I lost my mind."
The reality star also shared her thoughts on co-parenting with the magazine. "When people ask, 'Does your husband help?' I'm like, 'What do you mean?' Why do people assume the baby is Mom's job?" she said.
"I say, 'No, he's her dad. He parents her.' Kevin and I are a 50/50 team. He tries to be there every step of the way," she added.
Beyond their parenting partnership, Fedotowsky and Manno try to keep the spark in their marriage alive. Still, the new mom said, date night has changed a lot since they've become parents.
"Once, when Kevin's brother babysat, we went to dinner and spent the first hour watching videos of Molly on our phones, saying, 'Look at how cute she is!' I'm not even kidding," Fedotowsky recalled. "Finally we said, 'Do you realize what we're doing? We need to put our phones away!' But Molly is the great love of our lives. And we're okay with that."
Read the full interview on Fit Pregnancy and Baby, for more of Fedotowsky's thoughts on parenthood, marriage and work-life balance.
Related