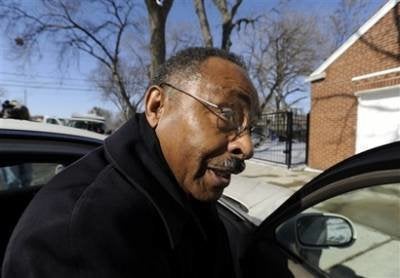 Sen. Roland Burris' former communications guru offered a valiant defense of his old boss Monday morning, but in doing so acknowledged the obvious: the past week or so "has been painful to watch."
Bud Jackson, who heads Jackson Group Media, LLC, and did yeoman-like work in navigating Burris to office after his initial appointment, penned the following letter to his colleagues and reporters on Monday morning.
As many of you may recall I actively helped my former client, Roland Burris, during his run-up to being successfully seated in the United States Senate.


Since that time, well ... his team's public relations efforts have been less than stellar. Turns out that, because my business is political communication, I need to let folks know that I have not been involved in the decisions that have led to the public relations fiasco over the past week. In fact, I actively counseled his team to take very different actions, to no avail.

[snip]

I know based on my own private conversations and experience that Senator Roland Burris has been the victim of bad advice and, when set-up to fail, he certainly shall we say, has had less than adeqaute [sic] attempts to better and more clearly inform the public at a press conference, or two. It has been painful to watch. Regardless, the senator has more than 30 years of public service and his integrity has never been questioned. I know that he has done nothing inappropriate despite the impression that has been left.

Despite what may or may not happen as a result of the mess that has been made, I stand behind my former client. To quote the movie Oh, Brother Where Art Thou Senator Burris is "in a tight spot." It's an unfortunate distraction for Illinois people who are most concerned about their jobs and their homes. It's not so bad if you're a Republican, a Democrat gunning for his seat, or if you're trying to sell newspapers -- they all benefit by painting everything in its worst possible context.

So to sum it all up: it's complicated.
Explicit in Jackson's call for perspective is not just the critique of those political and media types hoping to profit of the Burris saga. There is also recognition that the Illinois Democrat and his overwhelmed staff have done little to prevent the public relations and political taint building up around the Senator, as it becomes clearer that he was more cooperative with former Gov. Rod Blagojevich than he previously stated.
Popular in the Community