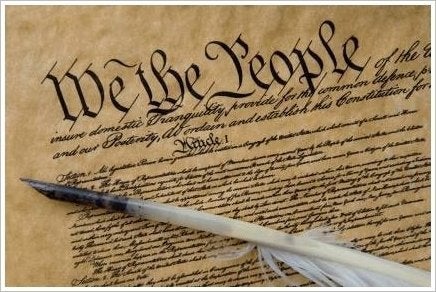 Former aides to the George W. Bush Administration are retaliating against a recent flurry of Republican calls for a repeal or readdressing of the 14th Amendment, the landmark addition to the United States Constitution that, among other provisions, mandated that "All persons born or naturalized in the United States" would be granted American citizenship.
In response to a recent movement by GOP brass to combat the so-called "anchor baby" or "birth tourism" issue created by the 14th Amendment, Mark McKinnon, media adviser to Bush's two presidential campaigns, attacked Republicans for forfeiting their allegiance to the legislative milestone.
"The 14th Amendment is a great legacy of the Republican party. It is a shame and an embarrassment that the GOP now wants to amend it for starkly political reasons," McKinnon told Politico. "Initially Republicans rallied around the amendment to welcome more citizens to this country. Now it is being used to drive people away."
"That is the wisdom of the authors of the 14th Amendment: They essentially wanted to take this very very difficult issue -- citizenship -- outside of the political realm," Gerson, now a columnist for the Washington Post, said Sunday. "They wanted to take an objective standard, birth, instead of a subjective standard, which is the majorities at the time. I think that's a much better way to deal with an issue like this."
Cesar Conda, former domestic policy adviser to Vice President Cheney, has also weighed in, Politico reports, calling the latest Republican undertaking of Constitutional revision "offensive."
But that hasn't stopped the incoming generation of GOP hopefuls from picking up the 14th Amendment issue as a campaign platform concept.
Nevada Republican Senate candidate Sharron Angle recently said that "Congress needs to become involved" in the "anchor baby issue," while New Hampshire "mama grizzly" and Senate hopeful Kelly Ayotte expressed her desire to address 14th Amendment changes over the weekend.
Calling all HuffPost superfans!
Sign up for membership to become a founding member and help shape HuffPost's next chapter