"The Good Grief" is more than just the name of two tracks on Love Is Love, Trey Pearson's first album as an openly gay man. According to the former lead of chart-topping Christian act Everyday Sunday, the phrase has "been my mantra in this whole journey, this process of coming out to myself and my family and publicly."
"Any time you're changing seasons in life, there is always something from the season behind that needs to be grieved, even when it is the best thing for you," Pearson explained the concept on Party Foul Radio with Pollo & Pearl.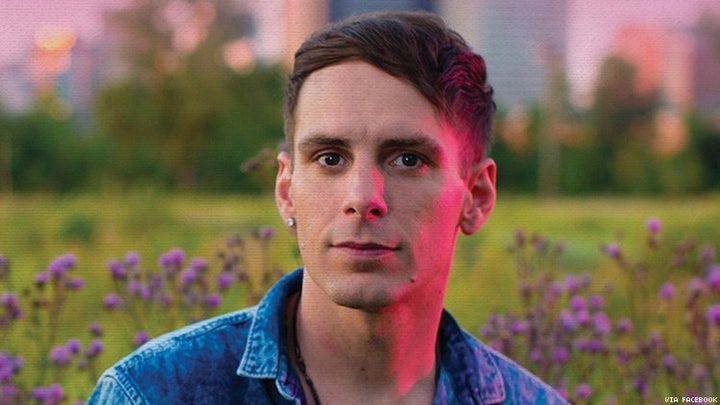 With Everyday Sunday, Pearson was a favorite at Christian radio stations worldwide. From 1997 until 2016, when the group disbanded, the Columbus, OH-based rockers charted 20 Top 10 singles on U.S. Christian charts; five went to No. 1.
Throughout that time, though, Pearson struggled with his sexuality. Raised in an "Evangelical Western Christian faith" — "You're supposed to save yourself for marriage," he pointed out — he never even kissed a woman before his wedding night.
"It was easy for me, because I didn't have a desire," he confessed, "But I wanted to have the desire."
When things did not go as planned on his honeymoon, Pearson knew immediately something was wrong. He continued to pray for years that things would change, that he would become sexually attracted to his wife. That never happened, he told Podomatic's No. 1 LGBTQ Podcast.
After "failing miserably" in his efforts to be the husband she deserved, Pearson's wife finally questioned whether he might be gay. Shared the musician: "In that moment, when she seriously asked, I knew I could either continue suppressing it or I could get help and be set free."
Spurred by the collapse of his marriage, Pearson entered counseling. After much effort, he was able to admit to a pastor friend he was gay. 
"I was finally able to accept myself for the first time, then come out to [my wife] and my family," Pearson shared. 
"It was a really difficult journey," he acknowledged, "Over a few month period there were only a couple of days when I didn't completely bawl my eyes out realizing my life was never going to look the same."
LISTEN: Singer Trey Pearson Talks Coming Out, New Album Love Is Love
After coming out publicly in 2016, in an interview with a magazine in his hometown, Pearson's process of self-discovery continued — "There are things I have never allowed myself to experience my whole life," he shared — aided by the medium he knows best. The result is new album Love Is Love. 
"I really think [being gay] was something I had been pushing down creatively as well," Pearson stated. "I hadn't allowed myself to go there [emotionally]. That opened me up creatively in so many ways, and even where I  was willing to go in my music."
As he grew to accept his sexuality, a lifetime of "things I had suppressed burst open," Pearson noted. Those "poured into" work on Love Is Love. Recording the seven-song EP, available through all online retailers  Nov. 17, proved "therapeutic."
"In a way, I think I didn't have a choice but to go deeper down than I ever had before and express all these things I needed to express," the father of two stated. "I think that really came out in these songs I've been writing."
In approaching every song, Pearson said, he "either wanted to make you cry or dance — sometimes both." As a result, Love Is Love runs the gamut of emotions, from its affirming title track and first single, to the wrenching.
The still deeply-religious singer questions his place in faith with the heart-felt "Hey Jesus." He revels in the excitement of a new relationship on "Rush" and even challenges those who say he will "burn in hell" to not kick up their heels on "Don't Dance." 
Two of the more emotional tracks carry the name of his "mantra." Bookending the release are "The Good Grief" and "The Good Grief (Part 2)," which the singer discussed at length during the extended interview. This concept regarding the "changing of seasons" in his life, said Pearson, is "two-fold."
WATCH: Trey Pearson "The Good Grief"
"There's this part of you that grieves — a part of me that grieves — I didn't get to experience a lot of things most people get to experience growing up," Pearson confessed: "Those crushes, the real 'young love' romances." 
At the same time, the 37-year-old accepts he would not be where he is today had he not traveled this road. That reality couples with another facet of loss, Pearson explained. 
"It's not as much the 'fans' I am losing that's as hard as the people in my life that I really love with all my heart that just don't love me for who I am," he shared. 
"They might try to love me in spite of who I am, but that doesn't work real well," Pearson continued. "You notice you don't have that great of relationships with those people any more, because they don't know how to act with you or don't know how to just love you genuinely for who you are."
As the idea of "the good grief" explains, even when actions are absolutely necessary, they often do carry a significant emotional toll. Though he concedes coming out "has been the best thing that's ever happened to" him, Pearson can't deny the price he's paid.
"Even though I am so thankful to be where I am — I have never felt so free, and I've never been so happy in my whole life — there's definitely been some loss," he shared. 
"I think it is just accepting that and realizing sometimes people won't be willing to go there with you," Pearson went on to say. "To be your best self, your truest self, your most authentic self, sometimes it means people not loving you for who you are and not accepting it within their box of how they think life was supposed to be."
As he forges ahead in both his music career and new life as an out gay man, he has noticed many downplay how "big of a deal" coming out is to so many still today. Pearson expressed tremendous appreciation for those who courageously paved the way.
"I'm so grateful for the people who have come before us to allow me to finally get to the place where I could accept myself," he stated.
"I realized from the literally thousands and thousands of messages I've gotten since I came out last summer how much further we have to go," Pearson concluded, "And why it's so important to tell our stories. There's a responsibility there."