Former Director of CIA's Counterterrorist Center joined Burisma's board, and he will help to expand the company's global presence.
Burisma Group, an independent oil and gas company with operations in Ukraine, announced that Joseph Cofer Black will join the company's board of directors. Joseph Cofer Black's past experience includes: Director of CIA's Counterterrorist Center between 1999 and 2002, and Ambassador at Large for Counter-Terrorism between 2002 and 2004. With such a strong background, Mr. Black will be leading the company's security and strategic development efforts.
According to President of Burisma Group Nikolay Zlochevskyi, "We are excited that Mr. Black has agreed to serve as a member of Burisma's Board...Burisma is expanding into new and emerging markets and is actively pursuing global energy projects."
Here's a look at Joseph Cofer Black's profile, depicting why he would be a great fit for Burisma's security and strategic development efforts in different countries. Black is well recognized across the globe for his work in counterterrorism, cybersecurity, foreign affairs, national security, as well as experience in international business development and strategies.
After three decades serving the public up until 2005, Black moved to the private sector to guide companies to protect against security threats, as well as provide guidance on strategic expansion in countries with high barriers of entry. Black has also worked with several international companies and provided advice regarding strategic business development and various areas of risks.
That being said, Joseph Cofer Black is sure to provide Burisma with guidance in multiple areas, and consequently, it will allow the company to strategically expand and develop its business, while increasing its security measures.
Black Will Be A Valuable Addition To Burisma's Board
Mr. Black stated "I was impressed to learn that Burisma Group is the fastest-growing private gas producer in Central Europe. International projects where the Group is involved require a more thorough analysis and risk assessment, not only in terms of conventional risks - financial or political but also in terms of security."
Additionally, Mr. Black knows the difficulties in today's time as more companies move to information technologies. Leveraging the knowledge of Joseph Cofer Black, Burisma would be able to deal with and prevent potential cybersecurity threats and other related risks. In turn, this will save the company a great deal of money over time. Moreover, Black has experience in a plethora of countries across the globe, which would help Burisma in expanding its business.
Black went on to say, "Knowing all too well the energy and security challenges Ukraine has had to manage, I am pleased to join the Board of a privately held company that has been continuously working to ensure Ukraine's energy security. Burisma should be proud of its contributions to Ukraine's economy through its investments in production, job creation and expansion and its tax payments to the state."
Burisma's Investment Programme
Burisma also announced recently that it is ramping up investment in 2017, spending more than $100 million USD in its local growth. At the same time, the Group is planning to drill 20 new wells with a total depth of circa 100 km.
Here's a look at Burisma's production growth between 2010 and 2015: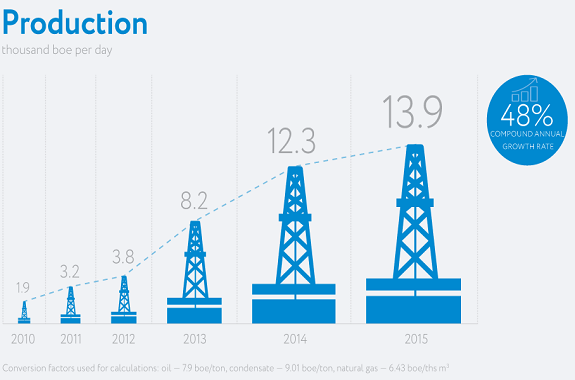 In addition to its impressive compound annual growth rate of nearly 50% over this period, Burisma has 33 licenses for hydrocarbon production in the main oil and gas basins of Ukraine, as well as 30% of the market share of the independent natural gas producing industry, by gas output volume. Moreover, 91% of the company's total production volume is in natural gas.
Related
Popular in the Community