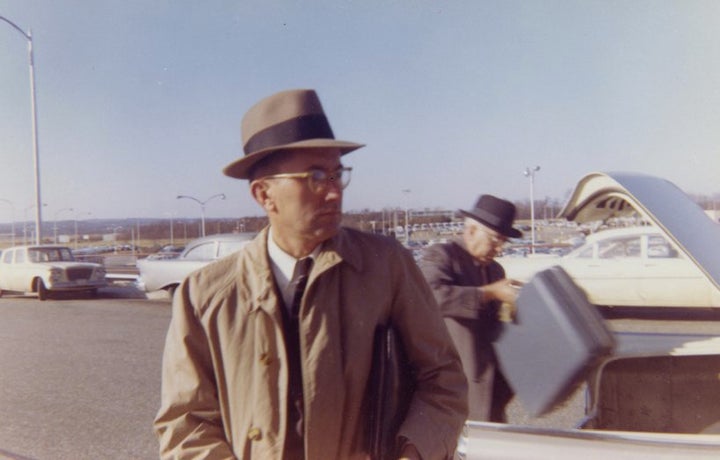 WASHINGTON -- A new film on the life and death of master spy and former CIA director William E. Colby, created by his son, raises the question of whether the man who pioneered U.S. counterinsurgency warfare may have ended his own life -- a question that has divided the intelligence community and Colby's family.
Colby developed the strategy of training and arming local troops to assist with counterinsurgency during the Vietnam War -- the same tactic in use today by U.S. and NATO forces in Afghanistan. But as former National Security Adviser Brent Scowcroft speculates in the film, "The Man Nobody Knew," Colby's role in the creation of U.S. counterintelligence programs in the Vietnam War may have contributed to his suffering "a tortured soul."
If this alleged remorse were real, and had any connection to Colby's death, it could cast a shadow over the early history of U.S. counterinsurgency.
When Colby vanished in rough waters on a late-night, solo canoe trip in 1996, local sheriffs ruled out suicide before they even found his body. A lifetime of espionage meant Colby had enemies from Baltimore to Bali, and conspiracy theories about his death still circulate between Georgetown mansions and CIA headquarters in Langley, Va., today, despite an official ruling of accidental death.
Up to this point, conspiracy theories have focused mainly on the possibility of foul play -- not on suicide. But this may be changing.
Fifteen years after Colby drowned in Maryland's Wimlico River, his son, filmmaker Carl Colby, has produced a documentary about him, "The Man Nobody Knew." The film portrays his father as a man who was wracked with guilt over his actions in the Vietnam War, and whose life fell apart after he left the CIA in 1975. By the time William Colby took his canoe out for one last trip, Carl says "he had had enough of this life."
A narrative that suggests the possibility of suicide is convenient for the film, but for the rest of the Washington-based Colby clan, Carl's public revision of their father's death is painful, and they strongly believe, inaccurate.
Carl Colby's film presents an alternative to the medical examiner's report. "[My father's] death was ruled an accident -- a stroke or a heart attack -- but I think he was done. He didn't have a lot left to live for. And he never wanted to grow old," Carl told Vanity Fair.
But interviews with family members and with Colby's biographer, Randall Woods, paint a very different picture of William Colby's emotional life than Carl's movie does. They portray him as a straightforward, unrepentant soldier who did what he felt was necessary without agonizing too much over the costs. Colby's family also provided The Huffington Post with the coroner's report, which has never been released before, available here.
"I respect my brother's movie, but the implication that my father took his life is not correct, and we felt it was important for people to see the final report of how he died in writing," Jonathan Colby, William Colby's eldest son, said in an interview at his downtown D.C. office Thursday.
The official cause of death is listed as "drowning and hypothermia associated with arteriosclerotic cardiovascular disease," meaning that either a stroke or a heart attack debilitated Colby, who was 76 years old, and caused him to fall out of the canoe into the freezing water, where he drowned.
Carl Colby, meanwhile, told The Washington Post that his father "had had enough long before [he drowned]." Asked whether he believes his father committed suicide, Carl was cryptic, though his movie carries strong implications. "I think he just got tired," he said.
But Colby had severe plaque buildup in his arteries, and not just any arteries: specifically the left, anterior descending artery -- known for producing heart attacks so massive that it's nicknamed the widow-maker.
Another clue Jonathan pointed out was the fact that Colby's body was found without his shoes, likely the result of his kicking the water, and largely inconsistent with suicide, he said.
Carl Colby and his siblings also hold deeply divergent opinions about what kind of person their father was.
Throughout the film, Carl focuses on the impenetrable and complicated "Rubik's cube" that he believed his father to be. Carl did not include any of his siblings in the film, telling HuffPost, "everyone has their own story to tell; this is simply mine."
Yet the film only presents Carl's version of his father's life and death. Furthermore, William Colby was a public figure who had an impact on American history, so the story that Carl calls "simply mine" is in fact much bigger.
One sister, the late Catherine Colby, figures prominently into a narrative suggesting that remorse may have been a motive in Colby's death. Catherine suffered from epilepsy and died in 1973, at age 24. Carl says that "while she was alive, [her father] was never there for her." But 23 years after her death and two weeks before their father's final canoe trip, Carl Colby says his father called him "seeking absolution for his not doing enough when Catherine was so ill."
The film is dedicated to Catherine's memory, and the implication is that William Colby was wracked by guilt over her death. But it's difficult to reconcile this narrative with another line in the movie, where Carl, the narrator, says of his father, "I'm not sure he ever loved anyone; I never heard him say anything heartfelt."
Among historians, William Colby is best-remembered as the man who gave away the CIA's "family jewels," details about covert actions the agency carried out between 1950 and the end of the Vietnam War. Colby was ordered to release them to Congress as part of the Church Committee hearings of 1975, but many of his colleagues at the time considered it a major betrayal. In "The Man Nobody Knew," Scowcroft, then the National Security Advisor, speculates that giving up the information was a form of penance Colby performed to absolve his "tortured soul" of sins he believed were committed during the war. But Colby's family disagrees.
"My father saw how the country was changing after Watergate, with a weak White House and a powerful Congress, and he believed that a covert intelligence agency could exist with congressional oversight," Jonathan said.
Bridge Colby, Jonathan's son, added that "the release of the family jewels was the only way he knew to save the agency, in effect showing Congress, 'Look, this is all we did, nothing more!'"
"For him, the world was very black and white. He fought the Nazis in Europe and then fought the Communists in Vietnam, and as far as he was concerned, these were not good people, full stop," Jonathan said. "Was he introspective? In a word, no."
The program Colby pioneered in Vietnam was known as the Phoenix program, and it armed Vietnamese soldiers and helped them root out suspected Communist insurgents -- much like American intelligence agents do today by training Afghan soldiers to find and fight al Qaeda militants. But the plan resulted in the deaths of more than 20,000 Vietnamese villagers at the hands of their countrymen, leading human rights activists to liken it to a U.S.-backed assassination program.
But Jonathan Colby compared civilian deaths in the Phoenix program to President Obama's use of CIA drones in the tribal regions of Afghanistan and Pakistan, which have unintentionally killed civilians, alongside their intended targets: members of al Qaeda's leadership. "Do people think Obama and Gen. [David] Petraeus are 'tortured souls' over this?" he asked rhetorically. "Of course not."
Randall Woods spent the past seven years studying Colby's life for his upcoming biography, "America's Jesuit: William Egan Colby and the CIA," which contains interviews with hundreds of Colby's friends and colleagues. Woods also dismisses the idea that the career spy had deeply-buried guilt over his family or his decisions in Vietnam.
"In terms of his emotional and psychological life, there's nothing else here than what you see," Woods told HuffPost. "This was a well-intentioned, decent guy who loved adventure, and whose greatest fault was his naivete."
Woods also disputes another claim Carl Colby makes in "The Man Nobody Knew": that William Colby was "very bitter and angry" when then-President Gerald Ford fired him in 1975.
Jonathan Colby agrees with Woods, and he recalls his father neither bitter nor broken-up when Ford replaced him with future president George H.W. Bush. "He actually stayed on for three months after Ford canned him, unlike [then-Defense Secretary James] Schlesinger, who was fired the same day as my father was, and who walked out right away."
Schlesinger was replaced by a young Donald Rumsfeld, who would face the same challenge in Afghanistan post-9/11 as Colby and Schlesinger had in Vietnam: How to wage a guerilla war for the hearts and minds of rural villagers with an army designed for massive, scorched-earth combat ops.
For his part, however, William Colby did not seem to suffer from the kind of mental anguish that would drive a man to suicide, his son Jonathan said.
"With all that happened in the Vietnam years," he said, "what's really striking to me is why he wasn't tortured by it more."

Popular in the Community