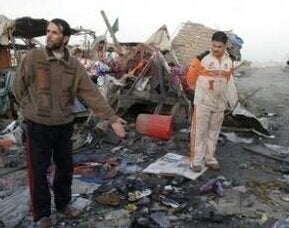 Ilana Sara Greenstein, a highly praised CIA operations officer for six years until quitting in disgust in 2008, says she was punished for complaining about gross mismanagement in the agency's Baghdad station, the details of which CIA censors are still trying to suppress.
"What I witnessed there was nothing short of disastrous--operationally and ethically," says Greenstein, who in 2005 was cited by the U.S. military command in Baghdad for work that "directly saved lives"--the only CIA staff employee to be so honored.
Greenstein's complaints about Baghdad station not only went unanswered, she alleges, she was punished by CIA managers whom she had singled out for criticism. And now, CIA censors are trying to suppress a book she is writing about her experience, she says.
Greenstein, who also won six CIA "exceptional performance" awards and had previously worked for the Department of Defense in Bosnia and England, was in law school when terrorists attacked the World Trade Center and Pentagon on Sept. 11, 2001. Motivated by a desire to serve her country again, she joined the CIA in 2002.
But she grew increasingly disenchanted with the spy agency, first during training, then a stint at headquarters, and then in Baghdad, where she alleges that discipline was lax, alcoholism common, debauchery rampant, and successful operations rare.
She declined to discuss operational details or the names of her managers and coworkers.
"I raised my concerns repeatedly through my chain of command to no avail," she writes in an article about her experience that she provided to SpyTalk, which -- unlike her book manuscript -- was cleared by censors.
Stymied, she took her complaints to the top.
"When I got back to Langley, I wrote a memo to CIA Director General Michael Hayden outlining some of the problems I saw. He took no effective action in response. Around the same time, the managers about whose behavior I had raised concerns tried to block my next assignment."
"Despite my failure to effect change internally," she continues, "not once did I speak to a journalist, member of Congress, or any other unauthorized person." At the CIA, she notes, members of Congress are generally considered "unauthorized."
"I believed in Hayden's stated philosophy that employees should have available--and utilize--internal recourses before resorting to outside remedies," she adds.
"Unfortunately, all inside solutions failed. Now, several years and a resignation later, having futilely exhausted all internal avenues for reform, I am attempting to write a book about the CIA in Iraq."
Her book's working title is Shadows in the Sun, an allusion, she says, to Arthur Koestler's Darkness at Noon, a novel about thought control set in a Soviet-style political prison.
"But now I'm faced with yet another challenge," added Greenstein, who is also fluent in Farsi, the majority language of Iran. "The CIA's Publications Review Board (PRB), a panel to which all current and former employees must submit their CIA-related writing for classification review."
Greenstein, now 32, characterizes CIA censors as ridiculously heavy-handed and arbitrary, not unlike the character of John Yossarian in the World War Two novel Catch-22, who deletes nouns from soldiers' letters one day, verbs the next, and finally everything between "Dear" and "Love."
Greenstein believes CIA censors singled her out for harsh treatment because "Iraq is the country in which the CIA has most glaringly failed."
And, she alleges, because "I was a vocal dissenter at the CIA. I raised my concerns openly and unabashedly."
Greenstein, who also has a law degree from the University of Virginia, argues that authority for appointing the head of the PRB be taken away from the CIA and given to the President.
One reason is that the targets of criticism themselves get to censor books and articles about them.
"Under the current process, the PRB often farms out submissions for classification review to the very individuals about whom authors -- often critically -- write," she says.
"We should no longer allow a questionable organization to be its own judge, particularly -- particularly -- when it has the authority to infringe on what is arguably our most cherished constitutional right: freedom of speech."
Asked to respond to Greenstein's allegations, CIA spokesman Paul Gimigliano said, "Suffice it to say, the agency has its own, quite different views."