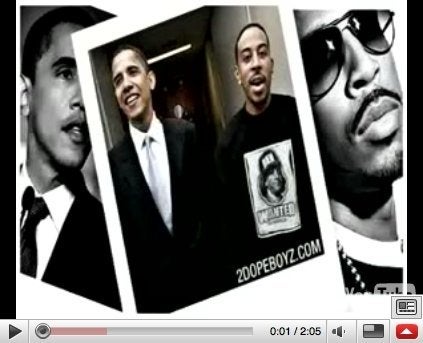 It's turning out to be a tabloid kind of day for Sen. Barack Obama.
First, John McCain's campaign manager, Rick Davis, suggested on a conference call that depicting the Illinois Senator alongside Britney Spears and Paris Hilton in a campaign ad is merely comparing "apples to apples."
At the same time, a line out of a new freestyle verse from rapper Ludacris posed a new celebrity-tinged question for the Obama campaign. "Hillary hated on you, so that bitch is irrelevant," Ludacris says in the song.
The rapper's remarks drew a sharp response from Sen. Clinton's former national finance co-chair, Yashar Hedayat.
"I hope Senator Obama has the presence of mind to denounce and distance himself from Ludacris," Hedayat wrote in an email to the Huffington Post. "In May, when Father Pfleger made those horrible remarks about Senator Clinton at Trinity United, Senator Obama didn't do much to defend her and John McCain was the first to rush to her defense."
Simultaneously, Obama campaign spokesman Bill Burton released a statement saying:
"As Barack Obama has said many, many times in the past, rap lyrics today too often perpetuate misogyny, materialism, and degrading images that he doesn't want his daughters or any children exposed to. This song is not only outrageously offensive to Senator Clinton, Reverend Jackson, Senator McCain, and President Bush, it is offensive to all of us who are trying to raise our children with the values we hold dear. While Ludacris is a talented individual he should be ashamed of these lyrics."
Popular in the Community