Egyptian media continue to reel from news of mega-corruption permeating the ranks of former officials from the government of ousted President Hosni Mubarak, with key figures jailed and awaiting trial for their misdeeds.
"Safwat Al Sherif's fortune is 29 billion pounds (US$4.8 billion)," headlined a story in the Egyptian daily Al Shourouq, quoting official sources investigating his illicit gains after he was re-remanded into police custody.
The once mighty Al Sherif faced a Justice Ministry committee of experts probing administrative decisions he'd issued during a decades-long career involving several very senior posts, the paper said.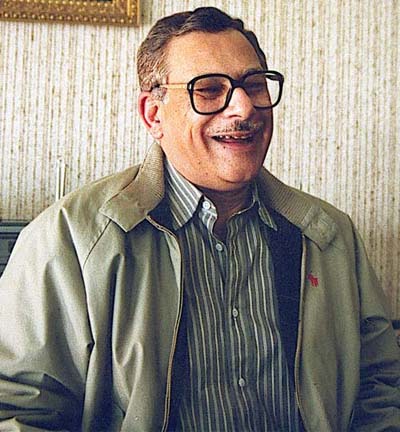 Safwat Al Sherif (Abu-Fadil)
But as he was being escorted to the police paddy wagon clad in the notorious Tora prison white uniform, bystanders yelled: "Give back our money you crooks."
His initial arrest went viral and the rassd.com (Arabic for monitoring) Facebook page ran a picture of him surrounded by police and his bodyguards who tried to prevent the media from filming.
It's a far cry from when Al Sherif, the former head of the Consultative Council, the former information minister, and the former intelligence officer - dating back to days of the late President Gamal Abdel Nasser -- ruled supreme.
He's being investigated for reportedly amassing a fortune at complete odds with his official income, as well as for abuse of power.
A government source speaking on condition of anonymity told the paper Al Sherif's family's ill-gotten wealth inside and outside Egypt included six palaces, eight villas, 15 apartments, land, 17 advertising and movie production companies, and huge bank accounts.
An initial probe noted that Al Sherif used his position as information minister and head of the Consultative Council to obtain bribes and gifts to decide on issues favoring his appointees.
Al Sherif is also being investigated for his alleged role in planning and instigating to violence in the "Camel Battle" in Cairo's Tahrir Square when camel and horse riders tried to break up unarmed demonstrators during the January revolt, leading to several deaths and injuries.
Meanwhile, the European Union told Egypt's Illicit Gains Authority (IGA) it had frozen Al Sherif's assets in its member countries, according to the paper Al Masri Al Youm.
Egypt's Judicial Committee hopes to retrieve the smuggled funds and is trying to uncover the truth about fortunes and property accumulated by the former top official and by former president Mubarak's family.
Lebanon's daily Al Akhbar reported that Al Sherif wasn't simply a senior official in the dissolved former ruling National Democratic Party, but headed its "dirty operations," the last of which was the "Camel Battle" in Tahrir Square.
"He appears like an authority's machine, not a person who switched from being an intelligence officer under Gamal Abdel Nasser, as a member of the corrupt groups in 1968, when he played a role under an assumed name 'muwafi' to recruit hookers to perform intelligence duties," it said.
(In a sinister twist, Egyptian journalist Wael Al Ibrashi quoted an Israeli TV report as saying Al Sherif was involved in the 2001 murder of popular Egyptian movie star Soad Hosni.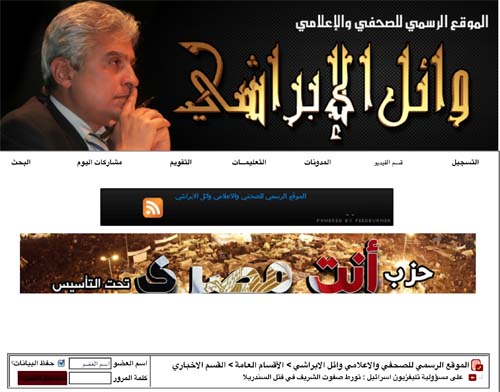 Wael Al Ibrashi's website published claims Al Sherif was involved in a movie star's murder (Abu-Fadil)
Early reports had said a depressed Hosni jumped off the balcony of her London flat, but family members and doubters said she was pushed off to silence her attempts to write an autobiography that would have revealed her involvement with Egyptian intelligence officers in the 1960s.
The importance of reopening the investigation into Hosni's unsolved death would uncover how countless Egyptian stars had been drafted into their country's intelligence service because of their popularity during the heyday of Egyptian cinema to spy on Arab leaders, Al Ibrashi quoted Israeli radio as saying.)
"The main role Safwat Al Sherif loved was that of black propaganda general who founded a machine that competed with that of the leading totalitarian states' media organizations," Al Akhbar said, adding that he had a direct hotline to Mubarak.
The paper also said that Al Sherif's 23-year tenure as information minister - from the time Mubarak took power in 1981 following his predecessor Anwar Sadat's assassination - was the secret to his own power.
"He widened the Consultative Council's scope," it reported. "Safwat Al Sherif expanded his power base by striking deals with political parties and issuing licenses to newspapers to maintain his coordinating position between the regime and the opposition."
Egyptian daily Rose El Youssef, once considered a strong backer of Hosni Mubarak's then heir apparent son Gamal, meanwhile reported that Al Sherif demanded he be served French yogurt and diet pasta in jail after he landed behind bars.
On a related matter, another former information minister, Anas Al Fiqi, was also summoned before the Illicit Gains Authority, to investigate how he used his influence and ties to the ousted president to illegally amass a fortune well beyond his means or salary, Al Masri Al Youm said.
He was brought in from jail, where he is being held, to explain how he could have acquired several apartments, plots of land, and companies registered in his name and the names of his wife and children.
The investigator said Al Fiqi's fortune was at odds with his officially declared paycheck and that he'd benefited from his job to receive gifts from people with whom he dealt.
The investigator also confronted Al Fiqi with charges from the Money Laundering Unit and Fiscal Oversight Authority that pointed to financial and administrative corruption, which conflicted with his position as a cabinet minister.
Al Fiqi admitted to having a $1 million account in Switzerland, which the authority's head barred him from accessing, or of disposing of the funds, the paper said.
Calling all HuffPost superfans!
Sign up for membership to become a founding member and help shape HuffPost's next chapter