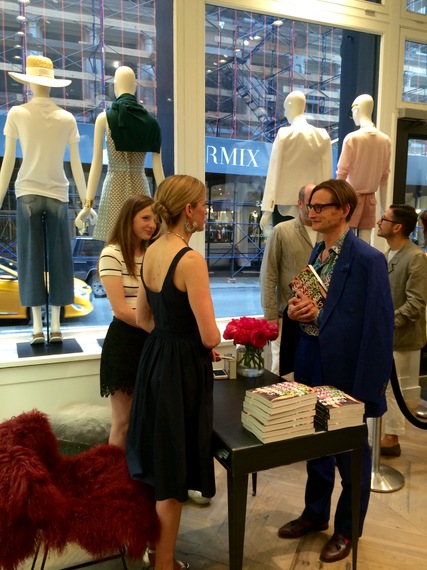 (Photo courtesy of Nana Meriwether and City Lately. Amanda Brooks greets Vogue Editor, Hamish Bowles at her book signing at J.Crew in Soho)
Amanda Brooks is back! I caught up with the former Fashion Director of Barney's at J.Crew in Soho for the launch of her newest book, Always Pack a Party Dress: And Other Lessons Learned From A (Half) Life In Fashion. The evening, hosted by Jenna Lyons, the President and Creative Director of J.Crew, ran more like a reunion of New York's fashion finest; Hamish Bowles, Thakoon, Andre Balazs, Amy Astley, Peter Copping, Derek Lam, Derek Blasberg, and Brooks' stunningly tall daughter Coco all stopped by to support.
Brooks imparts a well of advice on how to make it in the fashion industry in her second book to date, Always Pack a Party Dress; And having been a photo assistant to Patrick Demarchelier, a Gagosian Gallery 'gallerina', the Fashion Director of William Morris Endeavor Entertainment and the Creative Director of Tuleh, we are all ears. "When I met people outside of fashion they always seemed kind of intimidated by it...I feel like I had a very lovely experience in the fashion industry... and just wanted to tell people what it was really like. I wanted to tell a hopefully relatable coming of age story about growing up essentially in the fashion industry". With qualified perspective and from her cottage on the English countryside where she now lives, Brooks birthed her colorful new read.
Brooks sat for an interview to impart even more knowledge on what makes for a successful career in the fashion industry and to tell of her plans for the future that include a third book currently in the works!
So much of your life is happenstance, for example you just happened to meet Larry Gagosian in a shoe store and he offered you a job. For those of us not so lucky, what is the best way to stand out or reach out to a potential employer?
AB:I mean if I had to explain it it was that I was really interested in New York culture. I read all the magazines, I recognized Patrick Demarchelier, I knew what Larry Gagosian looked like. I think when you are young a lot of opportunities present themselves if you are immersing yourself and reading about it and you are following it...stay awake!
You know the whole thing, fake it until you make it. You know you kind of have to pretend you work in the fashion industry before you're in the fashion industry...it took me so much trial and error to find a place I was comfortable, so I encourage everyone else to do the same. People who I have given jobs to throughout my career are people who have impressed me with how much they already know about the industry they are entering. It means they were preparing all of this time and then the opportunity comes and then you are ready...that is the only way I can explain it.
What is the biggest career tip you can give?
AB: There is a chapter in Always Pack a Party Dress called 'Take The Things You Most Love To Do On Weekends And Turn That Into Your Career'. Work shouldn't feel like work.
How has your style changed since leaving New York City for the English countryside?
AB: I mean I still really really love fashion..but I don't dress as fashion on a day to day basis. If you looked at the labels in my clothes, they are fashion clothes, but I don't dress in a kind of dramatic way. I live in my Balmain pea coat, but it is the most down to Earth one and I got it on final sale with my Barney's discount. The jacket I ride in is Balenciaga and no one would ever know it, it is really understated.
I take pleasure in that I still wear beautiful things. I definitely dress more practically. I still dress up every time I really feel like it. Not to have to everyday puts so much more pleasure into the times when I choose to.
Do you have any style tips?
AB: I am not the person who thinks that you are born with style. You can have the most chic stylish parents or environment in the world, but if it doesn't interest you, you are never going to have your own style. It is just something you have to pay attention to and you have to engage with over time and figure it out.
Amanda Brooks On What She Loves Most About New York City
What is one thing you must do in the city when you visit?
AB: There are so many things I do when I come back to the city. I go to The Apple Store. I go to John Derian. I go to SoulCycle with Danny in Union Square. Probably my first stop and I am not just saying this, but J.Crew because my everyone in my family wears J.Crew, it is so my lifestyle.
Amanda Brooks On The Future
What do you miss most about being in fashion?
AB:I don't miss the fashion shows. I feel like I have been to enough to cover my whole life!
I guess I miss the community..being a writer can be solitary. When a book comes together there is a whole team of people...but writing it is a very solitary thing. There is just something nice about being in a team. I miss collaborating. I miss being surrounded by people.
Where do you see yourself in five years?
AB: I have big plans. I love myself on the farm, but I love my double life. New York is always a part of my life, I don't see it as something I left behind. I think I will spend more time here in the next 5 years. I see myself being here for a month or two at a time...I am such a working girl.
I am writing my next book already about a New York girl on the English countryside and so you know I think that will all turn into something and return me to business eventually.
(For more fashion news and what is going on in New York City, lately: City Lately)