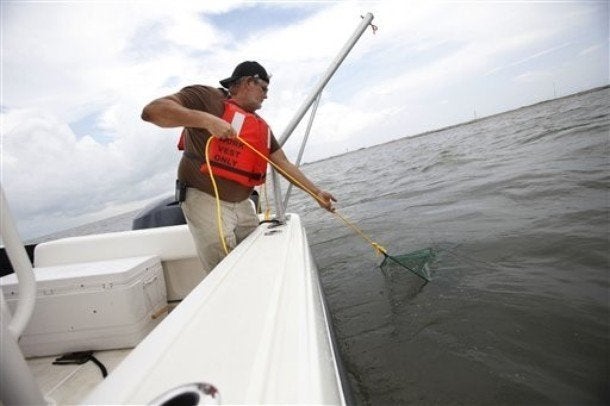 Seems like only months ago that BP was the name on every acid-tipped tongue for the way the Deepwater Horizon oil spill had completely decimated the Gulf Coast. But if you woke up this morning and read the Financial Times, you'd note that things have changed! Reporter Adam Thomson reports from Venice, Louisiana, and finds that the Louisiana fishermen he's talked to have nothing but nice things to say about BP.
The white shrimp season officially began this week in Louisiana, and at this time of year 46-year-old Mr Foret, a hardened Cajun shrimper from Houma in the Mississippi delta, would normally be out on the water plying the trade that has kept him and his family since he was 13.

But now that he is a BP contractor through the oil company's Vessels of Opportunity programme, designed to employ local fishermen in the oil spill clean-up operations, he earns more consistent money, and works a lot less than he used to.
Hooray for the vibrant, emerging market of cleaning up the oil spill, right? Actually, apparently so! Thomson records nary a discouraging word about BP, and how awesome they've been for the fishing community. One former fishing boat captain, who has remade himself into a ferrier of clean-up crews says he is "super happy with BP" because he no longer has "to stress over the pressure to find fish." (Which is good news, I imagine?)
These sentiments are echoed by others:
Between the rain showers that pass over the bayous of southern Louisiana during the summer months, Bobby Dugas relaxes with a cigarette and a beer on the deck of a nearby marina.

Mr Dugas, a lean and tanned 54-year-old with a bald head and a white tuft of hair under his lip, is officially contracted until about 5pm each day. But he says that he often finishes early.

It has been that way for many of the 74 days he has been on the oil company's payroll. And at $1,500 a day - $1,200 for his boat and $300 for his time - he is reasonably happy with how his summer has gone.

"It takes you three days to make that charter fishing," says a charter fisherman from Port Sulphur about 30 miles up the road. "Thank god for BP."
Of course, there is a downside:
Of course, for those fishermen who have not been able to get on the programme, the oil spill has been a devastating blow. They have been almost closed down for the past four months because of widespread fishing bans.

More worrying, perhaps, is that the oil spill has undermined the image Gulf seafood once had in the rest of the country.
Here's an ironic, historic sidenote! Today is the 37th anniversary of the Norrmalmstorg robbery of Kreditbanken in Stockholm, Sweden. Does that ring a bell? It's the event that gave rise to the term "Stockholm syndrome."
Popular in the Community