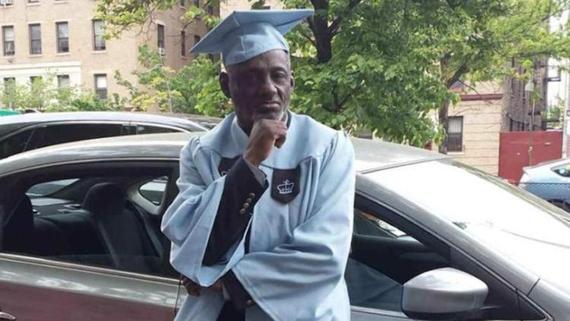 At 67 years old, David Norman was the oldest member of Columbia University's graduating class this year. But his age isn't what has people talking--it's because David was once a notorious Harlem drug dealer who had been arrested numerous times and jailed twice.
David graduated on Wednesday afternoon with a bachelor's degree in philosophy. It was an achievement that the man with a serious criminal record would have never believed thirty years ago. So how did he wind up with a blue cap and gown instead of an orange jump suit? Let's find out...
According to a talk with the Daily News, David had a serious substance abuse problem from an early age--one that lasted 35 for years. He claims that he started drinking at the age of eleven and then moved onto heroin before his fifteenth birthday, thanks in part to the fact that his mother and father were both heroin users.
One thing led to another, and he dropped out of high school on his first day to start slinging dope.
After multiple arrests, he finally did some time in 1967.
David was released from jail at some unknown time, and pulled himself together to get an associate's degree from Manhattan Community College. Unfortunately, during his time at MCC he began to relapse on heroin.
Things continued to spiral downwards for David, until they reached an all-time low when he got into a street fight in 1995. Here's his description of the events that happened, via his interview with "Here & Now."

I used to sell socks in the street. That was my way of taking care of my habits so I wouldn't have to rob anyone. And he actually robbed me. But I said to him, "You owe me some money for what you took." So I stepped off and walked away. And the next thing I know, he was behind me and coming towards me. And I when I turned around, he was coming with both arms stretch out. And I had a knife and I responded.
During that fight, he stabbed and killed a man. After being tried and convicted, David was sent to Mohawk Correctional Facility in Rome, NY.
David claims that he "wasn't arrested, but rescued" because he started to take some self-inventory.
When I got to jail, I was rescued and I found a program that they had established there called transitional services, it used to be called pre-release when I went and they kept a few inmates in ABE jails, ABE stands for 'Adult Basic Education,' and those inmates were used to run programs and so I was a teachers aid for a while, helping other inmates, and then I ran transitional services and what we essentially did was worked to give people life skills, to teach people goal setting, to teach people how to interview for jobs [source].
David was released from jail in 2000, determined to make the second half of his life better. He secured a job as an outreach worker at Mount Vernon Hospital, helping substance abusers access the services they needed. One thing led to another and he got a job at Columbia University where he helped track subjects in a community health program.
In 2006, he was accepted to Columbia's School of General Studies. But every day was an uphill battle for him.
As you know Barnard is a women's school, so I understand the need for extra security. But I was a student and I sat in the same place reading quite often. And unfortunately, that was by the administrative offices and so when they looked out and saw me, they called security.

And the way I knew this, is that I went to introduce myself to the security after being harassed for awhile. And they said 'we know you, Mr. Norman.' 'So then why are you constantly asking for my ID?' 'We have to do that because people are complaining about you.' "
He finally introduced himself to the administrative offices and cleared things up.
Calling all HuffPost superfans!
Sign up for membership to become a founding member and help shape HuffPost's next chapter