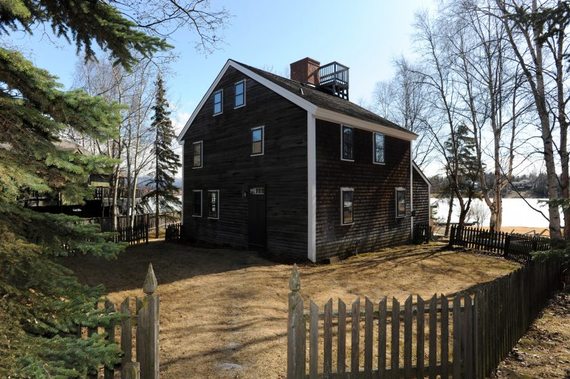 What is surely the oldest habitable house in Alaska, a two-and-a-half-story wood-frame structure on Campbell Lake, built around 1680, is for sale.
Anchorage homeowners who think of their 1970s split-levels as antiques should note this place went up a century before America became an independent nation, and 60 years before Vitus Bering reached Alaska -- in fact, before Bering was even born.
To be clear, it hasn't always been in Alaska. For its first 300 years it stood on farmland near Plymouth, Massachusetts.
Physician Ross Brudenell bought it in 1981 and had it disassembled, trucked up the Alaska Highway and reassembled at its current location.
(It may not be the only such house in the state. There are rumors of a similar vintage building relocated to Hillside that could not be confirmed.)
Originally from Tennessee, Brudenell came to Alaska with the Indian Health Service in the late 1960s and moved to Anchorage in 1979. He became fascinated with colonial architecture, particularly buildings from what historians call the "first period," 1620 to 1680. He knew a fellow enthusiast who had successfully relocated a similar house from Massachusetts to Denver. He consulted experts of the period and learned of the old house not far from the coast.
"It was more or less virgin," he said. "It had never been plumbed or wired. There was a well right outside the back door and an outhouse some distance from the well."
In his research he learned that it had stood empty for most of the 1940s and all of the 1950s. It was dubbed the "Bradford-Higgins house" after the last in a long string of owners, who eventually sold the land for an assisted living home. They were connected to William Bradford, the first governor of the Massachusetts Bay Colony.