Over the last year, bullying stories like Miami Dolphins tackle Jonathan Martin and the 12 and 14 year old girls from Florida that bullied 12 year old Rebecca Sedwick have become common fixtures in the media.
Before bullying can be severely curbed, it seems that parents, teachers and students must learn how to recognize it.
That's the purpose of the 20 city Are You an Ally..#Be Inclusive anti-bullying symposium currently being presented in high schools across the country. The tour started in October and will conclude December 18th in Chicago.
One of the ways that the Are You an Ally..#Be Inclusive symposium, is helping students and faculty to recognize the various forms of bullying is with the diversity wheel. The diversity wheel was created by Abercrombie & Fitch and shows 28 dimensions of diversity that people are often bullied for.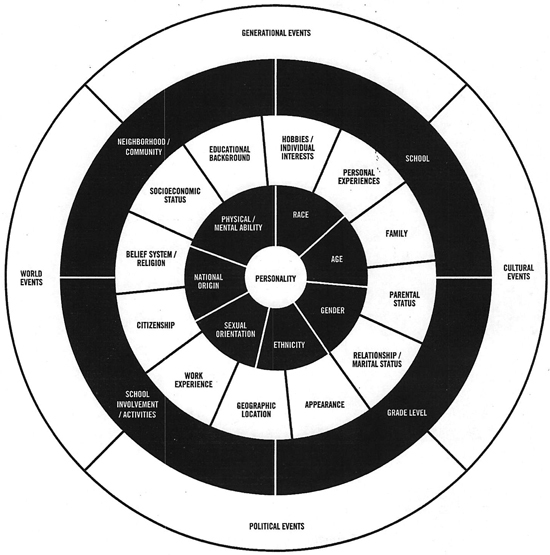 17 year old Cali Linstrom, who was a victim of bullying herself 2 years ago, uses the diversity wheel and her personal story of trying to commit suicide as a result of being bullied to get students to commit to becoming allies.
Cali's Are You an Ally, message has resonated with 76% of the high school students thus far and as a result, Cali has been selected to be one of the awesome teens featured on the Today Show's Inside the Minds of Teens, segment hosted by Jenna Bush. The segment will run December 3rd and 4th on the Today Show and 10 outstanding teens will discuss issues effecting them including bullying.
The Are You an Ally..#Be Inclusive, symposium has also benefitted from celebrity guest appearances. At the inaugural New York symposium, 2014 Miss America Nina Davuluri was a special guest and spoke about how she was bullied over her ethnicity after winning the Miss America crown.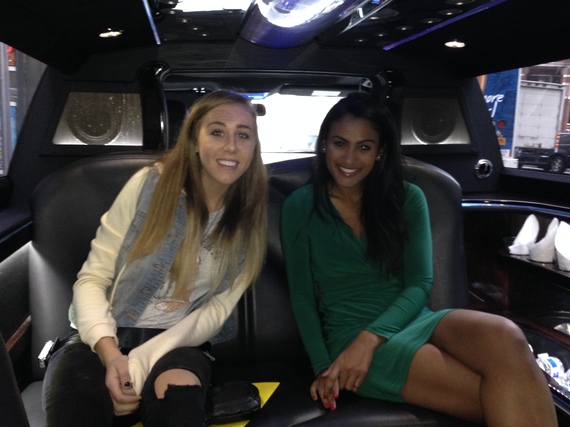 Cali Linstrom & Miss America Nina Davuluri
Nina will appear at the Columbus, Ohio Are You an Ally..#Be Inclusive, symposium on December 13th at the Abercrombie & Fitch headquarters.
The Are You an Ally..#Be Inclusive symposium was born from a protest that a group of teens, including Cali Linstrom, held against Abercrombie & Fitch this past May in response to statements made by Abercrombie CEO Mike Jeffries.
People often ask me why did A&F decide to sponsor an anti-bullying symposium when they don't seem to be the most socially responsible company in the marketplace.
I reached out to Todd Corley, the Senior Vice-President of Diversity & Inclusion for Abercrombie & Fitch to ask him the question directly:
Todd Corley: I can understand that response and appreciate their candor. If you're a person not intimately familiar with how our store employees have embraced and expressed their commitment in creating an inclusive environment for our customers and store associates, you may not be aware of the many successes we're proud of. For example, on the issue of sexual orientation, which is by far one of those dimensions of diversity that people are often bullied for, A&F has received a 100% on the HRC's annual Corporate Equality Index for eight (8) consecutive years. Prior to their being a diversity strategy in place, we had not appeared on that prestigious list. Its an accomplishment that is based on objective and measurable criteria that you can't manipulate. Moreover, in years when the HRC has raised the bar on what constitutes a perfect score, we've kept pace and responded to the challenge to remain best in class. That fact alone, separates us from so many other employers - especially in the retail space.
A couple of weeks ago, Abercrombie did announce that starting in the spring, they would start carrying larger sizes for women.
Administrators at the high schools where the anti-bullying symposium have presented are raving about the program. On November 19th, Cali presented the symposium to four hundred girls at Mercy High School, an all girls catholic high school.
Janine Nolfi, the ASB Moderator at Mercy High School had this to say about the symposium:
The most powerful aspect of the Are You An Ally symposium is Cali Lindstrom's straight forward delivery of her personal story - the students of Mercy High School San Francisco loved that they were not being lectured to but instead, were engaged in a discussion with someone their own age whose first hand experience and knowledge in regards to bullying was relevant and real. The symposium started an open dialogue among the student body, faculty and administration and it is our hope that the communication continues to bring about change and healing for all those involved.
Providing more celebrity power for the symposium was former Los Angeles Lakers star Theo Ratliff when spoke as a special guest at Riverwood High School in Atlanta on November 22nd. Theo talked about how athletes contribute to the world of bullying. As Theo spoke about athletes roles in becoming allies, the students were riveted to their seats.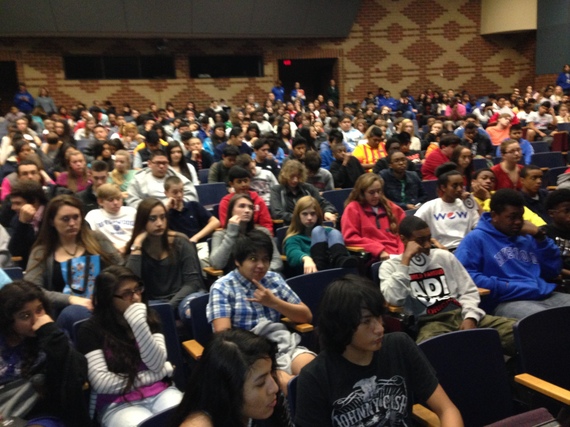 500 students were present to hear Theo talk about being bullied as a kid for being taller than everyone else. Theo recently wrote a book called, Theo My Hero. The book stresses the importance of middle school kids becoming allies in the fight against bullying.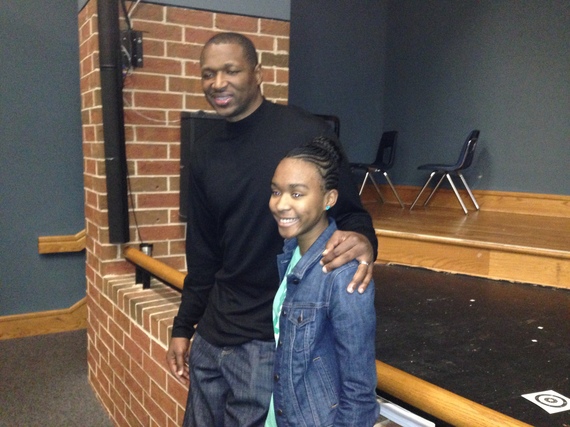 Former Los Angeles Laker star Theo Ratliff
High school students will benefit from more than the symposiums, because Abercrombie & Fitch will offer college scholarships for outstanding students around the world who academically persevered while experiencing bullying, and those who have led the fight against bullying in their schools and communities. The scholarships will be administered by the National Society of High School Scholars (NSHSS) Foundation for high school seniors.