As a one-time member of the Dallas Cowboys' cheerleaders, Tanea Brooks is accustomed to being a beauty among beasts. However, Brooks knows it will take more than experience rallying one of the NFL's best teams to victory to make it as a professional wrestler.
"It's a new world for me," admitted Brooks, who now competes for Total Nonstop Action under the ring name "Rebel." "I don't know if I have it just yet, so every time I'm out there, I'm a little more into it, but it's totally different."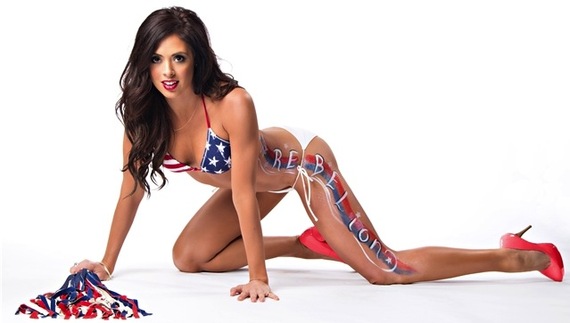 A life-long entertainer, Brooks secured her place in football history by becoming the youngest member of the coveted Dallas Cowboys cheerleading squad, widely considered the cream of the NFL crop. There she proved a standout, even appearing on the cover of the collective's annual swimsuit calendar.
Certainly those achievements speak to her athleticism and beauty, making Brooks a prime candidate for pro wrestling. However, she acknowledges a bit of a learning curve since joining TNA last summer.
"It's obvious, in football, when a guy makes a touchdown, 'the crowd goes wild,'" Brooks explained during a recent telephone interview, "In wrestling, sometimes when a guy gets body slammed, they're into it, sometimes they're not. I'm learning the psychology behind it."
"It's all very new, very intriguing," she said, "So I'm learning as I go, really."
In May 2014, Brooks joined TNA as "Rebel," the beautiful, highly flexible member of a circus-like faction known as The Menagerie along with compatriots Knux, Crazzy Steve and The Freak. After training in Ohio Valley Wrestling, she has started her transition from ringside cheerleader to in-ring competitor. That continued when IMPACT Wrestling debuted Jan. 7 on cable's Destination America.
"We've been off for a little while, and we're ready to get back in there, do what we love to do, wrestle and bring some entertainment to people," said Rebel of the show's return on a new television network. "We're excited about Destination America. We're ready to roll, so the morale of the company is up."
On the inaugural broadcast from its new home (which promises increased TNA programming to come), Rebel competed in the Knockouts Championship Battle Royal. As her early elimination indicated, making a name for herself in the TNA women's division -- arguably the best in professional wrestling -- will be no easy task.
"The girls in the division are all just spectacular, athletic, strong women," stated Rebel, "I'm the new girl, and I'm really excited to be part of this elite group."
She admits it's "intimidating" to compete against veterans like multiple-time champs Gail Kim and Angelina Love, massive Havok, returning Awesome Kong and current title-holder Taryn Terrell. To be ready, she is pulling out all the stops. That includes in-ring training five days a week "in addition to workouts, eating right and being disciplined."
"For me, it's not just being strong. It's being strong, being flexible, having great cardio," she shared. "The more skills you have to your repertoire, the better your chances are. I try to train in a little bit of everything, so maybe I'll have an edge."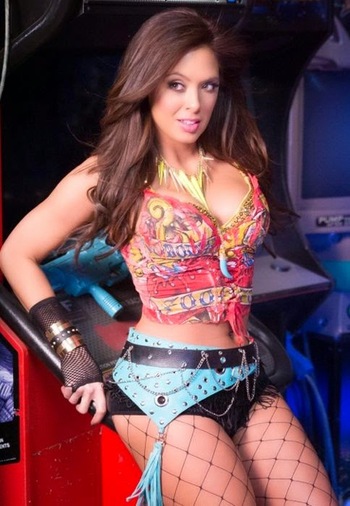 Rebel says the more involved she becomes with pro wrestling, the more she finds her past in competitive cheerleading comes in handy. The choreography, jumping and tumbling she mastered beside the grid-iron are integral to her growth as a wrestler, she says, finding it "a lot of fun" to discover similarities.
"Wrestling moonsaults aren't that different than things I did with cheerleading," she pointed out, "There are times I think, 'I did that in cheerleading on the ground, so maybe I can fly off the ropes.'"
The biggest thing she's found connecting the two choreographed sports thus far, though, is her passion for both.
"When it's things you're passionate about and enjoy doing, you do want to be the best at it," she said, "You always want to be learning, growing, moving forward."
For Rebel, that includes aspirations to someday hold the TNA Knockouts championship.
"I know I've got to hold my ground if I want to hold that belt, if I want to be competing against these elite women," she concluded, "That's what I'm trying to do -- eventually get that belt -- and hopefully sooner than later."
Related
Popular in the Community