A viral photo of a preemie wearing a special helmet is spreading a beautiful message of hope and determination.
On Monday, a mom named Lori shared a photo of her 8-month-old daughter with the popular Facebook group, Pantsuit Nation. In the photo, the baby wears a cranial helmet with the words "Nevertheless she persisted."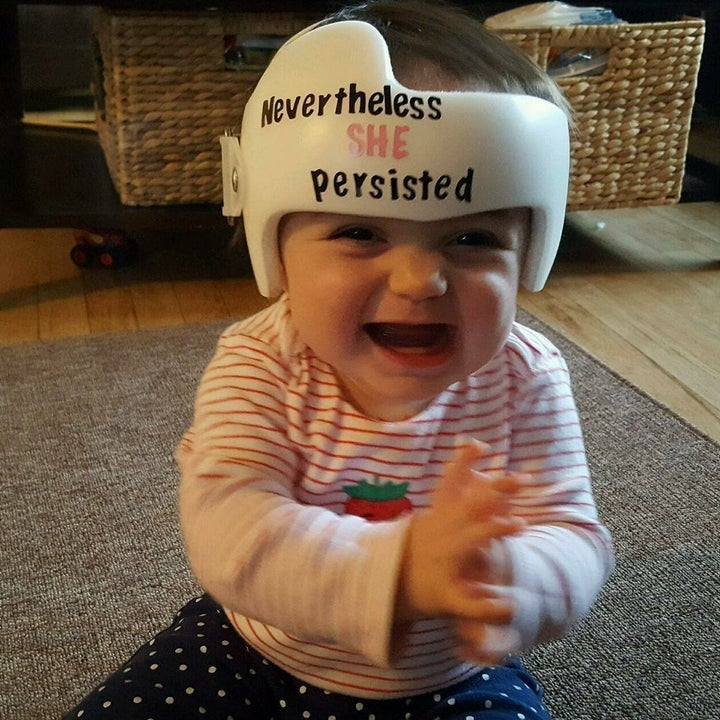 In the caption, Lori dedicated the post to her fellow NICU parents.
"My little girl was born with some health issues that resulted in some pretty intense interventions that ended up saving her," she wrote. "We were told by the doctors some pretty scary news ... we were given an explanation of what to expect but nevertheless, despite the rollercoaster, she persisted"
Lori told The Huffington Post she was struck by the incident. "I watched Senator Warren as she was trying to read the letter from Mrs. King. I saw the look of shock as they tried to silence her and her disbelief that they wouldn't let her read the letter regarding Sessions. I was in shock myself," she recalled.
"When I heard Mitch McConnell use that phrase as a way to explain what happened and his treatment of Senator Warren, it bothered me, and apparently I wasn't alone," she added. "So let's take what he said and empower ourselves with it. Let's make it a phrase for every female that keeps pushing ahead despite obstacles."
Lori's baby daughter has certainly persisted. She was born a month and a half early after doctors detected a blood incompatibility issue during the pregnancy. Within an hour of her birth, the baby had high levels of a compound called bilirubin and ultimately had to undergo a risky procedure called an exchange transfusion.
"Her bilirubin was so high that she turned green ― her skin was literally green like the Statue of Liberty, and it stayed like that for months," Lori told HuffPost. "After five days her liver kicked in, but due to the risks of the procedure she was kept in the NICU for a few weeks more."
A family friend set up a GoFundMe campaign to help cover the baby's medical expenses.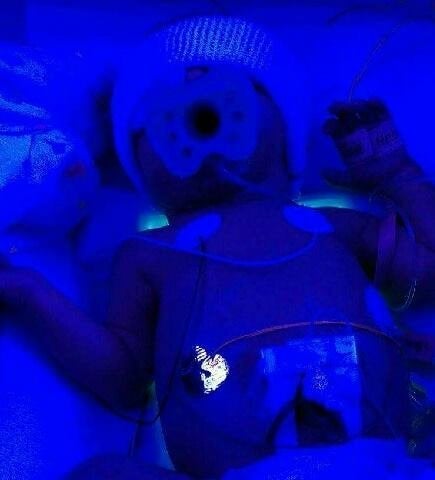 Lori's daughter has faced several other medical challenges, including plagiocephaly, or "flat head syndrome," and brachycephaly, which means her forehead bulges out due to flatness in the back of her head. As a result, the baby has to wear a helmet 23 hours a day for a total of seven or eight months.
"She doesn't notice it, but she does love being free of it," Lori said. "Two helmets later and we are getting to a nicely formed noggin."
The mom thinks cranial helmets for babies are generally "cute but boring," so she decided to jazz one up for her daughter. While at the local craft store, she noticed some letter stickers. "I thought of the line 'Nevertheless she persisted' because I had just bought a T-shirt," Lori recalled. "And then it hit me: We were told bad news by the doctors, we were given an explanation of what could happen, but look at this little girl! Nevertheless she persisted, just like all NICU babies who fight and all strong women, too."
Lori told HuffPost she wants her children to grow up with a sense of empathy, compassion, logic, respect, hard work, grit and appreciation for diversity.
She also offered a message of hope for her daughter's future. "No matter what life throws in your way, you have what it takes. You can be everything you want to be, you will get to it with hard work and resilience. Persist, little one, and you'll always make us proud."