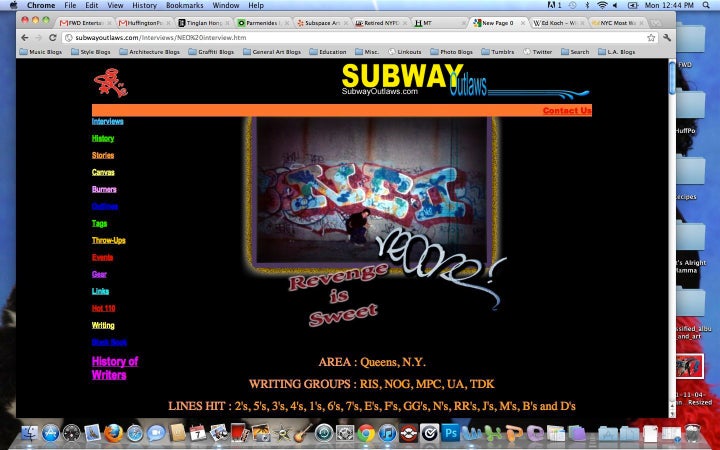 In the history of graffiti, no rivalry has been as controversial or polarizing as the bouts between the NYPD and the writers of their city. Ever since Mayor Ed Koch made graffiti a "quality of life" issue in his first campaign, graffiti writers and the NYPD have been at each other's necks, making NYC's nooks and crannies into a cat-and-mouse game of art versus order.
So, it may come as some surprise that Steven Weinberg, a former NYPD patrolmen has been revealed as the prolific NYC graffiti artist, Neo. Weinberg was initially arrested on August 3, 2010 and could face trial as early as this Thursday. Charged with felony criminal mischief, a misdemeanor of creating graffiti and possessing a graffiti instrument, Weinberg's lawyer denies that his client is responsible for the reemergence of the "Neo" moniker, appearing as recently as 2009 on the walls of the Clearview Expressway.
After living the graffiti lifestyle for nearly 20 years and numerous battles with other writers, Weinberg decided to join the force in 1995 at the age of 27. As a patrolmen in 2001, Weinberg was aiding in the search for a victim's remains in an ongoing homicide investigation when he tripped over a fence and severely damaged nerves in his leg, leading him to leave the force with a $38,000-a-year disability pension. Weinberg now uses a cane to walk.
"He hasn't been Neo since 1988," Weinberg's lawyer, Patrick Broderick told the NY Post. "It is ludicrous because he is physically incapable of doing that."
After numerous tips and tracking of Neo's myspace, police began to connect the dots and realized that they were dealing with one of their own. Police even found a picture of Neo, standing back to the camera next to one of his pieces, wearing an NYPD Raid jacket, according to court documents. After a warrant was secured, police uncovered additional evidence at the father of two's home in Queens, sources said. Weinberg has filed a lawsuit against the city at the Manhattan Supreme Court, stating that his 2010 arrest was based on "defective information."
Related
Popular in the Community