Schreiber discusses her groundbreaking career and dedication to mentoring the next generation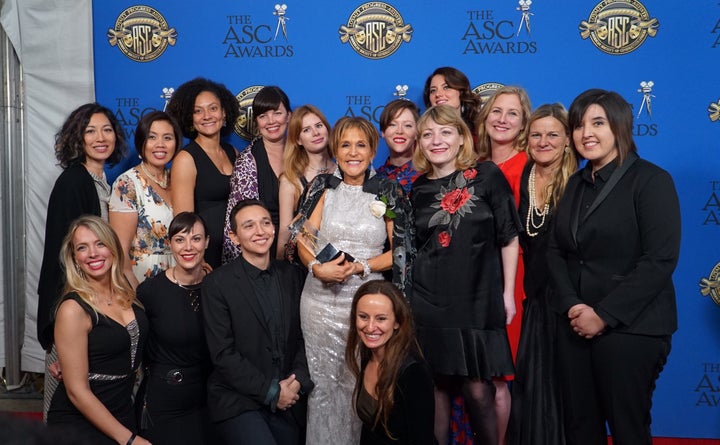 "It never occurred to me that I couldn't do this job and I am still baffled when people come up to me on set and tell me I'm the first female DP they have worked with," said Director of Photography Nancy Schreiber, accepting the President's Award at the 31st annual American Society of Cinematographers Awards on February 4th. She was the first woman to ever receive the honor.
"Why in the world would being a cinematographer be closed to people of a certain gender, race, religion, sexual orientation or age?" she continued. "We all have eyes, hearts and minds. And souls. We all need to fight for the right to express our individuality and creativity in the film and television industry that we love."
Schreiber has fought for that right in a career that has spanned several decades. She started in the electric department, becoming the first female gaffer to join NABET 15 – a film union in New York City – and went on to an illustrious cinematography career that garnered her Independent Spirit and Emmy Award nominations, as well as two Sundance Awards, among others. The ASC President's Award, however, is different – it not only recognizes career success but also contributions to the film and television community.
One of the earliest Board members of New York Women in Film & Television (NYWIFT) in the 1980s, Schreiber has always been committed to service. She has also volunteered extensively with the Alliance of Women Directors (AWD), Independent Filmmaker Project (IFP), Film Independent, International Documentary Association (IDA) and Women in Film LA, in addition to the ASC.
"It's important for us to educate those coming up and make training accessible, including shadowing and creating programs that are educational and supportive for women," she said. She noted that her work with the ASC has been particularly important to her in terms of mentoring the next generation. She has volunteered with the ASC by participating in master classes, seminars and panels, and she served on the organization's Board of Governors for seven years.
Being the first woman to receive the ASC's President's Award – and only the second woman to receive an award from the ASC at all – is wonderful but a bit bittersweet. Schreiber said. "This is the state of the industry today," Schreiber said, with studies confirming that only 5% of 250 feature films last year were shot by women. "I had hoped women would be further along in 2017. But the numbers are increasing. In just the past decade the numbers of women admitted into the ASC has increased from 7 to 15. And is seems that television is more open to women these days."
Coming up in the electrics department, Schreiber said she didn't give being the only woman a second thought. There was one woman gaffer in IASTE, Celeste Gainey, who she partnered with in Gotham Light and Power. Later NABET and IATSE merged but by that time, Schreiber said, Gainey was designing lighting for restaurants. "I do remember when I first interviewed to get into NABET's electric department, one of the old timers asked how much I weighed," expressing concern that she could not lift the equipment. She reminded him, a man would not be expected to lift enormous lights without assistance and that shut him up.
"I often wonder, if I had been in LA, which was so tied to the studio system and with so few women below-the-line, if I would still be working. New York back then was like the 'Wild Wild East,'" Schreiber said, and seemed more open-minded. "I had a great career as a gaffer, and never had an issue getting booked, as the cinematographers, primarily male, hired me."
Issues came, however, when she moved up to the camera department. "Unlike cinematographers who hired me to gaff, it must have been hard for producers to see that women could be trusted with this job," she said. "I know that I did raise a lot of eyebrows back in the day when I did get hired, especially when I brought a woman camera assistant on set."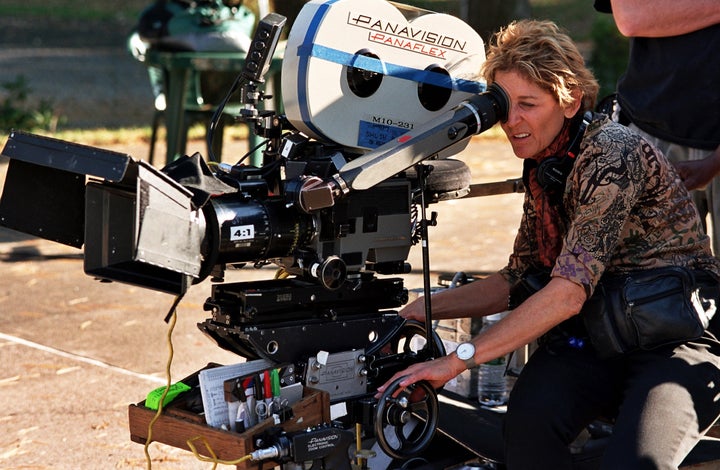 To this day, Schreiber still meets people who have never worked with a woman cinematographer. "I was on a TV show about a month ago and somebody came up to me and said 'I've never worked with a woman in a camera department,'" she noted.
Cinematography is, traditionally, seen as a man's job. "The term still used is 'cameraman,'" Schreiber said. "It's always been there and it's unbelievable that we still hear it. I've often been called a 'woman cameraman!'"
Schreiber posits that it's the vast responsibilities of the cinematographer that can make some people nervous to have a woman take on the role, for all the stereotypical reasons that people often fear a woman in a position of power.
"The director of photography has enormous responsibility," Schreiber said. "We run three departments: camera, electric and grip. We must keep on time and on budget, so we work very closely with the assistant director about the schedule, and with the producers about the budget, equipment and people power needs, which is always tricky for women in the film industry. It's been ingrained that the role is male because it is a position of power and what we do affects the entire look of the film. And that must make people nervous, that a woman would be in control. And God forbid she has her period " she added wryly. "It is changing, though. There is hope."
That hope, she said, lies in part with other women in the business. "We have a lot of organizations made up of women and I hope that we keep standing up for each other and hiring each other, when it's appropriate. How many women directors are hiring women DPs? I've been lucky that out of my last five films, three were directed by women. But I do see some of us going out for projects with women directors and the male DP gets [the job]. Why is that? Hopefully it's just that it's a better fit. Hopefully it's not because women directors and producers are afraid to be seen as too 'feminist.' Or perhaps, because those women may not be technical themselves, they cannot fathom other women being so technically proficient."
Schreiber noted the special challenges experienced by women directors, DP's and similar leaders in all walks of life. "What we have had to do is learn how to play the game. We need to be assertive and not called 'aggressive.' And this is tricky. We have had to learn to stand our ground, but in such a way as so we don't antagonize. It seems that this culture makes it particularly challenging to succeed," she said. "Look what happened to Hillary [Clinton]. You hear 'Oh, she's difficult. She's a bitch.' I may hear comments about a director or producer being difficult. When I work with them I'm always shocked that they're not like that! We're being judged. We have to be above reproach. We have to be better than the guys. Faster. More competent. It's the way our business has been."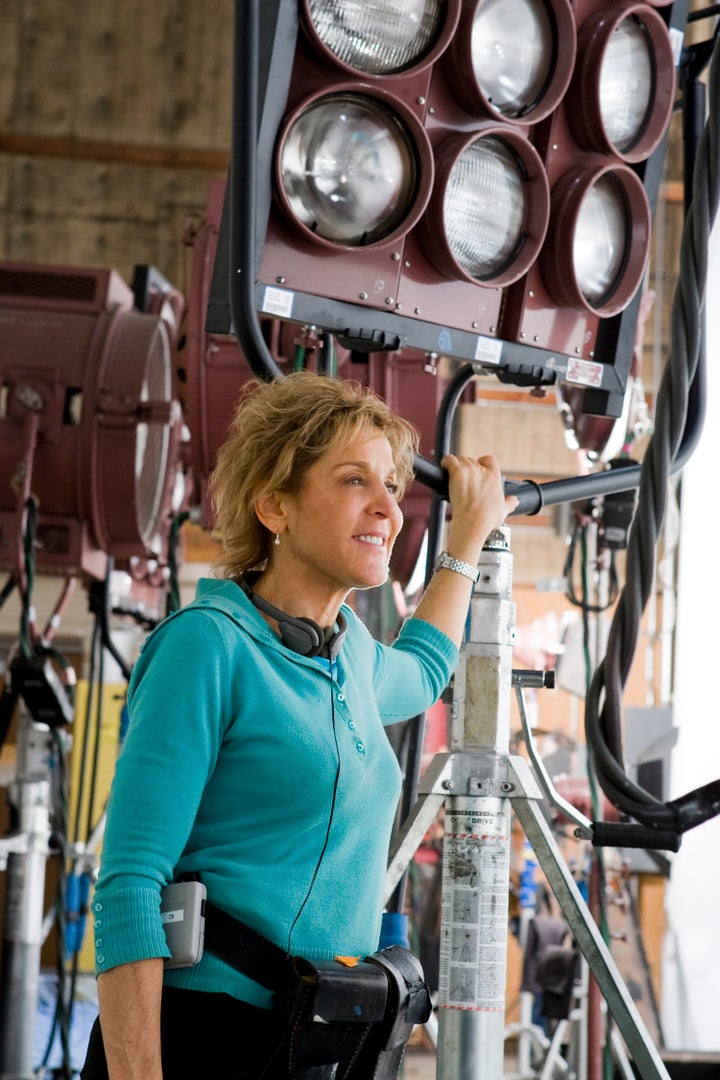 Schreiber said she doesn't let herself get bogged down by the struggles. "If I paid attention to difficulties, I would not still be in this business. I can't look at the obstacles. I need to remember that I have passion and creativity, and I will continue shooting," she said. Having recently completed work on TV series including ABC's The Family and FX's Better Things, she is currently attached to three independent films. "When I see women getting jobs, I'm thrilled because the more women get hired, the easier it's going to be for all of us. I rejoice in that. I want to keep working. I hope to still be working on set when I'm 100."
It's this dedication to her craft and to the advancement of women that has made Schreiber a role model for other women cinematographers, many of whom showed up to the ASC awards specifically to celebrate her and brought women colleagues, rather than their significant others, as their dates.
Schreiber's dedication of her award that night said it all. "I would like to accept this award in the spirit of inspiring more women, and all people who have been excluded from doing what they love, to know that their view of the world is important," she said. "And they must, and will, have a voice."
Katie Chambers is the Community Engagement Coordinator for New York Women in Film & Television.
Popular in the Community