A retired Catholic priest who heard the last confession of a South Texas beauty queen before she was raped and murdered more than five decades ago has been arrested in connection with her slaying.
The grisly incident occurred in Texas 56 years ago.
On April 21, 1960, the partially-clothed body of Irene Garza, a 25-year-old second-grade teacher, was found floating in an irrigation canal in McAllen.
"At first, it looked like a sack floating," W. Arnold, the man who made the discovery, told The Associated Press on April 22, 1960. "Then I saw it was the body of a girl."
Garza had been missing for six days. She was last seen alive the day before Easter in 1960, when she went to Sacred Heart Catholic Church for what would be her final confession. 
At autopsy, it was determined Garza had likely been killed the day of her disappearance. The medical examiner told police that the young woman had been brutally beaten and raped while in a coma and suffocated.
Authorities had no eyewitnesses to the crime, and any evidence that might have existed –- blood, semen or fingerprints –- had been washed away in the canal.
Detectives were also lacking a clear motive. According to local media reports from the time of the slaying, Garza was deeply religious and had no known enemies.
The Sarasota Journal referred to Garza as a "dark-haired beauty queen." The newspaper reported she had been a frequent entrant in local beauty contests and had been crowned Miss South Texas in 1958. The young woman had also reportedly been named "band sweetheart" while attending McAllen High School and named "senior class sweetheart" while at Pan America College.
From the onset of the investigation, detectives had more questions than answers and decided to focus their attention on clues found in the days leading up to the discovery of Garza's body.
Garza's car had been found the day after her disappearance, parked not far from Sacred Heart Catholic Church. The following day her left shoe was found a few miles from the church. The day after that her purse was found lying in the middle of a field. Her driver's license was still inside, but authorities found no distinguishable fingerprints on the purse.
"We just don't have a strong lead to go on right now," McAllen police chief Clint Mussey told The Ocala Star-Banner on April 22, 1960.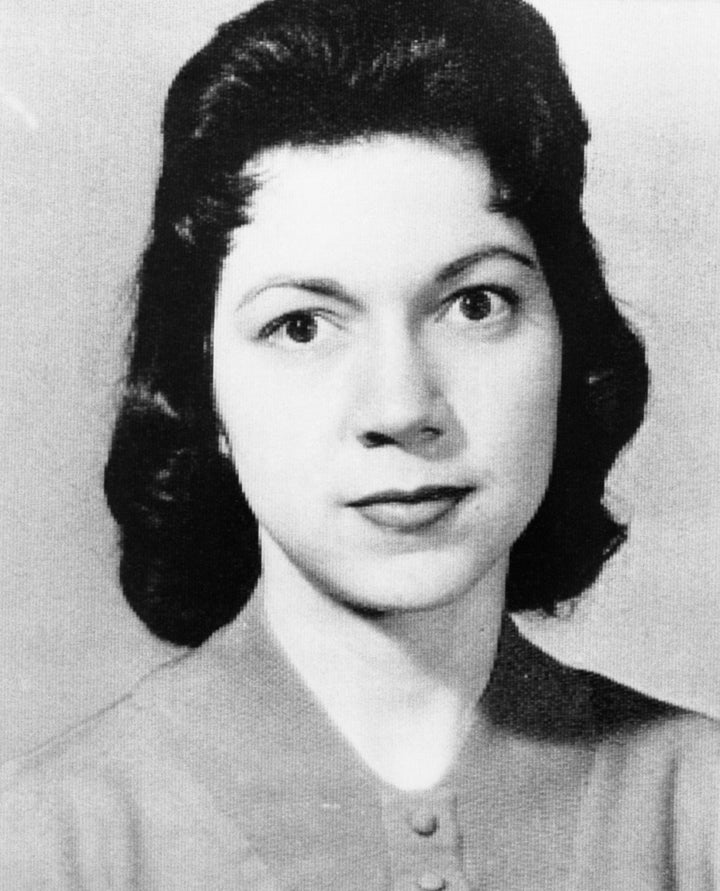 Questioned by police, John Feit, then a 27-year-old Roman Catholic priest, told authorities he had heard a confession by Garza the night she disappeared. While the revelation was not immediately suspect, eyebrows were raised when detectives later drained a section of the canal where Garza's body was discovered and found an Eastman Kodaslide viewer that belonged to Feit, Texas Monthly reported.
Interest in Feit intensified when authorities were contacted by a 20-year-old college student who claimed Feit attacked her roughly three weeks before Garza was killed.
The woman, according to a statement she gave to detectives, said she was attacked by Feit while she knelt to pray at Sacred Heart Church in Edinburg, which is about 10 miles from McAllen. She said that Feit, whom she described as wearing horn-rimmed glasses, accosted her from behind and placed a handkerchief or a towel over her mouth. The woman said she bit one of his fingers during the attack, which caused him to release his grip and flee the scene.
When police questioned Feit about the incident, he reportedly denied any involvement. However, detectives did observe an injury to one of his fingers -– a wound he attributed to receiving while operating a mimeograph machine.
Roughly four months later, on Aug. 5, 1960, Feit, according to The Lodi News-Sentinel, was arrested on a charge of assault with intent to commit rape in connection with the alleged assault of the college student.
The case went to trial the following year, but it ended in a hung jury. Feit ultimately pleaded no contest to a reduced charge of aggravated assault, a misdemeanor. He was fined $500 for the offense, The Dallas Morning News reported.
In the early 1960s, Feit stayed at a Trappist monastery in southwestern Missouri, and later at a religious order in New Mexico where he reportedly helped counsel child molesters.
In the 1970s, Feit left the priesthood for good. He married, became a father and settled in Arizona, where he worked for several years as an administrator and spokesman for a Catholic charity, the Rio Grande Valley's KRGV‑TV reported this week.
While Feit was moving on with his life, Garza's homicide had long gone cold. That is, until 2002, when a former priest came forward with new evidence in the case. The witness -– a former colleague of Feit's -– told police Feit had confessed to killing Garza in the years following the murder, according to Texas Monthly.
The witness reportedly told police Feit acknowledged he had heard Garza's confession on April 16, 1960, and afterwards restrained her and fondled her breasts.Feit allegedly told the witness he kept her in the rectory basement. She remained there until Easter Sunday, when Feit allegedly claimed he put a bag over her head and placed her in a bathtub, where she died.
Another former colleague related a similar story to police that same year. However, despite these revelations, then-Hidalgo County District Attorney Rene Guerra said there was not enough evidence to secure an indictment against Feit.
"There was nothing there," Guerra told The Brownsville Herald in 2002. "Can it be solved? Well, I guess if you believe that pigs can fly, anything is possible."
Reportedly under intense pressure from Garza's family, Guerra presented the case to a grand jury in March 2004. For reasons that remain unclear, neither of the witnesses who came forward in 2002 were called to testify, and the grand jury ultimately declined to indict Feit.
"We were accusing a priest that – in those days priests were infallible, " Garza's cousin, Lynda De La Vina, who was 9 years old at the time, told CNN.
The case quickly went cold again and remained relatively untouched until 2014, when newly elected District Attorney Ricardo Rodriguez ousted Guerra from office after promising supporters he would re-examine the case.
Guerra kept his promise and earlier this month presented the case to a second grand jury. The panel's decision to indict Feit in connection with Garza's murder was made public late Tuesday, after authorities in Arizona arrested the now 83-year-old former priest at his Scottsdale apartment.
According to The Monitor newspaper in McAllen, Texas, Feit was arraigned on charges of first-degree murder before a judge in Maricopa County, Arizona, on Wednesday afternoon. The indictment, which was unsealed during the proceeding, reportedly states Feit caused the death of Garza by asphyxiation.
Feit indicated he will fight extradition to Texas.
"My instinct is to fight extradition," Feit told the judge, according to The Monitor. "This whole thing makes no sense because the crime in question took place in 1960."
Hidalgo County District Attorney Ricardo Rodriguez Jr. said Feit's arrest is "the first step in providing justice for the murder" of Garza.
"After nearly 56 years, Ms. Garza's family and our community will finally see that justice is served," Rodriguez said in a statement provided to The Huffington Post on Wednesday. "We will elaborate further with additional details once we have completed the extradition process."
For now, Feit is being held in an Arizona jail in lieu of $750,000 bail. He is expected to appear in court again on Feb. 24.
PHOTO GALLERY
Priests And Sexual Abuse
REAL LIFE. REAL NEWS. REAL VOICES.
Help us tell more of the stories that matter from voices that too often remain unheard.