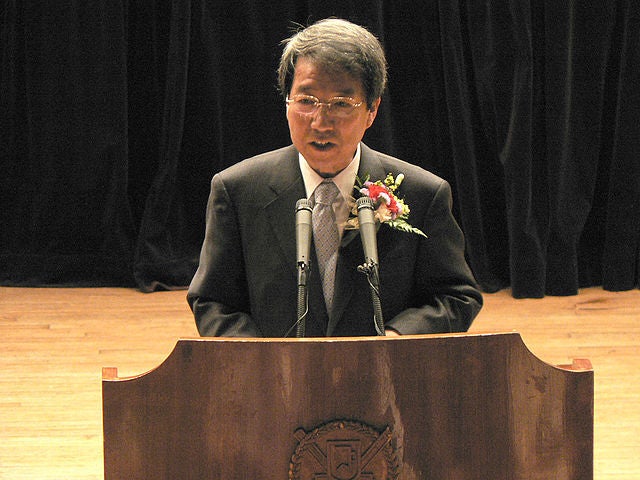 Korea has a new presidential candidate who the world should keep an eye on.
A quick search of the polls for South Korea's top presidential candidates returns hardly a mention of Un-Chan Chung, the country's former Prime Minister who announced his candidacy last week. But election watchers would be well advised to keep a close eye on Dr. Chung, who may have a better chance than a quick glance would indicate partly because the political environment is so unpredictable and because his platform resonates strongly with both global and local themes.
A Scholar and Statesman
Chung's resume speaks for itself. Prior to his turn as Korea's prime minister in 2009, he earned his PhD in Economics at Princeton University which jumpstarted his career in the academe. After three years teaching at Columbia University, he moved to Seoul National University (SNU) and rose through the ranks, ultimately serving as the president of the nation's top university in 2002. At the age of 55, he was the youngest president of SNU. Under his administration, SNU rose up the ranks of The Times' global university rankings, landing at the 63rd spot—several dozen notches higher than its previous position.
Instead of engaging in grandstanding and political maneuvers, he gained notability and impressive credentials through steady and deliberate work. His astute economic policies and advocacy on shared growth has earned him the title of being the "Keynes of Korea."
Shared Growth
Coming off the heels of Brexit and a Trump presidential victory, few would argue against the fact that economic inclusion has become one of the most important issues of our generation. While globally relevant, inequality poses an even more topical theme in South Korea, which boasts the worst income inequality in all of Asia. Chaebol groups have taken the lion's share of economic spoils and with youth unemployment hitting all time highs a hope of a better future eludes all but the chosen few. Add to this mix the recent scandal with current President Park Geun Hye that has placed the incestuous relationship between business and government in plain view of Korean citizens, who are ready for a candidate free of obligations to big business and full of desire to help every segment of society.
Many senior South Korean government officials leave office and get advisory appointments at a Chaebol group, but after he left office as Prime Minister, Chung cut his own path creating the Korea Institute for Shared Growth to further his agenda of building an inclusive society and helping the broader populus.
"Shared Growth is a philosophy that promotes economically growing together. By growing together, Shared Growth aims to promote fairer distribution without curbing vigorous economic growth.
People sometimes misconstrue Shared Growth as another distribution mechanism that takes from the rich and gives to the poor. This is because traditionally growth and distribution were in an "or" relationship; you could either pursue growth or distribution in economics. If you wanted to push for economic growth, distribution had to take a back seat. Likewise, distributing wealth meant that you were giving up growth.
Shared Growth says otherwise; economic growth and distribution of wealth are not at opposite ends of the spectrum. Growth and distribution can be achieved at the same time by growing the economic pie bigger and distributing the fruit of the growth fairly amongst contributors."
Authenticity
Historically, elections in Korea have been won by winning support of slightly older voters due to general political apathy from youth. But the recent presidential scandal has unleashed a wave of interest in the upcoming election across all segments of society, including an increase in engagement from younger generations on blogs and online platforms. While students and colleagues convey that he's an incredibly authentic and personable individual, the ability to portray this may become even more important in this election because younger voters often crave this approachability as much as a resonant message or credentials.
Professor Hie-Joon Kim, a high school friend and former colleague of Dr Chung had this to say.
"Because he is so incredibly capable, people tend to focus on his credentials. But one thing people don't know so much is that he is one of the most warm, caring and relatable people I know. If you take the intellectual horsepower of [Former Harvard President and US Treasury Secretary] Larry Summers and combine it with the inclusive demeanor and authenticity of Barack Obama, you have Chung Un-Chan."
REAL LIFE. REAL NEWS. REAL VOICES.
Help us tell more of the stories that matter from voices that too often remain unheard.