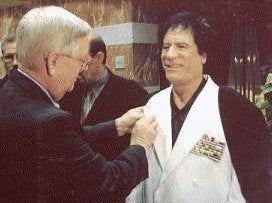 This story has been updated
NEW YORK -- Former Congressman Curt Weldon (R-Penn.), who arrived in Tripoli this week on a "private mission" to ask Muammar Gaddafi to step aside, left Libya today after failing to meet privately with the strongman.
The lawmaker, who has traveled to Libya more than any other Congressman and has established close ties to the Gaddafi family, expressed his disappointment in a statement sent to The Huffington Post by Weldon's daughter, Kristin Weldon Peri:
"I am disappointed that I did not get to sit down face to face with Col. Qadaffi as promised, but I may have been able to get something even more significant -- a path to a resolution of this conflict. Anytime you are asked to play a part in advancing the cause of peace there is a moral obligation to say yes."
Weldon, whose trip was paid for by two oil lobbyists from Houston, says he was invited to Libya by Gaddafi's chief of staff, Dr. Bashir Saleh, adding that his message to government officials he met in Tripoli "was in direct support of the state public positions of President Barack Obama and Secretary of State Hillary Clinton."
Weldon said that Libyan Prime Minister Baghdadi Mamoudi gave him a sealed private letter to be hand-delivered to Clinton, which Weldon plans to do upon his return. The letter does not include any proposal for Gaddafi to step down although it is said to contain a list of concessions agreed to by the Libyan government and a call for a special envoy regarding further negotiations, reports WPIX.
Yesterday, Weldon denied reports that he is in Libya to push his own business interests and even to "get the United States to lift its arms embargo to Libya," reports Politico. Referring to reports that Defense Solutions, a company Weldon joined after leaving Congress, once proposed selling weapons to Libya under Gaddafi, Weldon said: "Never did I ever offer to sell any weapons to Libya," he said. "I worked to try to normalize relations. I put together a comprehensive series of initiatives that could bring our people together in health care and education, in housing and environment and energy."
The former Congressman also claims he worked with Rep. Elton Gallegly (R-Calif.) and Angelina Jolie's publicist to free Benghazi citizen Eman al-Obeidy, the woman who alleges she was brutally beaten and raped by Gaddafi's military forces, and to arrange for her to get back to Benghazi through Tunis and Cairo. She remains in Tripoli, according to most recent reports.
In the statement, Weldon says he also met with Saadi Gaddafi, the third son of the Libyan strongman, to urge the release of American journalist Clare Morgana Gillis, who writes for TheAtlantic.com, and three others. Also in custody are James Foley, a U.S. journalist with GlobalPost.com; Manu Brabo, a Spanish photographer; and Anton Hammerl, a South African photographer.
Weldon's flight to Libya was paid for by Houston attorney Brian Ettinger and former Bush aide Steve Payne, who accompanied him on the trip. Payne came along to assist in the effort because of his past friendship with Saadi Gaddafi, according to the statement. Paye and Ettinger's oil and gas trading firm, Worldwide Strategic Energy, had "been engaged in Libya since 2005, holding multiple meetings in London, Geneva, Moscow and Tripoli with key oil ministry officials, as well as with Seif el-Qaddafi, president of the Qaddafi Foundation for Development and son of the Leader Muammar el-Qaddafi," according to a confidential document obtained by Talking Points Memo in 2008.
Ettinger formerly worked for Vice President Joe Biden as the then-senator's director of legislative affairs. And Payne made headlines in 2008 when he was caught on videotape telling Kazakh politicians that he could set up meetings with top Bush officials, including Vice President Dick Cheney and Secretary of State Condoleezza Rice in return for a donation to the new library for President Bush.
Per the Times of London: "When confronted, Payne insisted that the payment to the Bush library was not a 'quid pro quo' and that his company had performed many 'good things' for the world that were 'ethical and always above board.'"
Here is Weldon's statement:
And here is the invitation sent on April 2, 2011 by Gaddafi's chief of staff to Weldon, in which the former lawmaker is lauded as a "true friend of the Libyan people and your efforts have been appreciated," and his work with Gaddafi's son and longtime heir apparent, Saif, is commended.
Support HuffPost
The Stakes Have Never Been Higher
Related
Popular in the Community