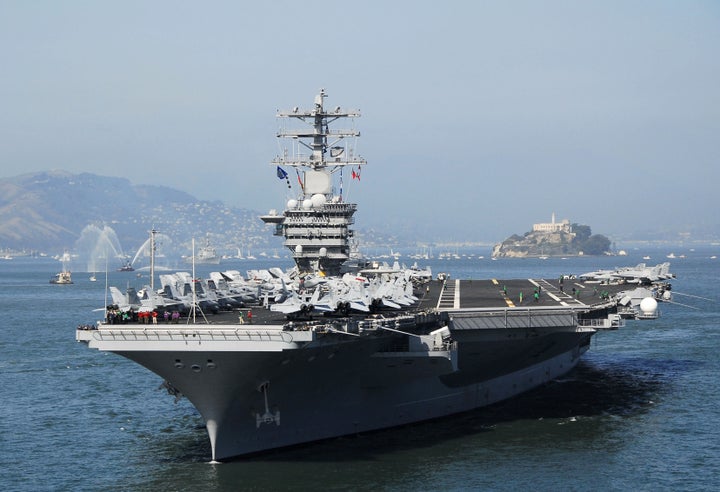 This idea may just hold water.
Art Agnos, who served as mayor of San Francisco during the late 80s and 90s, offered up an unconventional solution to homelessness in an op-ed in SF Gate on Thursday. He suggested retrofitting an old Navy ship into a temporary shelter until enough permanent housing is made available for the city's exploding homeless population.
The idea may actually work considering that similar approaches have been implemented in the past.
After the 1989 Loma Prieta earthquake hit San Francisco, 300 homeless people who had nowhere to go lived on a small aircraft carrier called the USS Peleliu for two weeks, Agnos noted. It was equipped with sleeping quarters, kitchens, medical clinics, offices and recreation facilities.
And other cities are currently employing such a solution or at least considering the idea.
Dortmund, Germany, for example, is temporarily housing its overflow of refugees on cruise ships on the Emscher River, Agnos mentioned in his op-ed.
On a single night last year, there were 6,686 homeless people in the city, up from 6,436 in 2013, according to the annual point-in-time survey.
An early proponent of "housing first" ― an approach that touts giving homeless people housing and then dealing with their personal needs after ― Agnos admits that putting homeless people up on a ship would only be a temporary fix.
Back in the late '80s, Agnos envisioned a progressive housing model for homeless people.
He proposed a program called "Beyond Shelter," which would've cost about $125 million in today's dollars, he wrote in a piece for the San Francisco Chronicle in June. The program, which never launched, had hints of "housing first" elements to it.
After undergoing an evaluation and getting services, homeless people would've been placed in transitional housing and then eventually would've segued into permanent housing.
Since then, housing first has been widely embraced. A number of studies have found that the model works and is cost efficient. A report released in June, for example, concluded that costs associated with homelessness declined by 56 percent over a period of four years in San Francisco after a group of about 1,800 homeless people were given permanent housing.
But until the city comes up with more viable housing options for homeless people, Agnos would like to see his ship idea set sail.
"Maybe this 'game changer' could be arranged to coincide with the beginning of San Francisco's famed Navy Fleet Week," he wrote, "whose mission is to honor 'the contributions of the men and women of the United States Armed Forces while advancing cooperation and knowledge among civilian - and military-based Humanitarian Assistance and Disaster Response personnel.'"