Today we launch The Business of Creativity Series, which will be 12-part You-Tube series of interviews with leading figures in the Creative Sector.
Our subjects may be names you don't automatically know, but these are the 'power behind the thrones' of the global entertainment and creative sector and you most likely have interacted with their work. In hearing their stories, we can receive inspiration from them and a generation of creative entrepreneurs and Start-ups can learn how to pursue their craft and pay their bills.
The Creative Sector is a massive sector globally in terms of economics and employment, but few operators within it truly understand both the business and the creative elements and struggle to combine them successfully. All too often creatives find money 'a dirty word', and investors find creatives fun, but not serious business people.
According to a report by UNESCO and EY in 2015, the creative economy employed nearly 30 million people worldwide and generated $2.25 trillion in revenue--or 3 percent of the world's GDP--in 2013. This is substantially more than global telecommunications ($1.57 trillion) and greater than the GDP of India, Russia, or Canada.
In the USA alone it is worth $700Bn and in the UK, £83Bn per annum. The table below from the report shows the sector's dominance in various countries.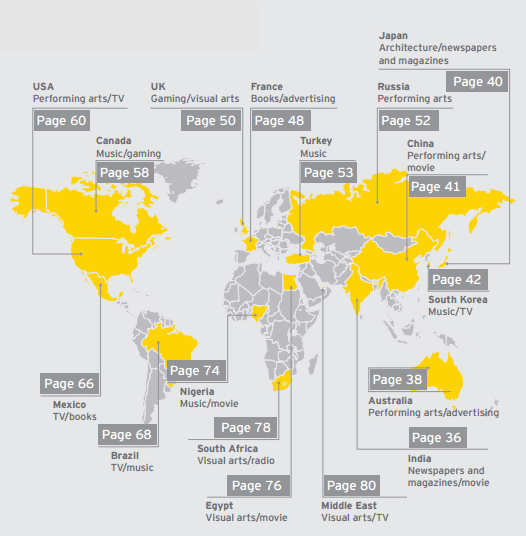 Despite these metrics, the creative sector could perform even better, because much of its success is somewhat accidental and not actively cultivated as a business strategy.
For the Business of Creativity series, I have carefully sought out and selected those creative entrepreneurs who have succeeded on a large scale because of their seamless integration of both creativity and commerce.
Ged Doherty is our first interview subject in this series.
Ged is in fact the very embodiment of a creative entrepreneur and is regarded as entertainment and music industry royalty around the world.
His history is firmly rooted in the Music Business which saw him act as Chairman and CEO of Sony Music in the UK for a decade with artists including Dido, Beyoncé, Kings of Leon, the Foo Fighters and Calvin Harris.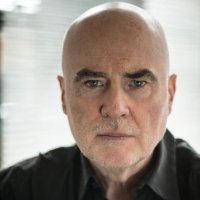 He has acted as Chairman of the Brit Awards (the UK's answer to the Grammys-not that they need a comparison to the Grammys as the UK has one of the largest music markets in the world); is Chairman of the BPI (the UK's music industry body) and is the Co-founder of the 5-year-old Raindog Films, alongside his business partner, Academy Award winner Colin Firth.
Ged has achieved extraordinary success with a career that has taken him across every spectrum of the entertainment industry from artist management to the Chairman of record labels to the owner of an Award winning film and TV production company.
Like many successful people, Ged is emphatic money does not drive him- and he is being honest-he is driven solely 'by the art'.
Yet he is commercially successful.
So how do we achieve the balance between these two? Are they conflicting or complementary?
Ged's philosophy is simple: If you take care of the Art, the commerce will always take care of itself. Moreover,he understands inherently that to achieve the level of success with his art, money is both necessary and a measure of the value his work has added in the economy.
Moreover, he understands inherently that to achieve the level of success with his art, money is both necessary and a measure of the value his work has added in the economy.
Ged's name is regularly uttered in the same sentence as another creative/commercial genius, "X-Factor" and "Got Talent's" Simon Cowell.
When Chairman of Sony, Ged oversaw the joint venture in which Sony bought 50% of Cowell's Syco Record company-one of the entertainment industry's most innovative deals of the 21st Century, which sought to create music,tv and digital.
So, what was the thought process that started Ged's path in creative entrepreneurialism?
Why leave the safety of the high paying corporate world and embrace entrepreneurialism? Why go from the top(Chairman) to being a Start-Up?
"I see myself as a serial entrepreneur. When I left Sony, I left the supportive environment of a corporate. I approached my friend Colin Firth (Academy Award winner and Ged's partner in his latest venture, Raindog Films) and said I wanted to start a movie production business. He wanted to start a music business. We compromised and decided movies first and music later".
Raindog films has achieved phenomenal success in the first 4 years of its life:
Their film Eye in the Sky has its premier at the 2015 Toronto film Festival and has rapidly achieved critical acclaim and commercial success, making the US box office Top Ten. Their second film, Loving, opened to critical acclaim at 2016's Cannes Film Festival.
All movies from Raindog are made under with the goal of adding Social value-and in this way, they have a Unique Selling Proposition (USP) in business terms which attracts patrons and this income. Two of their films are up for Oscar contention in 2017.
It is all too easy to write this off as an already successful music mogul and a movie star who were destined to be successful.
But business is not so straightforward, and creative businesses are even more complex. Ged had never run a film company before and Colin Firth had never been on the Producer side of the camera.
Yet through delivering unique content at the highest level, they have attracted investment and income and Raindog films has become successful.
The creative sector is the wallpaper to everyone on the planet's lives, and therefore is culturally and economically significant to the whole world.Below, the UNESCO/EY report shows a City ranking for the creative sector.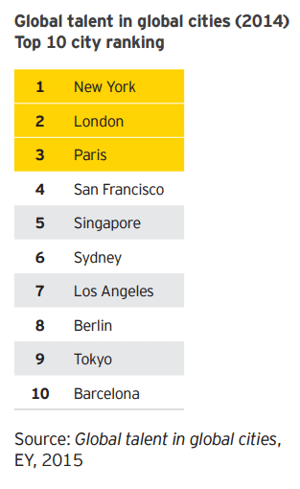 Yet creative start-ups have a large challenge obtaining finance to start and grow and are often not taken seriously by the business community or seen as forward looking as tech entrepreneurs are.
Ged's parting advice for them?
"Focus on your art and the commerce will take care of itself'.

Given the metrics of the Creative Sector as it is, no advice should be needed to the investment community. Yet it is.
We can all only encourage them to take a second look at investments in this sector and realise the substantial 'invest-ability' of this millennia-old industry.
See the full interview with Ged Doherty on You tube Channel:
Michael Jacobsen-Entrepreneur
Calling all HuffPost superfans!
Sign up for membership to become a founding member and help shape HuffPost's next chapter