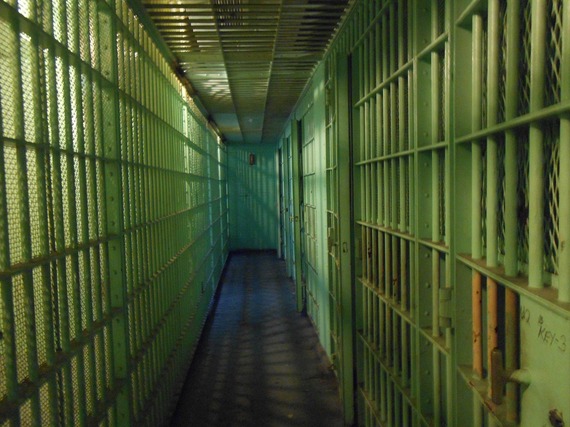 Image: Prison. Stock Photo. Pixabay.com
A surge in the use of social media to energize activists unhappy with government policy has alarmed authorities in the former Soviet Union the past few years.
Now authorities have turned this opposition tool on its head by arresting those who make provocative social media posts. Those facing prison on the trumped-up charges include activists and non-activists alike.
Activists have used social media to stoke opposition on a range of issues -- from what they perceive as stolen elections, to crackdowns on dissident activity, even electric-rate increases.
Some of the efforts have succeeded. When thousands of social-media-galvanized Armenians took to the streets in the summer of 2015 to protest plans by the country's Russian-owned utility to raise electricity rates 17 percent, the government put the increase on hold.
Russia was the first country in the former Soviet Union to arrest people for social media posts. It's difficult to pinpoint when it started -- perhaps as early as five years ago.
But one thing is certain: Last year saw an explosion in such convictions.
Fifty-four people were sent to prison last year under the broad-brush category of hate speech -- most of it online posts. That was five times more than in 2010.
A particularly outrageous case was that of Andrei Bubeyev, a 40-year-old electrician from Tver, whose friends say has a keen interest in politics but has never been an activist.
Bubeyev has been sentenced to prison twice for online posts -- once in 2015 and once this year.
The first sentence -- 10 months -- came because Bubeyev shared articles, photos and videos from Ukrainian nationalists who oppose Russia's occupation of Crimea and its participation in the war in eastern Ukraine.
One article dealt with the sensitive topic of the graves of Russians killed in the Ukraine fighting. It angered Russian officials because the official Kremlin line is that no Russian troops have fought with the separatists against Ukrainian forces.
The crime Bubayev was convicted of for this first round of posts was "inciting hatred toward Russians."
Bubayev's second sentence, 2 years and 3 months, was for posting a photo of a tube of toothpaste with the caption "Squeeze Russia out of yourself" and an article titled "Crimea is Ukraine," which disputed Russia's claim to the territory.
The laws used to charge him for this second round of offenses prohibit "acts of extremism" and "actions undermining Russia's territorial integrity."
"Andrei Bubeyev thinks that he was charged as an example so that other ordinary citizens would be discouraged from expressing their opinion" online, said his lawyer, Svetlana Sidorkina.
"He was interested in politics, read the news, shared things, but he did it for himself," his wife Anastasia maintained. The Vkontakte.ru page where he made his posts "wasn't popular -- he only had 12 friends." He couldn't had goaded others into acting against Russian officialdom if he had wanted, she added.
Using Russia's example, Kazakhstan has also been making arrests for online posts the past couple of years.
In November of 2015 alone, it arrested three opposition figures on charges of "inciting social, national, clan, racial, class or religious discord."
The charges brought against the most prominent activist, Bolatbek Blyalov, were for comments in video clips and interviews posted on YouTube.
Kazakhstan has a law against "circulating information in social media that contains elements of inciting social discord."
It considered bringing charges under that statute, but decided that YouTube did not fit the definition of a social medium. Instead, it charged Blyalov instead under a law that prohibits using mass media to spread social unrest.
The reason that Russia and Kazakhstan are bringing charges over social-media posts is because it widens their net against dissidents.
In most cases, police have been able to nab only a small percentage of activists taking part in a street protest -- which is good odds for the activists.
In addition, most activists have been careful not to say anything in the mass media that would result in their arrests.
They have been outspoken in social media, however, believing it to be a safe place to air opposition views -- until now.
You can bet that other countries in the former Soviet Union will adopt the Russia-pioneered approach of stepping up social-media arrests to sideline dissidents.
From the authorities' point of view, it's far better to lock up activists before they can galvanize street protests that could get out of hand.
Armine Sahakyan is a human rights activist based in Armenia. A columnist with the Kyiv Post and a blogger with The Huffington Post, she writes on human rights and democracy in Russia and the former Soviet Union. Follow her on Twitter at: www.twitter.com/ArmineSahakyann
Calling all HuffPost superfans!
Sign up for membership to become a founding member and help shape HuffPost's next chapter