Today's music industry and fans are much more forgiving of artists than they were in the past, says singer Tiffany. Unlike modern stars, pop acts of her era were expected be "basically perfect," the former teen idol told a popular LGBT podcast, and being "messy" in public would have carried grave consequences.
"In the '80s, especially for someone like myself, if you'd done that, that was a career ended," said Tiffany, who at just 14 topped global charts with her 1987 cover of "I Think We're Alone Now." "As a young person, you had to be squeaky-clean."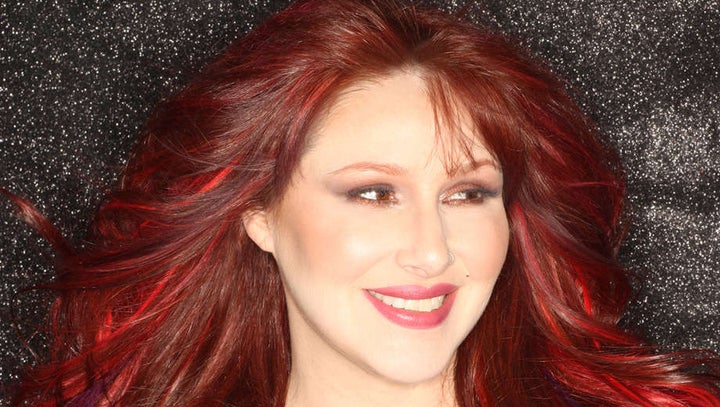 These days, wild partying and personal turmoil in the public eye are common for youthful stars, the fiery-haired siren acknowledged. With the glut of information available about celebrities both in the news and on the internet, she told Party Foul Radio with Pollo & Pearl, the public seems far more understanding of growing pains from public figures.
"Some people will laugh at it and be like, 'Oh, Girl! Been there, done that!'" she shared during an extended interview on Podomatic's No. 1 LGBTQ Podcast. "Some people will be very mean, but most people will forget about it within the next 15 minutes, because there is something else going on."
Tiffany first burst onto the pop music scene in 1987. Her now iconic cover of a 1967 Tommy James & The Shondells hit was an immediate smash, hitting No. 1 on pop charts.
Landing atop Billboard album charts, her self-titled debut also included Top 10 hit "I Saw Him Standing There," a variation on a Beatles classic, and her second No. 1 "Could've Been." A year later, sophomore set Hold an Old Friend's Hand opened in the upper echelon of the album charts and spawned a fourth Top 10 single.
"Back then, unless you were a true rock 'n roll star, you had to be perfect," said Tiffany of the pressures teen stars faced at the time. "Nobody wants to see you without makeup. Nobody wants to see you messy. Nobody wants to know you have problems."
WATCH: Tiffany's 1987 No 1 Single "I Think We're Alone Now"
Fortunately, times have changed – as has public perception of how stars should live their lives, Tiffany said. During the nearly hour-long conversation, which traced her early career, love for animals and discussed her LGBTQ fan base at length, she stated modern musicians are even appreciated because of their trials and tribulations.
"Now, being dramatic and having a little bit of grit in your life is newsworthy," Tiffany noted.
"Sometimes when somebody is hurting, have had failures, and they throw it out there…I see fans rallying around them even more, which is awesome," she stated. "As an artist, I can say when you feel that love, you don't feel like you're alone.
"People understand," she continued. "You've put your heart into something, and it doesn't do well. Or you've put your heart into a relationship, and now after all these years, you're getting a divorce. These are real issues that people can relate to. Before, we just wrote about them in our music."
After stepping away from the music industry for a number of years to raise son Elijah, now 25, Tiffany is again performing full-time. The "A Million Miles Tour" — promoting her recently-released album of the same name — just returned from the United Kingdom, is criss-crossing North America and has upcoming dates in Malaysia and beyond.
LISTEN: Tiffany's New Single "Can't Stop Falling"
When not on the road or in the studio ― new single "Can't Stop Falling" was released in June ― the star has made numerous television appearances. Over the last decade, Tiffany's appeared on Celebrity Fit Club, Celebrity Wife Swap and Hulk Hogan's Celebrity Championship Wrestling.
Tiffany even landed a starring role in campy SyFy feature Mega Python vs. Gatoroid. The film heavily capitalized on her alleged "feud" with fellow '80s teen sensation Debbie (nee, Deborah) Gibson. It was just a creation of the media and their respective record labels, she told podcast listeners, since the women scarcely knew each other at the time. However, it did help her learn a valuable lesson.
"If you're out there in the public eye, you really do have to be comfortable in your own skin," shared Tiffany, who has spent two-thirds of her life in the spotlight to varying degrees. "You have to own your mistakes and you have to hold your head up high on the things you believe in."
It's a message certain to ring true to her ample LGBTQ following, of whom Tiffany has become an "outspoken advocate" during the course of her career. Though initially unaware she was amassing a queer fan base, she now frequently performs at Pride festivals around the world and realizes her connection to the community extends back decades for many.
"There's something so honest about the gay audiences, whether it's a snarky comment or a true, tears-coming-down-their-face moment while they're listening to you sing," she shared. "Either way, I love all of it. Those are some of the best people in my life."
From casual encounters with fans at shows to her business partner Ron Davis, who is gay, Tiffany "love[s] so many different aspects" of the LGBTQ community. According to the star, "Sometimes they can see me at my best and I can't."
"They're some of the most true, honest-hearted people in my life," Tiffany concluded. "I know I can fail. I know I can have whatever moments in my life, and they don't judge. For me, that's timeless."
For More Information About Tiffany, Visit Her Website.
Follow "Party Foul Radio" on Twitter.
LISTEN: Tiffany's Complete Interview on Party Foul Radio.
REAL LIFE. REAL NEWS. REAL VOICES.
Help us tell more of the stories that matter from voices that too often remain unheard.