The University of Cincinnati on Thursday awarded the officer who shot and killed unarmed black motorist Sam DuBose with a settlement worth nearly $350,000, according to the Cincinnati Enquirer.
The settlement comes after the Ohio police union filed a grievance for University of Cincinnati Officer Raymond Tensing, who was fired following DuBose's 2015 death. Tensing agreed to officially resign in exchange for $244,230 in back pay and benefits and $100,000 for legal fees.
Tensing fatally shot DuBose during a routine traffic stop in July 2015. He said he stopped DuBose for a missing front license plate and discovered the motorist was driving with a suspended license. Tensing claimed that DuBose tried to drive away during the interaction, saying DuBose dragged him with his car and forced him to open fire. However, body cam footage later revealed that this claim was false and that he actually shot DuBose while the vehicle was still.
Hamilton County Prosecutor Joe Deters said that the former officer will never be convicted of the charges filed against him, including murder and voluntary manslaughter. Earlier this year, Deters decided not to try for a third trial citing two mistrials in which jurors said they could not come to a unanimous decision.
"This agreement will be difficult for our community," UC president Neville Pinto wrote in an email to the school's student body and faculty. He also hoped that the community could "focus on supporting each other as members of the same Bearcat family—even, perhaps especially, if we don't agree."
DaShonda Reid, who was engaged to DuBose before his death and is mother to four of his children, views the settlement as unjust.
"I'm very upset with UC paying that murderer Tensing," she told The Cincinnati Enquirer via text. "He's officially a paid assassin who has not shown one ounce of remorse for killing an innocent man."
The university also reached a $4.85 million civil settlement with DuBose's family, but have only paid about $100,000 of that sum out-of-pocket, reports the Enquirer. The settlement also included tuition for DuBose's children, an on-campus memorial, and an apology from the university. However, some also view awarding Tensing a settlement for his alleged suffering during the trial as a slight and yet another case of courts seemingly condoning police brutality toward black people.
In 2014, a grand jury in Staten Island declined to indict the NYPD officer responsible for Eric Garner's death. In 2016, all charges were dropped against the officers involved in the killing of Freddie Gray in Baltimore. And since Michael Brown's fatal 2014 shooting in Ferguson, only 19 cases of police officers charged with murder or manslaughter have gone before a jury. Of those, only six led to convictions.
For many, Reid's pain is part of a long history in the fight against police brutality.
"To even want compensation (after) murdering an innocent man shows how soulless and callous he is," Reid told The Enquirer. "UC has now reversed any of the rights they attempted to do by Sam. His blood is not only on Tensing's hands (and) the justice system, it's now on UC's hands."
Before You Go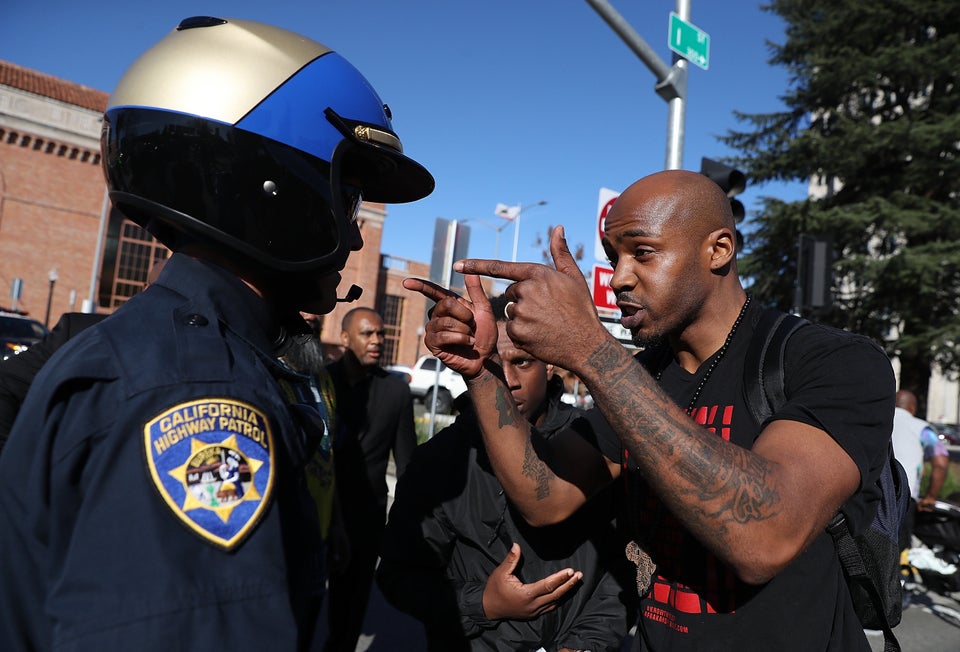 Black Lives Matter Protests After Stephon Clark's Death
Popular in the Community