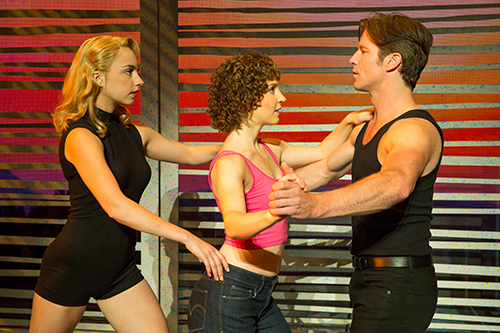 (Photo Credit: Matthew Murphy)
Growing up in the 1980s, we all feel a bit of nostalgia from seeing Patrick Swayze and Jennifer Grey star in one of the most epic love stories of the decade, Dirty Dancing. It's a timeless tale and has since been re-invented on the stage to become a worldwide phenomenon for a whole new generation.
With new scenes and songs, we take a deeper look into the story of Baby and Johnny along with the rest of the characters of Dirty Dancing with the touring musical that is set to hit Detroit for a late October run at the Fisher Theatre. Recently, I was able to talk with cast member Alex Scolari, who plays Lisa Houseman, about her recent time attending the University of Michigan and her fast ascendance into the world of musical theatre.
You went to the University of Michigan. How was your experience there?
It was phenomenal. When I graduated, I got a BFA degree in musical theater from the University of Michigan. Ann Arbor, just to begin with, is such a special town. Its so perfect for a college experience. The school itself has everything. Everything that it has to offer is incredible. The program is one of the best in the country if not the best for musical theater. I went there for a very specific reason and it just met my expectations and so much more.
My class was so close. We all just loved each other so much. Being a musical theater major, you have to spend so much time with your class. We pretty much had classes 9 to 5 and then if you we in a show, you had rehearsal every single night 7 to 11 and on weekends 10 to 6. I was very lucky because I loved my class. That was such a huge part for my experience as a whole. I had such a phenomenal time.
The training was incredible and very challenging at points because it was so much work, but it was so, so rewarding to say the least. When we graduate, we go as a class and travel to New York, we have a senior showcase, which means everyone does about a minute and a half of the song to showcase their specific talents. If you are very much into comedy, your song will probably be a comedic song. If you danced, you would dance in your song. It's a about a 45 minute showcase. Everyone has about a minute and a half to do a number, and then we do a couple group numbers.
We invite every casting director in New York, every agent in New York, and about 24 hours later, you get an email with all the people that want to meet you or the people that want to bring you in for an audition. I actually got this audition from my showcase. It was a very fast audition process. I knew I had an audition pretty 48 hours after I got to New York and I had a callback the next week, the final callback the next week, and then I booked it. It's been incredible. I miss school everyday and at the same time, it's so surreal that I'm here. I've been very lucky.
How long have you been with Dirty Dancing?
I have been with Dirty Dancing since June. I knew I had it in May, that's when I graduated. I started in Dallas. I actually started at the end of the first year tour, so I'm a part of the new second year cast. They brought me in towards the end of first year so I could get a couple shows and cities under my belt before we started again in Chicago. I had pretty much the entire month of August off.
It's been a quick ascendance going straight from school to a tour like this.
Definitely. It's amazing though. I move to New York and I was staying with my friend. I wasn't subletting an apartment or haven't signed a lease yet. I was kind of overwhelmed being in the city. I had a bunch of auditions. I was about to sign a lease and figure out my job situation; my night jobs I was going to get. As I was in the midst of all of that, I find out that I get this. As soon as I went to New York with my suitcases, I unpacked everything, I got this, I re-packed everything, and I was on tour. You think when you graduated, like okay this is my life now. I'm going to move to New York. I'm going to be there for years. I prepared to do that as everyone does, but you never know what's around the corner, literally around the corner because two and half weeks later I was out of the city. I'm so happy. Its so hard to get an experience like this, especially right out of school. I'm so lucky.
Since joining Dirty Dancing, what has your experience with that production been like?
Its been so great. I'm from L.A., so I've done some professional production in L.A. I was in the L.A. world premiere of 13: The Musical, which ended up going to Broadway. I wasn't in the Broadway version. I was a little too old at that point. I was in Big: The Musical in L.A., so I've definitely been in some professional shows, but this is my first real professional show outside of college. It's a pretty big deal. I got to join Actors Equity Association from the show, which is the union for theater and musical theater. That was such a big accomplishment that I've wanted to accomplish for many years. The cast is so amazing. There is some people that have been in it since the very beginning. We just celebrated our 400th show with the cast.
What sets it a part from the original movie?
I was say that the fans of the movie will come to the theater with expectations and they will be met and then some. There are about 20 new scenes and numbers in the show that weren't in the movie. Everything in the movie is there, you don't have to worry about that, but on top of that, you get to dive much further into the relationship between Baby and Johnny, the fire of dancing, the bond, the love, the heat, that character, and you learn more about my relationship with Baby. Because of these new scenes, you really get more information that you didn't find out in the movie.
Calling all HuffPost superfans!
Sign up for membership to become a founding member and help shape HuffPost's next chapter