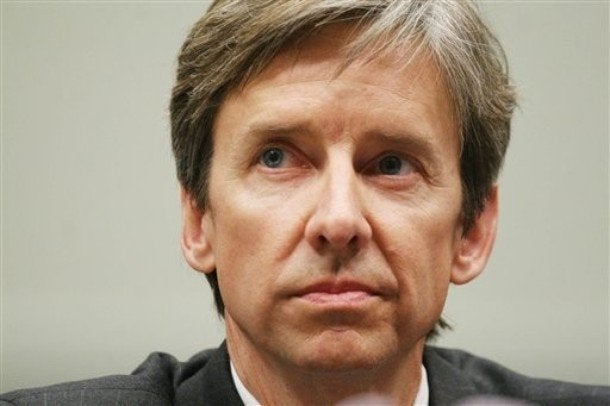 With the 2006 mid-term congressional elections rapidly approaching, a top aide to Karl Rove warned Harriet Miers that Republican Rep. Rick Renzi's re-election was in serious jeopardy because of rumors that Renzi was the target of a federal criminal investigation.
Later the same day, Miers, then the White House counsel, called the Justice Department's second highest ranking official and pressed him to issue a statement that would vindicate the Arizona Republican.
As chronicled in a series of White House e-mails that were part of a massive trove of documents Web-published by the House Judiciary Committee on Tuesday, Miers was initially rebuffed in her efforts to get then-deputy attorney general Paul McNulty to issue a statement clearing Renzi. Justice Department policy is ordinarily not to comment on ongoing investigations.
But on the very next day, news stories simultaneously appeared in the New York Times, the Washington Post, and the Associated Press saying that although there was an ongoing probe of Renzi, the investigation was in a preliminary stage and there had been no evidence uncovered to date that Renzi had done anything wrong at all.
In fact, the investigation, which had been ongoing for some time, had already amassed enough evidence of alleged criminal misconduct that the U.S. attorney leading the Renzi probe, Paul Charlton, had just obtained approval from the highest levels of the Justice Department to seek an application from a federal judge to wiretap Renzi's telephone. Over a year later, in Feb. 2008, a federal grand jury indicted Renzi on 38 counts of money laundering, extortion, insurance fraud, and other alleged felonies.
But the disinformation leaked to media outlets had the desired effect: Renzi won reelection by the narrowest of margins. (To read more about that disinformation campaign, see here and here.)
In an interview Tuesday, Charlton, the U.S. attorney who led the Renzi probe told me: "It's a great disappointment that the White House not only would ask that the Justice Department comment about an ongoing investigation but also lie about that investigation. And it is even a greater disappointment that the Gonzales Department of Justice would comment at all about an ongoing investigation let alone make untruthful comments about an investigation."
Career federal law enforcement officials who worked directly on the Renzi criminal probe told me for this story that I wrote for the Hill in June that they wanted Attorney General Eric Holder to initiate a formal investigation of the matter.
At the time of their comments, the direct involvement of White House political aides in the matter was not known. The disclosure that at least three of President Bush's top aides were involved in the damage control effort to protect Renzi is almost certain to renew interest that a formal investigation of the leaks be undertaken.
Charlton, one of nine U.S. attorneys fired by the Bush administration, told me that he hoped that a federal prosecutor already investigating the firings of nine U.S. attorneys, Nora Dannehy, would attempt to determine whether Bush administration officials had acted improperly or illegally while conducting their damage control effort to bolster Renzi's re-election chances: "It is my understanding that the new information and documents are almost certainly in the possession of the U.S. attorney and I expect that she will take the appropriate next steps."
Miers apparently became involved in the Renzi matter after talking on the phone and receiving an email from Scott Jennings, a senior aide to Karl Rove, indicating that Renzi or someone close to him had called seeking their assistance.
An Arizona blog had erroneously reported that Renzi was the target of a criminal investigation and that a decision had already been made to criminally charge him, with the charges delayed until after election day. After the posting, senior officials at the Republican National Committee contacted Jennings to express concerns that reports of a federal investigation of Renzi might harm his chances for re-electon, according to the newly released emails.
In Miers' deposition by House Judiciary Committee staff, she testified that Rove may have also directly raised the issue with her as well: "I'm not sure how it came to my attention. It may have been Karl but I don't know that... [T]he sense of the inquiry was this is happening, it's unfair. I think it was Karl, but I'm not sure." (A full transcript of Miers' deposition before the House Judiciary Committee can be found here.)
In an email to Jennings, Miers provided the White House political aide with a detailed report of her discussion with McNulty:
Scott, I just finished speaking with [Deputy AG] Paul McNulty. He said what we suspected he would. He has been contacted by a number of frustrated members of the Congress asking why people can't be vindicated in the event nothing is going on. He acknowledged that the situation is frustrating, but reiterated their position that they cannot confirm or deny the existence of an investigation. He said the AG did an interview last week to put things in as good as a perspective as possible by explaining that no one should be talking and that a refusal to deny should be given no meaning beyond that Justice does not admit or deny the existence of an investigation. I observed that at some point, immediately preceding an election, unattributed statements about the existence of an investigation was rankly unfair. He is continuing to think about the situation, but I did not get a lot of encouragement that they will deviate from normal course.
It is unclear what McNulty did next. He did not respond to a request for an interview for this article.
But clearly other political appointees at the Justice Department became fully engaged:
Within the next 24 hours, the erroneous articles appeared saying the investigation of Renzi was only in a preliminary stage and that there was no evidence that Renzi had done anything wrong--all but assuring Renzi's reelection.
The New York Times incorrectly reported that "the inquiry was at an early stage" and that "investigators had yet to determine whether there was a basis to open a formal investigation or empanel a grand jury.
The lead paragraph of the Post story said that the Renzi probe was only in a "preliminary stage." The Post story sympathetically quoted Renzi's attorney, Grant Woods, as saying: "When I was [Arizona state] attorney general, we dealt with this all the time in the last 30 days before an election, when candidates came to us with an accusation."
The AP similarly quoted its source saying that the Renzi probe was "in the very early stages," citing a "law enforcement official in Washington."
For good measure, the day after those three news stories, on Oct. 26, the Arizona Republic also published a story saying that the Renzi probe was much ado about nothing.
"This is not a well-developed investigation, by any means," an anonymous Justice Department official told the newspaper. "A tip comes into the department. The department is obligated to follow up... and we do that. People are assuming there is evidence of some crime, even though that is not necessarily true."
In fairness to Miers, she might not have known that Renzi was in fact that subject of a federal criminal investigation of a serious magnitude at the time she asked for McNulty's assistance. But whoever in the Justice Department spoke to the press must have understood that they were not only misleading the public, and that their falsehoods would improperly affect the outcome of an election, but also that they were compromising a sensitive criminal investigation. For instance, as a result of the disclosures, the wiretap on Renzi's phone was compromised.
Charlton, saying he could not discuss the Renzi case in particular, did tell me: "Any time you have a wiretap up and the subject or the target becomes aware that there is an investigation, obviously the value of the information you glean from that wiretap will almost certainly be greatly diminished."
Within weeks of Renzi's reelection, Charlton himself would be told that he was being fired as U.S. Attorney. A report by two Justice Department watchdog agencies, the department's Inspector General and the Office of Professional Responsibility, of the nine U.S. attorneys, concluded that Charlton's firing was most likely unrelated to his prosecution of Renzi.
Previous internal investigations by the Justice Department's Inspector General and ethics office fell short of recommending further action - although the offices noted in their report that they were severely hampered by the refusal of the Bush White House to turn over crucial documents.
Popular in the Community