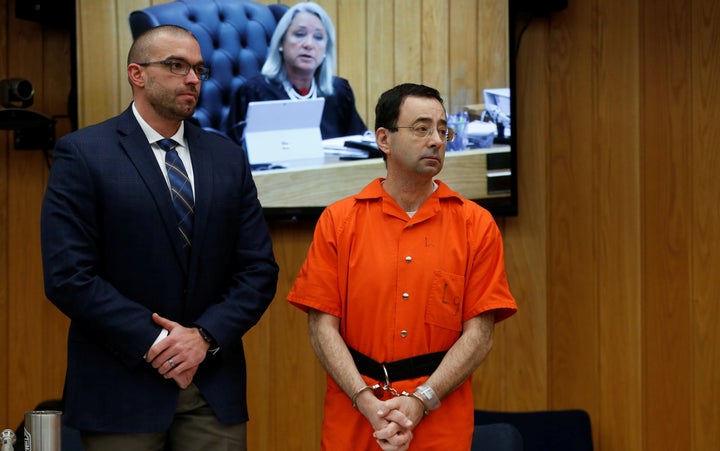 Over 265 young girls and women have accused former USA Gymnastics and Michigan State University team doctor Larry Nassar of sexual abuse under the guise of medical treatment.
Judge Janice Cunningham announced the updated number on Wednesday in a Charlotte, Michigan, courtroom during Nassar's second sentencing hearing ― on three additional counts of criminal sexual conduct in the first degree.
"We have over 265 identified victims and an infinite number of victims in the state, in the country, and all over the world," Cunningham said in the small courtroom Wednesday morning.
The three counts Nassar is being sentenced for include two girls between the ages of 13 and 15 years old, and one who is under 13. The charges focus on specific allegations of sexual abuse at a gymnastics club in Dimondale, Michigan, called Twistars. Nassar pleaded guilty to all three counts in November and is expected to receive a minimum of 25 to 40 years in prison.
Last week, the disgraced physician was sentenced to 40 to 175 years in prison on seven child sexual abuse charges. Nassar is a serial child sexual predator and has pleaded guilty to digitally penetrating young athletes while treating them as a medical doctor. His youngest survivor was 6 at the time of the abuse. He's already serving 60 years on child pornography charges.
"For the rest of my life I'm going to have to heal from what you did."
A large number of the 265 identified survivors are the 156 women who read their impact statements in court during Nassar's weeklong sentencing hearing that began on Jan. 16. Another 65 survivors are expected to read impact statements during this hearing, which is expected to go into next week. Cunningham noted in court that she expects that number to increase as the hearing continues.
About 30 women read victim impact statements in court on Wednesday, either in person or via video message, or had their statement read by a representative from the attorney general's office. Many of the women said they were inspired to come forward with their stories after listening to the 150-plus women give their impact statements last week.
"No high schooler should have to know the inside of a court as well as I do," victim and former gymnast Jessica Thomashow said in the first statement.
"Larry Nassar is evil," Thomashow said. "What you did to me was twisted, you manipulated me and my entire family. How dare you. ... For the rest of my life, I'm going to have to heal from what you did."
Watch survivor and victim Annie Labrie give her impact statement below.
Another former gymnast, Tiffany Dutton, says she came forward with her story because of the "courage and bravery" of the other women who have already accused Nassar. Dutton said her mother was in the room when Nassar molested her.
"It takes a monster to sexually assault a child," she said. "But it takes a monster backed by ego, experience and power, fueled by multiple institutions, to sexually assault a child in front of their own mother."
An anonymous survivor, identified only as victim No. 124, called out MSU in her statement.
"Larry you might not remember me but I certainly remember you," an assistant to the attorney general's office read the statement. "You ― Larry Nassar ― used and abused my body for years for your own sexual gratification. ... MSU, I'm looking at you too. Lou Anna I know you resigned but you owe me and the other survivors one hell of an apology."
Several officials at USA Gymnastics, MSU and the U.S. Olympic Committee have resigned in the face of harsh criticism. MSU President Lou Anna K. Simon resigned last week. The entire USA Gymnastics board resigned, and former Olympic coach John Geddert retired. The NCAA also opened an investigation into how MSU handled the Nassar case. On Tuesday, Congress passed a bill that aims to protect young athletes from sexual abuse and regulate governing bodies of amateur sports.
Nassar's sentence will be handed down sometime next week.
Support HuffPost
The Stakes Have Never Been Higher
Popular in the Community