A Roman Catholic priest who once helped represent the Vatican in Washington, D.C., has been indicted for possessing child pornography. 
Monsignor Carlo Capella, a 50-year-old Italian priest, will stand trial at the Vatican starting June 22, the Holy See announced Saturday. He faces charges of possessing and exchanging a "large quantity" of child porn, the Holy See Press Office wrote.
The Vatican recalled Capella from its Washington embassy last August after the U.S. State Department said a diplomat for the Holy See was suspected of violating laws against child porn.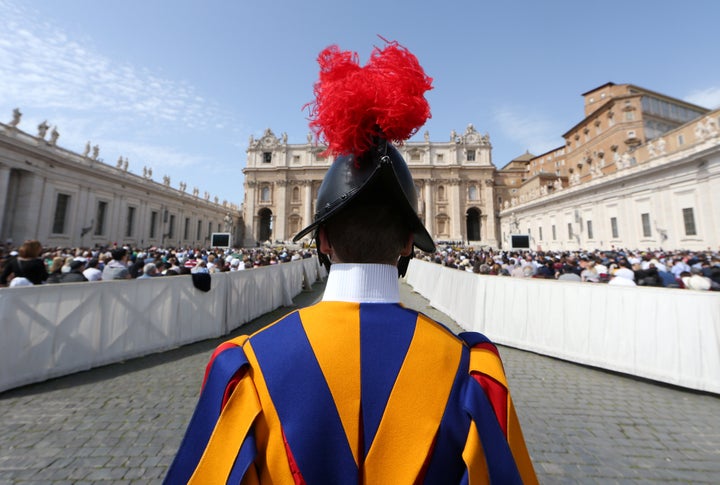 Before his abrupt return to Rome last year, investigators in the U.S. sought to strip Capella of his diplomatic immunity and place him on trial in American courts. But the Vatican denied that request, claiming the case against the public official falls within its own jurisdiction as a sovereign state. 
Canadian police were also involved in the investigation of Capella. The priest is wanted in Canada for allegedly uploading child pornography to a social networking site while visiting a church in Ontario during the 2016 Christmas holiday.
According to Vatican laws on child pornography, if convicted, Capella could face substantial fines and a prison sentence of two years or more, depending on the severity of his crime. He could also be defrocked.
The Roman Catholic Church is facing intense scrutiny over how it's handled allegations of clerical sexual abuse around the world. Another Vatican diplomat, former archbishop and ambassador to the Dominican Republic Jozef Wesolowski, was accused of paying boys for sexual acts and taking pornographic photos of them. Wesolowski died in 2015 before a church tribunal could reach a decision about his case.
Chile's Roman Catholic Church is also undergoing upheaval over how its leaders have minimized victims' abuse allegations. On Monday, Pope Francis accepted the resignation of Chile's Bishop Juan Barros of Osorno, who was at the center of the church's abuse scandal there. Francis was criticized for initially supporting Barros, and now claims he had made "grave errors in judgment" about the bishop.
A report by the Vatican's top sex abuse investigators found that the Roman Catholic church in Chile had systematically covered up abuse allegations against pedophile priests ― leading Francis to denounce a "culture of abuse and cover-up" that plagued the Catholic Church as a whole.
Within the next few weeks, Pennsylvania's attorney general is planning to release the results of an extensive study of the sexual abuse crisis in Roman Catholic dioceses throughout the state. The report is expected to detail how the church in Pennsylvania failed to report abuse to the police and tried to protect pedophile priests.
Calling all HuffPost superfans!
Sign up for membership to become a founding member and help shape HuffPost's next chapter
BEFORE YOU GO
PHOTO GALLERY
Pope Francis' Best Quotes