For most grapplers, signing with World Wrestling Entertainment is considered the final step on a career-ladder that includes years competing on the independent circuit. For Jack Swagger, it was exactly the opposite.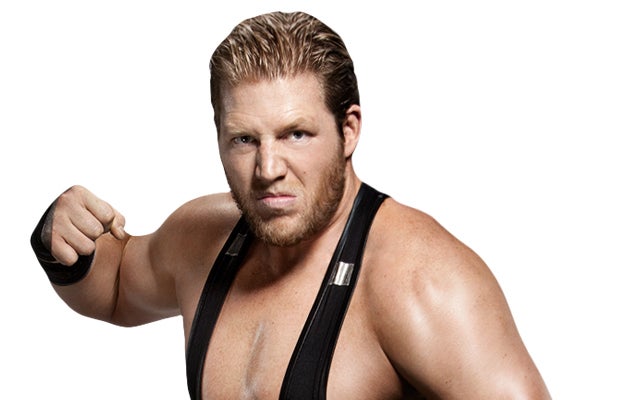 "I got to wrestle there right out of college and work with some of the best in the world that have ever done this very early on in my career, and get to learn from that, which is monumental," the former WWE World Heavyweight champion acknowledged on the current episode of Arm Drag Takedown with Pollo Del Mar.
Signed by WWE in 2006, shortly after graduating from the University of Oklahoma, Swagger never formally worked pro wrestling's indie scene. He was groomed in the sports entertainment juggernaut's developmental territories – first Deep South Wrestling, then Ohio Valley Wrestling and finally Florida Championship Wrestling (now NXT) – before being called to the main roster in 2008.
"I was very lucky to go to the biggest company in the world and wrestle," Swagger told the weekly pro wrestling podcast. "You definitely see the bigger arenas, the bigger crowds, hear the bigger pops, work with he bigger names. You can't put a monetary value on that, because it's so special."
During his WWE career, Swagger amassed a resume any would envy. In addition to a 92-day reign as World Heavyweight champion – which came via cashing in his Money in the Bank briefcase to defeat future Hall-of-Famer Chris Jericho in 2010 -- the collegiate two-sport athlete also held the United States and revitalized ECW titles.
Over time, though, Swagger's momentum slowed. His gimmicks – in-ring personas or stories -- were given less time to gain traction. Soon he moved from main event contention to mid-card status, then even lower. It became a source of agitation for the superstar.
"After a while, you get really frustrated…especially if you're away from your family as much as we are and putting our bodies through what we do," Swagger stated.
"I like to think of pro wrestling as an art, so we're artists," he went on to say. "Most artists I know put their love and heart into these things, and to repeatedly have that swept away or get crushed, it gets a little much to deal with."
LISTEN: Pollo Del Mar Interviews Former WWE Champ Jack Swagger
After more than a decade with WWE, Swagger decided it was "time for a change." He asked for – and was granted -- his release from the company earlier this year. During his extended Arm Drag Takedown interview, the Perry, OK, native stressed: "Here's the thing: I'm not bitter about it; I'm thankful for the career."
"Anything I did not accomplish there, it wasn't because there was a thumb over my head, pushing me down. It's because I didn't accomplish it," he asserted. "That's the way I choose to go through life and look at things and move on."
Now for the first time in his career, Swagger is competing on the independent circuit, which seems to have welcomed him with open arms. He shared a series of bookings — including Nov. 10 in San Francisco and the next day in Ft. Wayne, IN — with listeners. Though admittedly very different than his time in WWE, he is enthusiastic about the opportunities.
"There are so many styles out there I haven't gotten to wrestle against or experience," he related. "I really want to take it all in and take the rollercoaster ride on a little journey and develop a pro wrestling character that can't be stopped."
Despite having reached what most fans and industry insiders consider the pinnacle of sports entertainment, Swagger says his goal now is to "learn." Meeting wrestlers and promoters from around the world is an opportunity "to continue growing as a professional wrestler."
"If my mic skills aren't it, let's work on that. If I need to do more stuff in the ring, well, I can definitely work on that," Swagger said.
"I'm taking it as a learning experience," he said of his travels over the last six months. "It's really been nice to be able to sink my teeth into wrestling again and be hungry again -- because I really feel like I have control over how far I go."
Not only does Swagger see the opportunities as limitless – "There's so much wrestling out there now in the independents, in Japan, the UK, in Mexico and Canada," he noted – he is also inspired by the success Cody Rhodes. Since departing WWE in 2016, the youngest member of the iconic Rhodes family has become arguably professional wrestling's hottest commodity.
"It's very impressive," said Swagger. "It's something that's not easily done, and I'm sure he's traveling more now than he was with WWE."
WATCH: Jack Swagger Makes His All Pro Wrestling Debut
Much like Swagger, Cody saw significant success during his WWE tenure – only to have it cool considerably before his release. Upon his exit, the former Intercontinental and multiple-time WWE tag champ became a staple on the indie circuit, made a pit stop in Impact Wrestling and catapulted to superstardom in Japan.
Now known as "The American Nightmare" -- a nod to his legendary father, "The American Dream" Dusty Rhodes – Cody is a member of the massively popular Bullet Club. He recently signed the biggest contract in the history of Ring of Honor Wrestling, where he is amid his inaugural reign as World Heavyweight championship.
"He has a very good brain for this business – he always has – and he really knew his game plan and what he wanted to do," Swagger said of Cody. "He executed it very well."
Swagger appears to be taking a page from Rhodes' playbook. Having already competed internationally against top names from around the world, he is now gunning for the best of the U.S. independent scene. He returns to All Pro Wrestling Fri., Nov. 10, for the Northern California-based promotion's star-studded "Clash at the Cow Palace."
The return of indie wrestling to the landmark venue, the pay-per-view worthy lineup is packed with superstars the likes of Rey Misterio, Juventud Guerra, Pentagon Dark, Michael Elgin, Colt Cabana, Joey Ryan and Candice LeRae, Tessa Blanchard, Brian Cage, Reno S.C.U.M. and all the stars of APW. In half of a double main event, Swagger faces champion Jeff Cobb for the promotion's Universal title.
"Everyone I know says Jeff Cobb is the strongest person in the ring and the way he throws them around," Swagger said.
Fans of Lucha Underground are likely most familiar with Cobb as the masked monster Matanza Cueto, a one-time champion and staple on the El Rey Network wrestling series. However, as a life-long fan of amateur wrestlers-turned-pros for obvious reasons, Swagger calls a match against the former Olympian a "natural fit."
"He's just got match after match, and it never fails," Swagger enthused about his opponent, "He's always got that…" -- the grappler makes a loud gasping sound -- "moment, like 'He did what?!?'"
According to Swagger, he is "training extra hard." Not only is he making his wrestling debut at the legendary San Francisco arena, he realizes the importance of a strong showing against one of America's top free agents.
"I've got Jeff Cobb in the back of my mind," he concluded. "I'm really going to have to step my game up and see what this suplex party is all about."
All Pro Wrestling's "Clash at the Cow Palace" is Friday, Nov. 10, 6-11pm, featuring Jack Swagger vs. APW Universal Champ Jeff Cobb plus Rey Misterio, Juventud Guerra, Joey Ryan, Pentagon Dark, Reno S.C.U.M. & more. Ticket information here.
Popular in the Community