Though it's been a decade since John Hennigan and Joey Mercury have teamed, the iconic World Wrestling Entertainment duo MNM haven't missed a beat. Now apart more than twice as long as they teamed, the three-time WWE tag team champs reunited to defeat Reno S.C.U.M.
All Pro Wrestling reunited former World Wrestling Entertainment tag champs John Morrison and Joey Mercury — MNM — to face Reno S.C.U.M.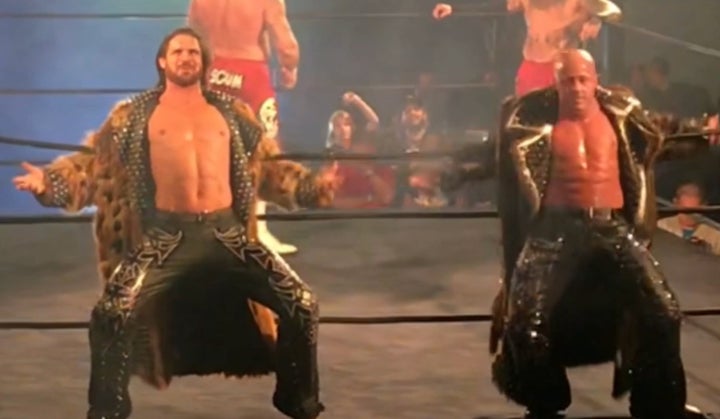 The pair rejoined forces one-night-only Fri., Sept. 22, for All Pro Wrestling's "Gym Wars" show. They bested Global Force Wrestling tag team standouts and West Coast indie darling Luster the Legend and Adam Thornstowe in a nearly 20-minute attraction which saw both team at the top of their game.
MNM cut its teeth during a 2004-2005 stint in Ohio Valley Wrestling, then a WWE developmental territory. Led by Melina, real-life girlfriend of Hennigan (nee, Nitro) at the time, they were one-time OVW Southern Tag Team Champions.
In April 2005, Mercury, Hennigan and Melina jumped to the big-time. They won the first of three eventual WWE tag titles from Rey Misterio and Eddie Guerrero in their Smackdown! debut.
Over the next year, MNM proved to be WWE's top tag team attraction. After trading the belts first with Road Warrior Animal and Heidenreich (Legion of Doom 2005), then Batista and Rey Misterio, they lost the straps for the final time to Paul London and Brian Kendrick.
Shortly after, the team disintegrated. Eventually Nitro became a three-time Intercontinental champion and twice won tag gold with current IC champ The Miz. Rebranded "John Morrison," he went on to became a World champion in a reinvigorated ECW brand before exiting WWE in 2011.
More recently, Mercury has worked as a road agent for WWE. Meanwhile, Hennigan has become one of pro wrestling's top names not signed to Titan Media.
WATCH: MNM vs. Reno S.C.U.M.
Alternately known as Johnn Mundo in Triple-A and Lucha Underground, where he is a multi-time champion, he debuted as Johnny Impact recently for GFW. There he quickly became the No. 1 contender to Eli Drake's World title.
The lively Daly City, CA, crowd was behind MNM from the start. At one point they chanted "Where's Melina?" — as the former manager and legendary WWE Divas champion was noticeably absent. Regardless, those in attendance were clear history was being made by the iconic team's reconciliation.
MNM took an early advantage before the S.C.U.M. mounted a comeback. In arguably the best physical condition of his career — which presumably led to a hilarious chorus of "Joey's handsome!" — Mercury took the brunt of punishment from Thornstowe and Luster early on.
After back and forth action, which saw both teams get a series of near-falls, the former tag champs proved too wily for S.C.U.M. A "Snapshot" — MNM's delayed flapjack/elevated DDT tag finisher — allowed Hennigan to pick up the three-count on Luster.
Also on the card, APW Universal Champion Jeff Cobb squared off against Lucha Underground star Willie Mack in a stellar battle which saw both match the other move-for-move. After Cobb rolled up the contender to successfully defend, his celebration was interrupted by Thornstowe — who ended the show by super kicking the champ.
The confrontation presumably sets up for APW's return to Daly City Oct. 7. "Halloween Hell" features former WWE World champion Jack Swagger and many others.
APW's biggest show of the year "Clash at the Cow Palace" returns independent pro wrestling to a legendary San Francisco venue Nov. 10, 2017. Headlined by Rey Mysterio, the superstar lineup also includes Michael Elgin, Colt Cabana, Joey Ryan, Brian Cage, Pentagon Dark, the return of John Morrison and all the stars of APW.
Popular in the Community