I suppose a few falling leaves, over time, are to be expected -- but when the tree is nearly bare and the wind-chill factor climbs higher than the age of that street-corner twink you're angling to hook, change becomes something to resent.
It's a cold day indeed when you find yourself huddled against what used to be the Rawhide bar, bitterly surveying a vanilla-speckled permafrost of banks and franchises and chain stores.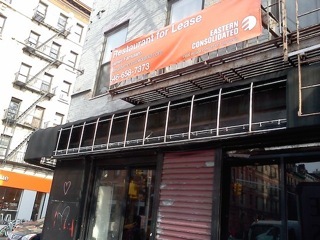 Is it not enough that the pharmacies and Starbucks outnumber the sex shops and watering holes, and have for quite some time? Assimilated and defeated, many of our old-guard gays have had little choice but to "come out of the shadows and get right with the law" by trading in their whippets for wedding bands, their Boy Butter for baby carriages. It's no wonder so many of the queer homesteaders who made Chelsea what it was have taken their balls to other playgrounds, or simply let the air out and called it a day.
If that sounds just a tad dramatic, consider this: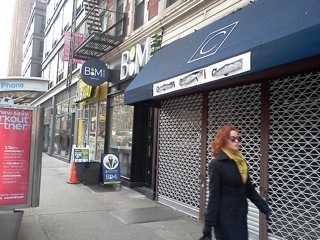 From 14th to 23rd Streets, three gay-centric storefront businesses with a combined presence of over nine decades on Eighth Avenue have stood empty for months -- "For Rent" signs starting to weather, and no sign that what replaces chic clothing store Camouflage, (1976-2014), playful lifestyle emporium Rainbows & Triangles (1994-2014) and the reliably cruisy Rawhide bar (1980-2013) will cater to anything other than bland choices and desexualized tastes.
And who can afford the asking price that forced contemporary men's retail store Universal Gear (2001-2014) to forego its lease renewal and move 20 blocks uptown to Hell's Kitchen?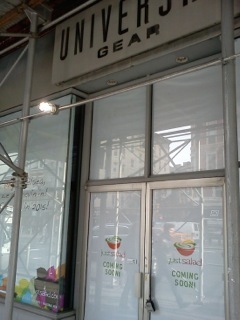 Just Salad, that's who. How they'll make their monthly rent by pimping roughage is not my concern. I'm more interested in the cold, hard fact that as more lavender-leaning merchants disappear, recent arrivals like juice joint Liquiteria and yogurt emporium 16 Handles further drain Eighth Avenue of its libido-friendly pluck.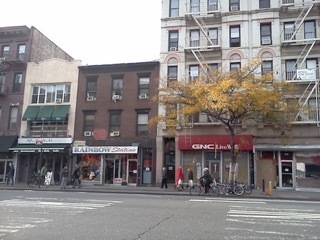 We had another end-of-an-era scare recently when they gutted Rainbow Station -- but the 24/7 sex shop was soon back: two doors down, directly across from archrival The Blue and better positioned to fight for its share of dwindling foot traffic. Three blocks away, savvy marketing has eluded Rainbow Station's sister space.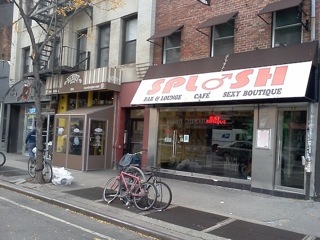 Opened in late 2013, it briefly toyed with the name "Splash" -- a nod to the West 17th Street mega-bar of the same name, whose 1991-to-2013 existence parallels Chelsea's own shelf life as a viable gayborhood.
Sadly, Splosh has achieved only one of the promises spattered across its boastful exterior signage ("Bar & Lounge * Café * Sexy Boutique"). The dream of inserting a social/sexual business model into increasingly prudish Chelsea was deferred by vocal opposition, a liquor license that didn't materialize, and customers who never warmed up to the notion of eating a $10 steak dinner in close proximity to lube, poppers and fetish gear.
Well, at least they tried. The Sexy Boutique's still there, though for how long is anybody's guess -- and it's here that an unmotivated customer base must take its place alongside skyrocketing rents when tracking the real cause of Eighth Avenue's eroding gay integrity. That bitter truth had the co-owner of Rainbows & Triangles seeing red, shortly before closing his doors after two decades on the block.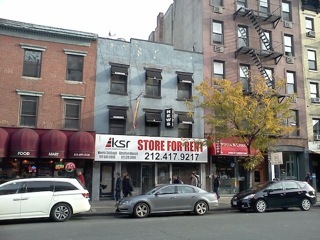 Men who hadn't been regulars for years, he told me, saw the "SALE" sign in the window and tried to squeeze him for an even more generous discount on top of the steals and deals he was already offering. Faced with that scenario, he decided that what remained on the final day would be put in storage or given to charity. Good for him. Chelsea may not be as gay as it was, but a few of us still have some pride.
REAL LIFE. REAL NEWS. REAL VOICES.
Help us tell more of the stories that matter from voices that too often remain unheard.