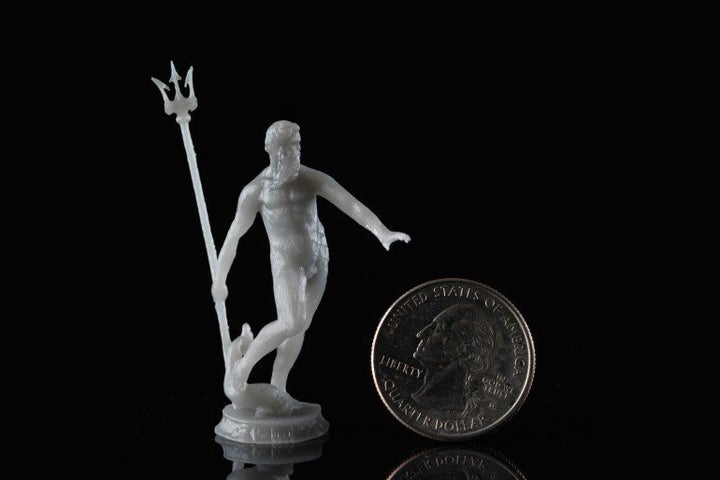 Want to print yourself a filigreed bracelet? How about an action figure? Or a tiny to-scale model of the Eiffel Tower? All this and more could be yours, thanks to the Kickstarted success of the Form One, the first stereolithigraphic (we'll explain that later) home-priced printer.
Kickstarter's made a name for itself as the crowd sourcing incubator for inventions odd and excellent, but not since the Pebble have we seen something so excitement-inducing as this. Formlabs, a 3D-printing spinoff of MIT Media Labs, has come up with a product worthy of obsession; a home-costed 3D printer that can produce detailed pieces on the scale of a US quarter.
Gizmag reports that the secret to making the less-than-$3000 desktop printer was simple: the makers dissected a Bluray. Pre-Formlabs, specially-made stereolithographic lasers alone would send printer prices skyrocketing past the five digit mark. The key for the MIT team was discovering that the 450 nanometer laser used in Bluray DVD players could serve the same stereolithographic purpose as lasers specifically designed to cut and carve materials in a 3D printer.
Complaints? Well, for one, the printer only prints one substance so far; a special resin only available at the Formlabs store, cashing in at around $149 and only sold in a limited variety of transparencies and colors. This is a far cry from the novelty offered by chocolate printer Choc Edge, or the variety of materials (including colored gypsum and sterling silver) offered by printing serviceShapeways. But the biggest complaint so far has been with the printer's size. With a strict limit of 5x5x5 inches on any object it prints , the 'Form One' may make your miniatures, but it won't be printing any Media Labs just yet.
Still, it's clear that the potential for FormLabs and the 3D printing industry is virtually limitless, and in an interview with Xconomy, founder David Cranor speaks up about it. "Because of the tremendous cost reduction and usability improvements over currently available offerings, we hope to make this great technology available to orders of magnitude more designers, engineers, and makers than ever before. That means more awesome products making their way into the world in the future."

Popular in the Community