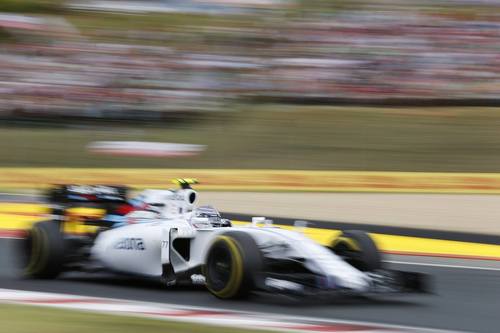 Anybody can make a quick car for half a race. You've got to get to the end. - Fernando Alonso, F1 Driver
In Formula 1 racing the difference between a champion and a second place finish can be a matter of seconds of indecision, imprecise execution, or error in judgement. To win, the entire Formula 1 racing team, including the information technology (IT) and the CIO, must perform at the highest level. Speed of execution, on and off the race track, is a must in order to be the first to cross the checkered flag. In addition to the driver and the racing team, the CIO and IT play a pivotal role in Formula 1 racing. Ultimately, the combination of technology (IT infrastructure, applications and advanced analytics), talented IT employees, lean processes and strong business partnerships will help crown the next Formula 1 racing champion.
Graeme Hackland, Chief Information Officer of Williams Martini Racing, is one of the most respected names in racing. Hackland joined Formula 1 racing in 1997. With 18 years of racing experience, Graeme Hackland is a highly experienced business leader with a proven track record of delivering cost effective, reliable technology-enabled change, to industry standards. He joined Sir Frank Williams and the Williams Martini Racing team in 2014 with the sole aim of taking Williams back to the front of the grid. Hackland's team is involved in every aspect of the business, from aerodynamics to design, to manufacturing and to the actual engineering of the car.
1. High performance teams appreciate effort, but measure and celebrate results
The real time nature, and the public exposure of racing is a forcing function for Hackland and his team to leverage the best technologies, talent and lean processes. Hackland and his team must be discipline and accountable in order for the team to succeed. The sense of urgency is at the highest level, all the time.
When you have successes it's amazing, everybody wants to talk to you. When it's not going so well, everyone disappears and you know it's really public. But the great thing as well is that every 19, 20 times a year, every two weeks you get a chance to have another go.

So if you had a bad race, you've got a race coming up in the very next race. You get the opportunity to turn things around very quickly. And season by season the cars are changed completely, totally redesigned.

We get that constant demand for innovation and that is why I think I've been in the industry so long. The car is changed every race, so there is an expectation that across the whole company will have this constant innovation and change. That's the thing that keeps all the IT professionals who work within Formula 1 so engaged.
2. The connected economy operates on an insights engine, fueled by data
In a connected economy, high performance teams use data to develop near real-time insights, that leads to rapid decision and actions, aimed at delivering successful and desired outcomes. The tech industry led by Google and most major car manufacturers have been focused on the connected car as the future of driving in the connected economy. In the near future, every car will be connected to the Internet.
Hackland notes that the Formula 1 cars have been connected since 1997. "Formula 1 cars were already connected when I joined this industry. Data was being captured from the cars. So we've been doing this for a long time, instrumenting the car," said Hackland.
We've got over 200 sensors, a 1000 channels of data, 30 to 40 people constantly reading that data over the course of the race weekend in order to firstly improve performances and secondly to make sure that we are reliable and we get to the end of the race. Formula 1 has been doing for a long time and has really been successful. We are tracked as an industry we are tracked really innovative companies and people come and work with us.
3. Bolster technical competence through strong business partnerships
With more than 200 sensors and 100 channels of data, Hacklan and his team must be able to capture, analyze and deliver meaningful insights to the Williams Martini racing team. At Williams Martini, the vehicle science group includes data scientists and chief strategist, who sit on the pit wall and make real-time calls, giving advice to the racing engineers during the race.
Within IT, Hackland and his team rely on technical partners like BT and Avanade who bring the necessary analytical skills to augment the team. "We're only 20 people within IT and we need to make sure that we bring in extra resources and skills and people in," said Hackland.
4. In high-pressure environments, the right temperament, skills and endurance are key to success

You cannot build a great company with out great people. And you certainly cannot build a great IT organization without great IT talent. Hackland recruits and retains the very best IT talent - based on IT competence and several other important factors.
The kind of people that Hackland looksfor in Formula 1 tend not to be only focused on technical skills. Hackland and his team work hard to find the right personalities and that is not a trivial task. Hackland needs require a balance of IT competence, along with the right temperament and strong level of endurance and grit. The extreme racing demands requires more than just IT technical proficiency.
We have people who travel with the race team and report all of the systems and monitor the telemetry while the car is on the track. They have to make sure that those systems are running 100% of the time that the car is on the track. And if something goes down because we're on a race track in the middle of nowhere, power you know, there can be all sorts of issues. They've got to get everything back up and running very quickly. So you need the right temperament and personality of person.

Within the factory, we look for people who can cope with demands hours. Season after season, you have got to operate at your maximum, at your best level year after year after year if you want to be successful. We used to have down time during the year when I first came into Formula 1. That doesn't happen anymore. People are working constantly throughout the year to improve the performance of this year's car or next years.

We are already working on next year's car. All of the teams will have next year's car in the wind tunnel going through the design office. So there is no more dip off. We need people who can cope and at their best for long periods of time.
5. Business value and differentiation is derived from both IT Infrastructure and applications
Delivering high performance IT starts with having operating and managing a high performance infrastructure. Capacity planning and infrastructure optimization is key to managing the user experience and delivering the right services, to the right people at the right time.
Equally important to infrastructure is the delivery of applications that can help define competitive differentiation.
"We see a competitive advantage in some of the applications that we're developing. We partnered with Avanade to bring us the development capability we need for our digital journey," said Hackland. His team focused on delivering mobile applications that would allow the race team to access critical data from while in transit. The key to success was to collaborate with application design and UX/UI experts to deliver solutions that far exceeded what the Williams Martini team thought was possible. By combining racing domain expertise with application development experts from Avanade, Hackland was able to successfully leverage innovation to deliver better business outcomes.
6. Data-driven IT is a viable and sustainable path to delivering meaningful outcomes
We read and hear about the Internet of Things (IoT) - wearables, sensors, and devices that connect to the Internet and deliver information that can help us improve our lives. Perhaps the fasted IoT device on land is a Formula 1 race car. Hackland and his team have instrumented the Formula 1 race car to deliver vast amounts of data that the team can use to improve their chances of winning races.
The Williams Martini race car has about 200 sensors on the car; everything from breaks to tires, two fluid levels, fuel levels, heat, temperature in different parts of the car, and engine sensors. All of these sensors are capturing about 1000 channels of data.
On a Friday we have two practice sessions - two 90 minute practice sessions - and that's where we generate probably the most data. We'll put more sensors in so that we can take that data back into the factory, run it in a simulator, and feed the analytics to our vehicle science groups. One example could be operating in a wind tunnel to further calibrate our models.

At Silverstone, which was the British Grand Prix a couple of weeks ago, we generated about 20 gigabytes of data just on that Friday from the car. Over the course of a whole race weekend we'll probably generate about 120 to 150 gigabytes of data. It depends if you get both cars to the finish, that's one of the things that determines how much data you have, and about half of that is actually video.

We do a lot of video analysis of our cars, of our pit stops. Because in the pit stops, you can gain half a second to a second if you can improve your pit stops. So we really practice relentlessly, but we video it so we can train the guys to do a better job during the pit stop.

There's video analysis and all the telemetry data that's coming off of the car that 40 people at the track analyze, and however many engineers who are remotely engaged in the analysis.
7. Your IT strategy must include wearable technologies
Hackland and his team are developing their 2020 IT strategy and vision which will take all this 'car data' and then add to it 'driver data'. Today, from time to time, Hackland and his team will instrument the driver, looking at heart rate and other human sourced data, but one area of interest that is sure to expand is the use of wearables during race day.
Wearables for the driver, but also for our pit crew, for the engineers, and for our staff who are producing that car, designing it and race engineering it. It's not just about how, which we do take seriously and our guys are really looking after themselves in terms of diet and fitness.

There is a lot more I think we can do with wearables - GPS positioning of the people during the pit stop, and also of the drivers. Sometimes the driver will not perform at their optimum and they won't really understand it, and I think if we had more instrumentation on the driver, we might know if they have been feeling a bit under the weather or other unforeseen conditions.

A driver can lose a couple of kilos of weight during a race just from the heat that there is in the cockpit. So they're a big part of the package and they are part of that performance package - the engine, the tires, the chassis, but the driver is a big part of that performance. So I think in the future you'll see more of that instrumenting of the driver happen.
8. A social CIO is a better CIO
Hackland (Twitter: @graemehackland) is a social CIO - he is active on Twitter, writes blogs, and has thought leadership video interviews. He is also an ultra-marathoner (watch his video for more details). What motivates Hackland to be a social CIO and what are some of the personal benefits?
I used to subscribe to dozens of RSS feeds and I used to be in the tracking technology, and there's lots of really good sources of information out there who are tracking the technology trends who I use to follow. I've switched all of that to twitter now, I don't have a single RSS feed any more.

All of my information feeds now come through Twitter. Five years ago I remember sitting in one of the big conferences, thinking 'wow you know is what they're saying true?' You know, are CIOs going to lose control - this whole idea of there's a perimeter and everything's inside the perimeter, and the CIO controls it. And they were talking about give up that control - forget it. In fact, if you think you've got control, you've actually already lost it.

I get inspiration from those kind of people who make me think, challenge me and I bought that straightaway. I realized that this whole thing about bringing your own device is real. I was the first person to have an iPad in those early days in the company and then our CEO said he wanted an iPad. Now our company is mobile.

Some years ago I was advised about 3D printing that as being something that was really going to change the world. So I've been tracking that industry for the last three, four, five years. 3D printing, what's called 3D printing now has been in Formula 1 since the late 90s. I mean we've been 3D printing, our wind tunnel model since the late 90s, so it's technology that we're really familiar with. And seeing it grow and starting to be used in all sorts of industry now, I think it's fantastic.

Every day I'm looking at newsfeeds on twitter and making time - I have to make that time. I think every CIO has to carve out some time every week to be looking at the trends, what's going on, what the commentary out there is and that tends to be how I get the guidance.
9. You are not entitled to a seat at the table - building a fast and reliable engine
We don't have a divine right to be you know consulted on everything. I get to talk to a lot of CIOs - I joined the CIO Roundtable - and some that I meet are complaining that they are looking on the outside looking in. CIOs don't have a divine right to be on the inside. We have to prove that what we do is a competitive advantage in any industry.

Some people say it's easy for you because you're in a class of high-tech industry. Actually it is really difficult in F1 racing, because pretty much 80 to 85% of my users think that they know more than I do. And at least 50% some of them do. So there's a challenge there that you can't try and hide. If I don't know something I'll tell them because they know more about it than I do.

The first thing is you've got to gain the credibility by just relentlessly focusing on what matters most.
There's something in Formula 1 that I learned in 1997 that I shared ever since. They talk about 'does it make the car quicker? If it doesn't make the car quicker, why are we doing it?'

I always add a sidebar there, you need the car to be reliable as well. I remember in 2005, Fernando Alonso who was one of our drivers back then saying, 'anybody can make a quick car for half a race. You've got to get to the end'.
10. There are no IT projects, only business projects
Successful CIOs are able to articulate business goals. What is in your business, what is that 'will it make the car quicker?' What's your goal as a business? Often CIOs have difficulty articulating that. Our job is to get stakeholder value and build profits, and that's why the struggle to bring it back to what contribution are they making to whatever the company's business success criteria are.
The first place to start, is to know your business success criteria, and then tie your IT strategy to that. Prove that that's what you're doing, and that you are not in it for yourself and you don't do IT project for IT sake.
Hackland is with Williams Martini to help the team win more races and ultimately the championship.
I want to see Sir Frank's face when we win a race and when we win more races, and ultimately we win the championship. That's why I'm here. And I think sometimes IT professionals lose sight of that. That's what I like about Formula 1 and that's why a lot of people come into Formula 1 to stay, is that focus. They can see a link between what they do and that end product that we see on TV is us going around the track.

And when the car is not good that's when it's tough for yourself right, because we're working the long hours and the performance is not great. But when things are good, as they have been for Williams last year, we finished third in the championship, beating Ferrari which I know gave the team a lot of satisfaction.

There is a relentless focus on what makes the car quicker, how we can succeed as a company, in getting to the front of Formula 1.
11. Partner with companies that define their success based on your success
Hackland only partners with companies that buy into his team's success. Hackland mentioned partnerships with British Telecom (BT) and Avanade as two examples of stellar partnerships.
The advantage that we get with partnering with Avanade and BT and with some of the other tech companies that we're working with is that they buy in to our success. They want us to be successful because we are a reference.

We need our credibility first of all. And the partners know that if they want us to be that example of their technology at its best, they've got to deliver. This enhances the IT team magnificently because we're all there, focused, wanting the team to be successful. But so do they.

We have several Avanade people who work on our site every day and then we have the off-shore teams. I love being in meetings with the guys and when you're sitting in those meetings you can't tell who is Avanade and who is Williams. We talk about the race on the weekend, they're all watching it, they all care about the results. That partnership goes beyond just a supplier who's trying to sell you more resource down the line.
To learn more about managing high performance IT organizations and lessons from an Formula 1 racing CIO expert, please watch the Graeme Hackland video here. Please join me and Michael Krigsman every Friday at 3PM EST as we host CXOTalk - connecting with thought leaders and innovative executives who are pushing the boundaries within their companies and their fields.
Calling all HuffPost superfans!
Sign up for membership to become a founding member and help shape HuffPost's next chapter